So you've probably heard about the "scandalous" unphotoshopped bikini photos of Kim Kardashian that "reveal" her bum cellulite. Doesn't that just sound ridiculous to you? Why is that even considered news? I mean, of course she has cellulite – she's a human being. Has she been trying to portray herself as a woman with a perfect body and enviable curves? Yeah. Did her Instagram led us to believe she actually has that perfect body? Maybe. Has she ever said her pictures aren't photoshopped? Nope. So really, it shouldn't have been such a surprise that she has not so perfect bootie. Let us remind you that while she is a celebrity (and for some reason we expect those to be perfect 24/7) she's also a 36 year old woman who's had 2 babies. The fact that she even has an hourglass figure (albeit with cellulite) and doesn't just look like a blob is already amazing. So we decided that instead of adding to the weird undeserved outrage about Kim's cellulite, we're going to take a look at 15 of her best bikini looks and appreciate how awesome she looked in them.
1. Kim is most often seen wearing white or black swimsuits these days. This was a gorgeous white one she wore in Miami back in November 2013.

2. However, back in the day she used to go crazy with color and patterns.This is a bikini look from August 2008 at Cabo San Lucas, Mexico.

3. This was probably one of the brightest and most memorable bikinis she's ever worn in Miami 2012.



4. And back when she was pregnant with her first child, she wore bikinis too. This bikini look is one she wore in Mykonos, Greece, in April 2013.

5. Even when she was super pregnant with her second child, Kim wore this gorgeous looking bikini at St. Barts in August 2015. Still looking great, still taking selfies.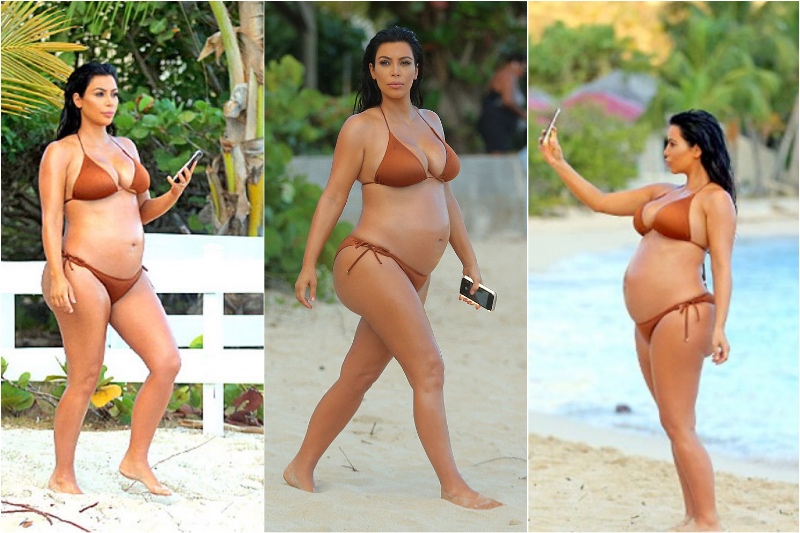 Pages: 1 2 3Next PageNext