Over the years we've learned to expect celebs to look their best when they're walking a red carpet, and most of the time they do. But as with any rule, there's always exceptions. Today we thought we'd take a look at some of the worst red carpet looks of all time. If anything, this should make you feel better about that time you wore something absolutely ridiculous to a party. Nobody's perfect and we bet these celebs cringe when they look back at these choices they've made in the past.
1. Kate Hudson, Oscars 2001
We'll admit, this isn't the worst dress on this list of horrible dresses, but back in 2001 Kate Hudson ended up on so many "worst dressed" lists it's hard to count them all. It was probably the weird fringes that made her look a bit like a cowgirl. The hairstyle really didn't help the matter either.

2.Adele, Brit Awards 2016
We love Adele for her voice and her style. She's always so glamorous, in an old-Hollywood kind of way. She's usually dressed in long black dresses, and even if she ventures out of dark colors and chooses red, it's still a gorgeous dress that accentuates her figure in the best way possible. What made her decide to wear this colorful monstrosity of a dress – we'll never know.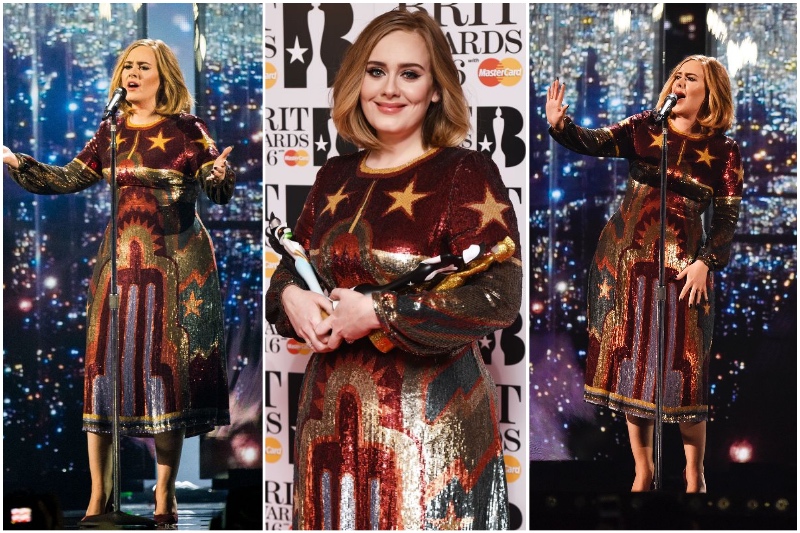 3. Gabourey Sidibe, Golden Globes 2014
Why did Gabourey stylist choose to put her in such a clingy, shiny dress? I mean, surely there are dresses that would look way better on her. You know, ones that accentuate her curves in a good way, instead of clinging to her in all the wrong places.

4. Rihanna, Grammys 2015
Remember that time Rihanna came dressed as a pink marshmallow to the Grammys? Yeah, that was weird. Especially considering the fact that Rihanna usually goes for the more edgy dresses, this was very out of character for her. But hey, she's Rihanna, she can do whatever the hell she wants. And if she wanted to change things up and dress like a pink marshmallow – so be it.

Pages: 1 2 3Next PageNext