Traditional wedding dresses are all good and nice, but they're getting a bit old, aren't they? Aren't people sick of wearing long white gowns to their wedding and looking like any other bride in the best case scenario and a puffy marshmallow in the worst? We're glad to see that there are 10 celebrity brides who definitely agree with us. These 10 ladies said "no" to tradition and instead wore very unconventional dresses on their special day. Are you intrigued? Then go ahead and take a look.
1. Solange Knowles
Why even wear a dress if you can wear a gorgeous jumpsuit and a cape and look freaking regal. Solange Knowles wedding outfit was made by Humberto Leon for Kenzo, and all we can say is she absolutely slayed.



2. Kaley Cuoco
Kaley Cuoco decided to be extra girly and wore a petal pink strapless dress by Vera Wang. It definitely was eye-catching and looked hella fun. After all, when in doubt, wear pink. It'll make a statement and look adorable at the same time.

3. Jessica Biel
Jessica Biel also went for the pink. But hers was more of a frothy pink. Her dress, designed by Giambattista Valli looked very feminine and romantic. Jessica says she was never really into white dresses, so when the designer suggested pink she took a leap of faith and the result was better than she could've expected.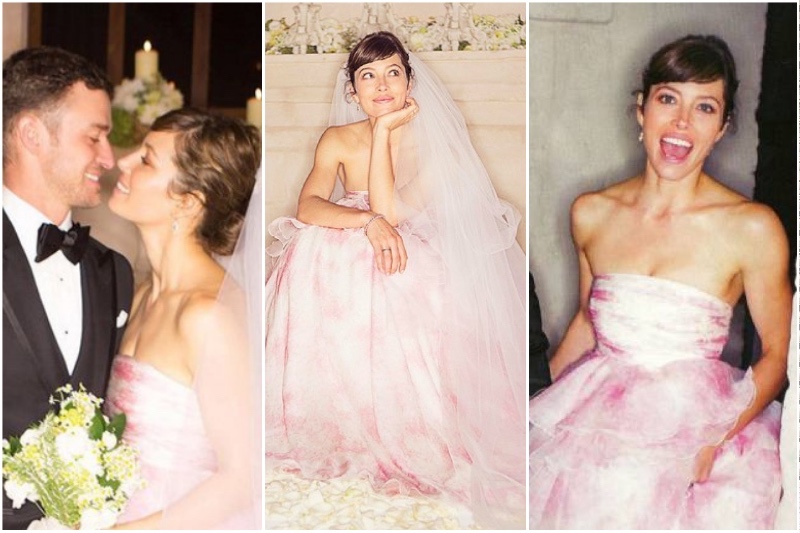 Pages: 1 2 3Next PageNext