Beyonce definitely knows how to drop a huge piece of news. Last time it was an album, this time it's a pregnancy announcement. That's right folks. Beyonce is knocked up with twins! With the current political situation in America, all we can think of is "there's literally more black people inside of Beyonce than in the US government at the moment". But nevermind that. Let's focus on the positive and take a look at the cheesy photoshoot Beyonce had to announce her pregnancy. The photoshoot is a bit ridiculous. But who doesn't do crazy sh*t when they're pregnant, right? Plus, it's Beyonce, she can do whatever she wants.
If Beyonce wants to pose in lingerie in front of a wall of flowers in a veil, who's going to stop her? That's right, no one.

Casually chilling in a bra on a sofa of flowers? That's Beyonce for you.

On top of a car overflowing with flowers? Yup, go ahead.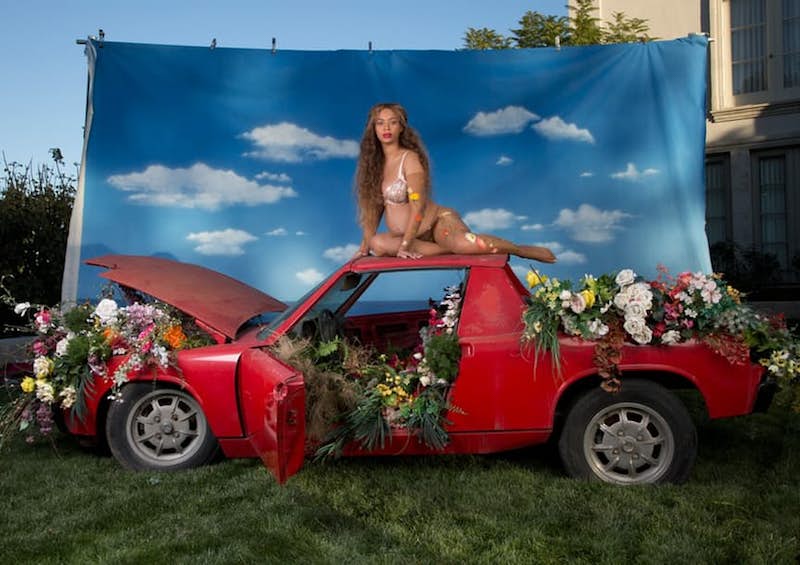 You know how hard it is to look good underwater? Well, not for Beyonce. She looks right in her element doing somersaults underwater.

While this photoshoot is definitely a bit weird, there's also a lot of things we can admire about it. First of all, the flowers and bright colors are probably there to symbolize spring and new life, new beginnings. Secondly, and most importantly, this photoshoot shows how beautiful Beyonce looks and how she's celebrating her body. All women should feel this beautiful and this proud of themselves when they're about to bring new life into the world.
Next Page