It's 2017 and everyone knows the only way to meet people is online. No one really wants to start up a conversation IRL in a coffee shop. And we get it, that's weird and awkward and requires too much effort. Also, what if the person you want to talk to doesn't respond, or worse, respond in a negative way! Sticking to apps is much safer. This way you get to know the person a little before you actually choose to meet them in the real world.
There's a lot of apps to choose from though, and while they're all designed for dating you're much more likely to succeed if you pick the one that was designed with your goals in mind. So here's a brief summary of the best dating apps for 2017 that will make it easier for you to pick the right one for you.
1. Tinder
Tinder is probably the best known dating app. It was originally meant to help singles find love, but now it's mostly used for casual hookups and one night stands. It's a bit superficial since you mostly judge people on looks by swiping left or right, but nonetheless it remains the most popular app among 20-somethings looking for dates. When signing up for Tinder you gotta understand that the chances of finding true love and a meaningful relationship are slim, but hey, it's not impossible, some people have gotten lucky.

2. Coffee Meet Bagel
The tagline for this app is "meet your everything bagel today", which is quite amusing, don't you think? Anyway, this funny named app is known as the complete opposite of Tinder. Instead of showing you tons of selfies every day, it only shows you one person a day, who's supposed to match with you based on all the other preferences, interests and criteria you've put in. And if you don't like that one person, you're going to have to wait another day for the app to show you the next person. It's a slow process, but it's meant to be better in terms of matching you to people you'd actually be seriously interested in.

3. Bumble
Bumble is a great app for ladies who want to be in charge of who they talk to. You won't be spammed by douchebags here. The only way to start a conversation on Bumble is for the lady to make the first move. And since the guys who register here know these rules, they're usually into the idea of romantic dates and dinners. So you know, if you want to find a keeper, Bumble is a great choice.



4. Tastebuds
If you choose your friends and partners based on their music tastes – you'll appreciate this app. The way this particular app works, is by comparing your interests and music tastes with those of people nearby. You can either choose your favorite bands in the app, or just scan your iPhone music library. Tastebuds will match you up with people with similar tastes, which is convenient not only for dating, but also for finding friends and people to go to concerts with.

5. Hinge
If you're one of those old fashioned people that cringes at the idea of telling people you met your partner online, you should probably try Hinge. This app doesn't show you any real strangers and instead matches you with friends of your friends. So technically it's people you might've already met, or could potentially meet at the next friend gathering, a night out or a birthday party. This way, if you really want to, you can tell people you met "through friends".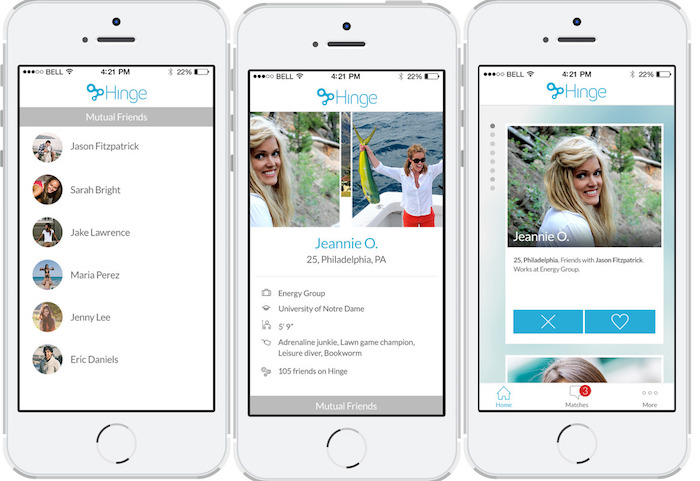 Pages: 1 2 3Next PageNext