You can always buy someone a gift like fancy soap for their birthday or the holidays, but why bother when it's just as easy and way less expensive to make it? The benefits of homemade soap include chemical-free, nourishing ingredients, and you can personalize them according to color, scent, or exfoliation level. You'll be addicted to making them once you start, and will never buy soap from a store again!
Japanese Plum Pure Silk Soap
Silk soap looks so delicious, you'll want to eat it. Though it looks like a piece of marble pound cake, this smooth and luscious soap is actually infused with moisturizing oils and a Triple Milk formula of Buttermilk, Goatsmilk, and Coconut Milk. So many natural ingredients with the yummy scent of ripe plum, clove, and incense.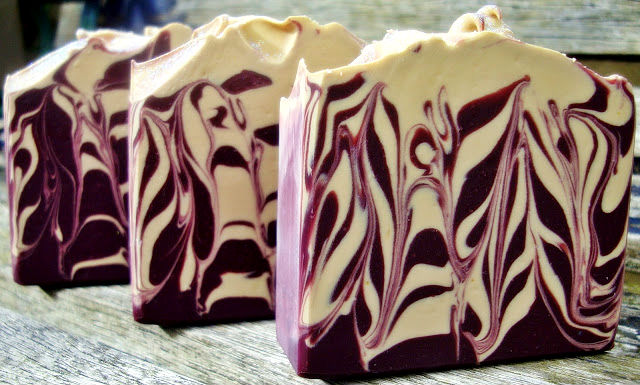 Rustic Cinnamon Hazelnut Coffee Soap
This coffee-infused soap will truly wake your skin up, and exfoliate your body! People will be wondering what smells like a decadent latte, unaware that it's your coffee, hazelnut and cinnamon drenched skin!



Honey Oatmeal Soap
Oatmeal does wonders for the skin, and so does honey. This is an easy recipe that lets you enjoy the luxury of an all natural, chemical-free soap that nourishes and softens your skin, and it's made with goat milk, which is simply sumptuous. The aroma is deep and calming.



10-Minute Apple Pie Soap
Anyone who can't resist a slice of apple pie won't be able to stop washing their hands once they get them on this soap. They even included apple pie soap labels! With hints of vanilla extract and cinnamon, this soap will satisfy all your pie cravings.



Rose & Lavender Princess Silk Soap
This fun and sparkly soap looks like a bouquet of pink roses, with the perfecto swirled surface imitate petals, and a lavender and cream base. Scented with roe essential oil, this is a perfect gift for the princess in your life.



Natural Mountain Man Detox Soap
For those who don't want their soap to come off as a girly gift, you can make this mountain man soap which contains natural French green clay, a nourishing ingredient containing minerals like iron and magnesium, which helps remove impurities. It also include activated charcoal, and is scented with a classic musky bergamot, Japanese grapefruit, and lemon blend.



Pink Grapefruit Soap
A bright scent that will give you a burst of energy! It's colored with paprika, and scented with pink grapefruit fragrance oil. For anyone who is a fan of citrus, this intoxicating scent is a must.



Citrus Coconut Soap
Made with shredded coconut and citrus zest, you're really exfoliating your skin with actual fruit every time you use this soap. The tropical smell is a perfect balance of tangy and sweet, and you don't use only essential oils. The shea butter soap base will wash over your skin like lotion.



All Natural Cucumber And Yogurt Soap
This fresh soap has a milder scent, and soothing ingredients. The thick, sunflower-oil induced lather from this soap will pamper your skin, and cucumber will help reduce redness, excessive oiliness, or puffiness. Yogurt is soothing as well.

Lavender & Bergamot Soap
You'll start to get addicted to lavender once you start using it. This is a great smelling soap for men and women, and they look beautiful. The scent combination is soft, but rich and bright. Make with lavender essential oil and bergamot essential oil.



Fresh Peppermint Soap
Every fan of peppermint or candy canes will go crazy over this soap recipe. Peppermint leaves your skin tingling, and can the minuteness can really open up your sinuses, making it the perfect partner in crime for a steamy show. It isn't just for the holiday times – show peppermint some year-round love.