There are good hair days when you get out of bed and can go straight out into the world with close to no hair products applied, and then there are bad hair days when despite all your efforts the hair just stubbornly refuses to be tamed. What do we usually do when this happens? Stress out and loose calm. Is there a way out? There certainly is, and more than one. Here are 15 simple, yet cool new ways to deal with a bad hair day. All you need is a few seconds of your time!
Talc is your new best friend
Talc powder is one of the most powerful remedies for all kinds of hair. Whether you have straight hair or natural, this product will strengthen your hair and give it all the essential nutrients it needs. It's better than dry shampoo and most of other natural hair products. And it's certainly better than those commercial hair products with added chemicals.

Use your bedhead hair
It's one of the most dreadful problems each woman faces on a daily basis. What do you do with your messy hair once you wake up? You immediately stress out and start thinking about how to make it look good. The main trick here is to just own it the way it is. Bed hair can indeed look messy, but you can easily style it into a modern-looking bun and still look amazing!

Castor oil is your #1 friend
Castor oil promotes hair growth and generally makes our hair easier to tame. Sometimes it's not the wind or bad weather that's killing your hair, but the hair products you're using excessively. Castor oil will help restore your hair and make it look less disheveled.



Get inspired by Kristen Stewart
We may or may not like Kristen Stewart, but one thing is true – she has the loveliest messy hair we've ever seen. If you ever feel bad about your hair, just Google some Kristen's photos and rest assured that your hair looks just as lovely. The trick is in the vibe you're wearing it with. Just be confident that you look amazing!

Use a beanie
Hiding your messy hair may not be the best solution in the world, but you can use a variety of cool-looking beanies and hats to look fresh and trendy. Beanies can transform bad hair into a really cool look without any effort at all. Throw on a cute beanie and you're good to go!



Put on a headband
If beanies are not your style, think about using a headband. Wide headbands go really well with formal clothing, so if that's your style, then you should just go for it. Wide headband will tame your hair in a beautiful way and you will still look sleek and stylish.

Try the cotton candy bun
Cotton candy buns are really easy to do. This practical hairdo can save you anytime anywhere. Twist your hair into a bun if you're feeling it's not your best hair day. You will immediately look and feel better!

Make your hair even MORE messy
Yes, you heard that right. If your hair is constantly messy, then think about making it even worse. It actually works! Blow-dry your hair without brushing it and you'll end up with lovely-looking messy locks that are totally natural. Just make sure you don't wear this hairstyle to official meetings and such.



Twist or braid your hair
Twist your messy hair before you turn it into a bun to have gorgeous waves by the end of the day, or just twist a few strands to open your face more. Twisting is a good technique that works with all types of hair. Braids are also easy to create and you can make them look as messy as you like.

Create a stylish knot
Stylists have come up with an unusual, yet cute hairstyle – a knot! Tying your hair into a knot will create a gorgeous hairstyle that is both beautiful and unusual. Most women don't even consider this hairstyle! Which is a mistake because it looks really fresh and memorable.



Sea salt will help you out
The magic of sea salt can make any hair look better instantly. Sea salt spray is the perfect remedy for a bad hair day. You will achieve that gorgeous wet beachy look that suits all women without any exceptions. You don't even need to brush your hair!

Go for the lazy braid
Messy braids have taken the fashion world by surprise and are still as popular as they were a few years ago. This means that you can easily create a simple, yet stylish hairstyle in a matter of seconds! You don't even need any hair product or a mirror. The messier, the better!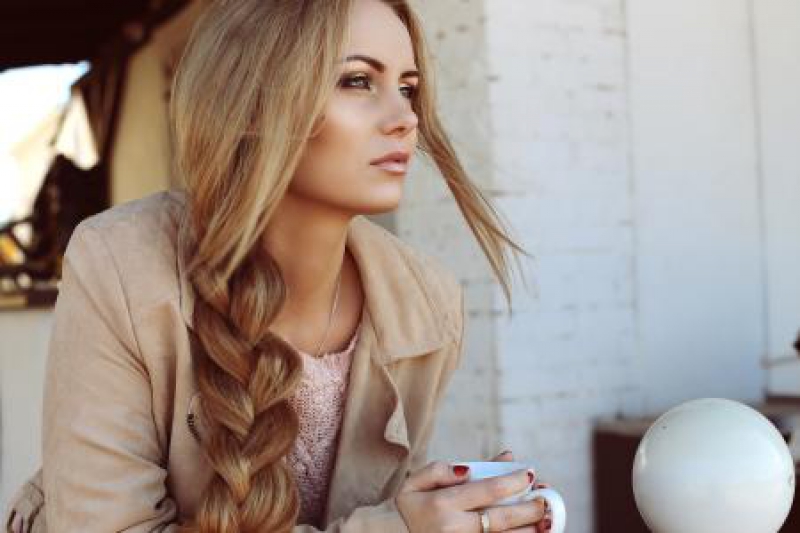 What about chignon?
Chignon buns are a cool way to transform your messy hair into a really glamorous hairdo. Who said chignons are for weddings only? It's a small, yet effective trick that takes just a few minutes of your time and will last the whole day.



Messy pony tail is the answer
Pony tails never go out of style, especially messy ones. They are easy to do and can save any hairstyle that has gone all gaga on you. If you're feeling your hair is doing more harm than good, just gather it into an effortless pony tail and you're good to go!

A brush can help
Sometimes all you need is a few strokes of a brush! It doesn't mean that you're giving up, but if you're tired of messy-looking hairdos, a brush can easily save your day. It's a simple solution and by far the easiest one. Just keep a brush in your purse and you'll always be able to transform your messy hair into a lovely-looking hairstyle.