Valentine's Day is approaching and it's about time to think about how, when, where, and with whom are you going to be celebrating. You might've already picked out a date outfit for this occasion, or maybe you're more spontaneous and prefer to just wing it. Perhaps you don't even buy into the whole "Valentine's Day" thing and prefer to treat it as any other day of the year. Either way, some cute nail art won't hurt. Here's a couple of really pretty nail designs you might want to try for St Valentine's. Feel free to try recreating some of these or draw inspiration from it and create your own.
Colorful Hearts
Who wouldn't like rainbow hearts on their nails, right? It'll take awhile to do by hand, but you could always just buy stickers.

Pastel Nails And Tiny Hearts
This topcoat is a lifesaver for Valentine's Day. You can literally put in on any nail polish and it'll instantly make it Valentine's Day appropriate.



Heart and Bow Nails For Valentine's Day
A dainty look that will suit all ages.

Sassy Nails
This sassy manicure will be appropriate for any Valentine's day date. Successful or not so much.



Nude With Hearts
Who said your manicure has to be pink or red only? You can totally rock black hearts too.

Comme des garcons play-inspired nails
This nail art is incredibly cute and easy.



Rebel Valentine
Anyone can do pink and lovely. Try this artistic and unique manicure and stand out in the crowd. We bet your friends will be impressed.

Triple Hearts
What can be better than one heart? Three hearts, or course.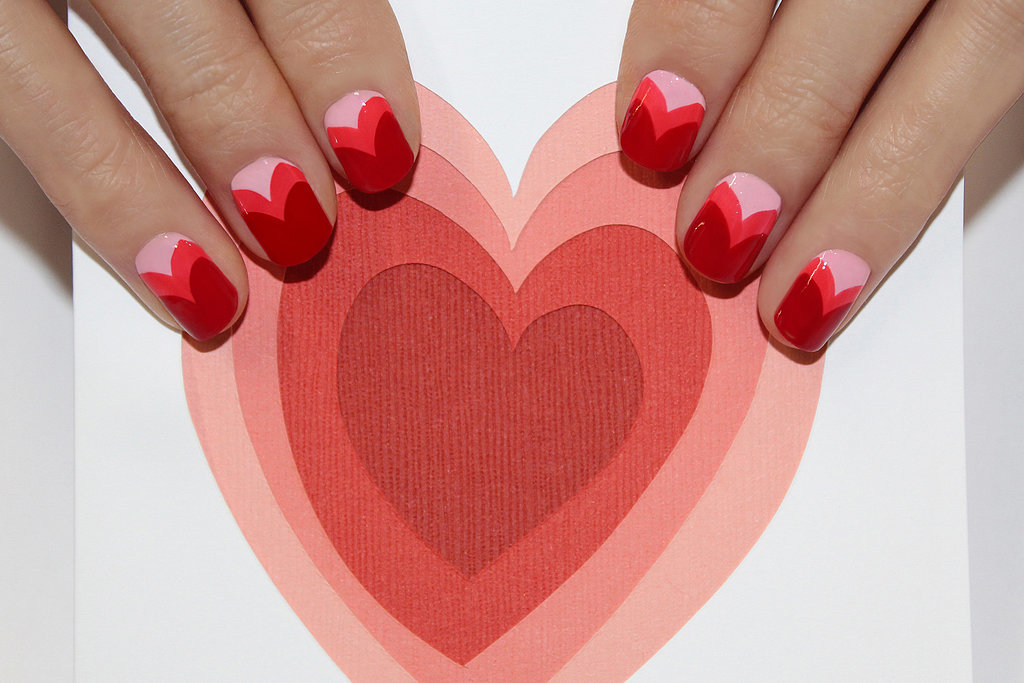 Tainted Love
Not feeling all pink and girly? Try this awesome nail art then.

Scrabble Inspired
This cute nail design serves two purposes. It's a great way to decorate your nails, and an even better way to show off your love of scrabble.



Foxy Lady
Foxy nails for a foxy lady.

Heartbeat Nails
A slightly more medical approach. But what's more romantic than the sound of your loved one's heartbeat?



Morse Code Love
A brilliant idea for those wishing to be a little more secretive with their love of Valentine's Day.

Fun And Bright
A very cute way to incorporate more colors into your nails art. This way you don't have to limit yourself to just red or pink.



Candy Conversations
All of the cuteness of candy hearts, none of the calories.

Feeling Blue
If you're feeling blue this Valentine's Day, try this nail art. Or you could watch Blue Is The Warmest Color.



Pink And Girly
A classic look for Valentine's. Pink, girly and with diamonds.

Candy Heart Tips
No matter what you're doing this Valentine's Day, hanging out with your girlfriends or going on a date with a very special someone, this nail design will grab everyone's attention.



Funky Love
Aren't you tired of boring manicures? Why not try something unique, bright and funky, just like you.

Easy Heart French Tips
An awesome spin on French tips, that's perfect for Valentine's Day.