Halloween might be the only celebration that mixes both fun and spooky and makes it truly entertaining for people of all ages. During Halloween we get to dress up, eat all those yummy pumpkin dishes (and don't forget about the delicious pumpkin cinnamon latte!), listen to Thriller more times than we can count, and watch some of the creepiest movies ever. If you're feeling like you haven't exactly felt the spirit of the upcoming Halloween yet, then this list of movies is exactly what you need.
Casper
We just had to start the list with this everlasting classic of a Halloween movie. It isn't exactly about the Halloween, but it's the spookiest and most fun ghost movie we've ever seen (and if you still haven't, we strongly suggest you check out this 90s' classic). Casper tells a story of a girl who befriended a good ghost, suffering from his more vile ghost-uncles who wanted him to act according to his ghost nature. This heartfelt story is the best Halloween movie for the whole family.
Hocus Pocus
Hocus Pocus should probably top the list as it offers exactly what one is looking for in a Halloween movie – good-natured Disney-channel-esque spookiness, three evil witches, and a bunch of teenagers going through eerie adventures. It's cringe-worthy, fun, and will most definitely get you into the Halloween spirit.
The Nightmare Before Christmas
This Christmas animation might very well be the most Halloween movie on the list! Soaked with Tim Burton's creepy aesthetics, "The Nightmare Before Christmas" brings us the spooky charm of Halloween with amazing music, fun characters, and more Halloween spirit than we could ask for!
Donnie Darko
Starring young Jake Gyllenhaal, Donnie Darko might very well be the weirdest movie you've ever seen (a rabbit demon, seriously?). Yet this is exactly why this movie made it into to this list. It's deliciously evil, dripping with an impeding sense of doom and more suspense than we could stomach, and a complex yet striking plot that explores the more ancient roots of the Halloween celebration.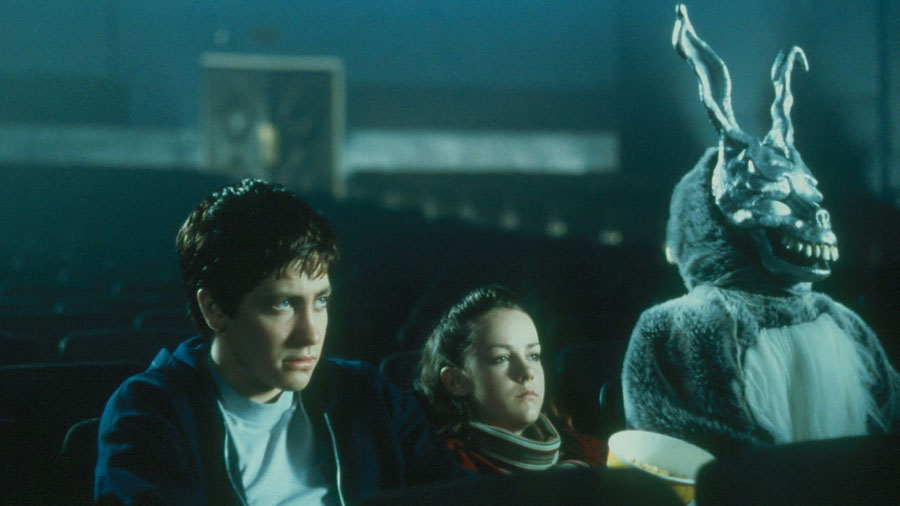 Sleepy Hollow
Everything Tim Burton does has that wicked Halloween feel to it that is both creepy and exciting. The story about Ichabod Crane is one of those classics that just never get old, yet Tim Burton managed to put a new spin on it, turning an ancient legend into a more modern detective story with some dark humour elements from Johnny Depp. The cast in this movie is amazing, as well as the whole incredibly creepy setting of the movie. The Headless Horseman might actually haunt your dreams afterwards!
Ginger Snaps
John Fawcett managed to mix the story about two very close sisters with an intricate plot revolving around lycanthropy. There's drama, high school tragedy, some blood, the 'transformation' that has more than just one meaning, and an amazing amount of pure Halloween spirit as the events take place in October and a Halloween party is on its way.
Something Wicked This Way Comes
"Something Wicked This Way Comes" is a product of the 80s, but it is still a must-watch when it comes to choosing a movie for your Halloween binge-watching session. Based on Ray Bradbury's novel, the movie transfers us into the world of creepy travelling Carnival. This is definitely a must-see!
Monster House
This gem of a horror flick is one of those movies you'll want to re-watch every year on Halloween. Yes, it's that good! The name of this animation yumminess kind of hints at what's going to happen in the movie, so we won't spoil the fun any further. Just know that it's a sweet and stylish nod to Hitchcock works and that eerie gothic aesthetic we love seeing in horror movies.
Ghostbusters
Ghostbusters (and we are talking about the first rendition here) is the ultimate fun when it comes to Halloween movies. After all, it's about ghosts! When a few scientistsget kicked out of the Columbia University after a ghost investigation gone wrong, they open their own Ghosbusters agency to explore the paranormal and, eventually, fight it when all hell breaks loose.
It
The new rendition of Stephen King's classic horror movie is definitely a must-watch for everyone who is looking get into the Halloween spirit. It has all the necessary ingredients: Pennywise, the spookiest monster you've ever seen, a lost boy, a group of kids that have to deal not only with their fears, but also with hardships of growing up, and an eerie house that will scare the bejeezus out of you.