Weddings are pretty cool, but TV Show weddings are just the best. Is there anything better than seeing your favorite characters fall in love, follow their relationship through ups and downs and finally being able to witness their wedding? I don't think so. TV weddings never fail to make me feel all mushy and emotional. So let's take a look at the best TV Weddings of all time. Keep your tissues close by.
1. Sheldon & Amy — The Big Bang Theory
If Sheldon had to marry anyone Amy was the perfect fit. It's awesome Sheldon got a wife that's just as smart and quirky and just as awkward as he is. Plus, you know, Luke Skywalker officiated the wedding – that's just perfection.
2. Leslie & Ben — Parks & Recreation
I dare you to find a more touching wedding than that of Leslie and Ben from Parks & Rec. I mean, everything about it was so sweet, the handmade dress, Ron Swanson walking Leslie down the aisle, the fact that it happened in City Hall, their vows. Their relationship and wedding are literal goals.

3. Phoebe & Mike – Friends
Phoebe sure was the strangest character on the show, she always had some pretty wacky adventures. Her wedding with Mike was no exception. There was a huge blizzard in the city, the priest couldn't make it cause he got snowed in, it almost got cancelled. But in true Friends fashion everyone stepped up and it all worked out for the best. We especially loved that all Friends had a part in the wedding, it felt so special and sweet.

4. Turk & Carla — Scrubs
If you watched Scrubs you know that Turk and Carla are the most adorable couple on the show (apart from the bromance of Turk and J.D). And it's funny how everything leading up to their wedding went wrong, yet in the end it seemed just right for them.

5. Sookie & Jackson — Gilmore Girls
Sookie and Jackson are such a good couple. Their whole relationship is just so sweet, starting from their first date. Their dynamic in the show is just so amazing. Even their fights are adorable. It's a bit of a shame that their wedding became a backdrop for Lorelei's and Rory's drama, but hey, they looked wonderful and the whole town was there to celebrate with them.
6. Piper & Leo – Charmed
Piper and Leo had to go through a lot in order to get married. The Heavens were literally against it. And yet they managed to get married, proving that if you fight for your relationship you can achieve anything you want, even if the world is against you. Plus, you know, instead of a priest they had a ghost, because when a witch is marrying an angel, having a regular priest would be too boring.

7. Donna & David – Beverly Hills
Donna and David were on and off throughout the whole show .We spent years hoping they would get it together. We waited 10 seasons for this and it finally happened in the last episode of the show. And boy was that a satisfying end of the show. That dress, the very 90s choker, the beautiful vows that made us all, including David weep. Oh it was just perfect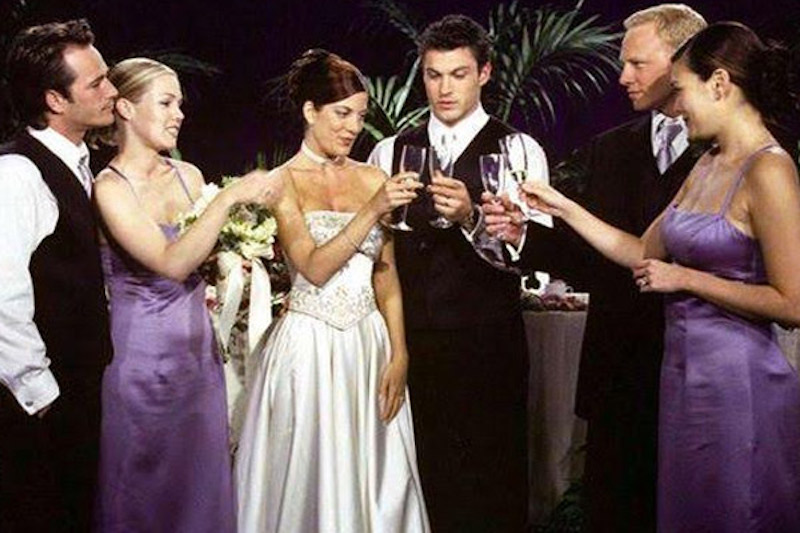 8. Marshall & Lily – How I Met Your Mother
Marshall and Lily's wedding followed a classic "everything that can go wrong will go wrong" scenario. A lady who was supposed to play the harp went into labor, Lily's veil got ruined, an ex showed up and Marshall had quite a serious hair catastrophe. It was hilarious and clearly set the mood for their married life, full of weird little adventures.
9. Rita & Dexter – Dexter
When you were watching the first season of Dexter, you couldn't possibly predict that one day he would get married, right? It just wasn't for him. He's a killer, he's weird, he doesn't have feelings like that and he doesn't seem like one to agree to something as frivolous and ridiculous in his mind as a wedding. And yet here we are. Turns out even a serial killer can't help falling in love.

10. Miranda and Steve – Sex and The City
Miranda's wedding wasn't a usual one. There was no huge white dress, no crazy wedding planning. It was very simple and sweet, perfect for her character. A proclamation of love, while being surrounded by close friends and family.