It might be hard to believe, but celebs are still just humans. They might have tons of money, gorgeous massive houses, more shoes than you can imagine, impeccable style and the body of your dreams, yet they are still mere mortals who are prone to bouts of self-doubt and jealousy. Being gorgeous and crazy successful doesn't stop them from occasionally acting like psychos when it comes to their boyfriends. So let's take a look at 10 celebs who are secretly psycho girlfriends.
1. Sienna Miller
Sienna is a very gorgeous lady, but clearly she has some issues. She's had a few scandals in the press that outed her as a serial cheater. She was once involved with two British heartthrobs at the same time. She was dating Jude Law and Daniel Craig at the same time. What a good looking love-triangle, don't you think? She also cheated on a Welsh actor Rhys Ifans with American actor Balthazar Getty.

2. Kris Jenner
Caitlyn Jenner has revealed recently that her ex-wife Kris Jenner also had some issues. Apparently she was very controlling. She controlled the money, she controlled how Caitlyn (back when she was still Bruce) was supposed to behave and how to dress. She wouldn't allow her to dress up, especially in the comfort of their home.



3. Kelly Brook
Kelly Brook has admitted to having some problems with controlling her anger, which resulted in some violence. She says she hit her ex Danny Cipriani when she suspected he was seeing someone else. And she also said she hit Jason Statham at Madonna's wedding. How embarrassing is that? However she doesn't seem to think that she has a problem and just laughs it off. After all they're men, and they probably barely felt her hits.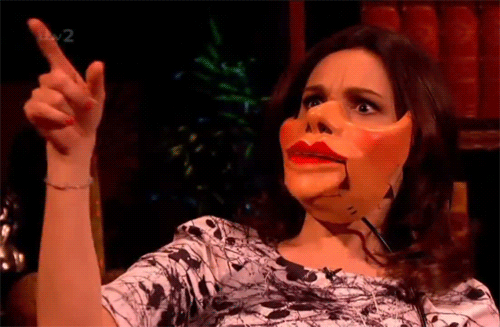 4. Blac Chyna
Blac Chyna has publicly proven that she can be quite a psycho. You all remember her yelling into the phone and throwing stuff around on Rob&Chyna. Later on, Rob Kardashian confirmed it even further on his snapchat when he showed how she scratched up his arm to the point of bleeding. Isn't that just crazy?



5. Demi Lovato
Demi's romance with Joe Jonas has been happening on and off for years now. Joe has mentioned in some of his interviews that Demi has actually pressured him into taking drugs and that she can be quite pushy and manipulative to the point where breaking up with her is harder than being in a relationship with her. The weird thing is that for a while at least, Demi obviously had no clue how crazy she was being. Take a look at her video for "Give Your Heart A Break" and you'll see that what she thinks is cute can actually be quite creepy.

6. Taylor Swift
Taylor is awesome at writing songs about love, relationships and breakups, and generally all things to do with the matters of the heart, but she clearly can go a bit crazy when it comes to dating. Remember how she bought a house right next to Connor Kennedy's within like 3 months of them dating? Or how she spent $100k on Beatles memorabilia cause Harry Styles was into Beatles? Like it's one thing to be enthusiastic about your crush, but Taylor can obviously be way too eager.



7. Kylie Jenner
Kylie Jenner went a bit psycho when she was dating Jaden Smith. Apparently when Jaden started becoming friendly with Chelsea Clark, Kylie went full on, stalked and started calling the poor girl and threatening her. This behavior went to the point where Chelsea considered requesting a restraining order against Kylie.



8. Courtney Love
You already probably know that Courtney Love can be quite crazy sometimes. She once blamed Edward Norton for owing her thousands of dollars while they were dating, but after his lawyers talked to her, she admitted she made that up. She also once had a whirlwind romance with a comedian, Steve Coogan, for a couple of weeks, and then announced she was pregnant, even though she wasn't. She blames her weird behavior on drugs, which might well be true, but you never know with Courtney.

9. Selena Gomez
Remember how happy we all were when Selena Gomez and Justin Bieber broke up? I mean, he wasn't good enough for her and that kid is clearly troubled. But hey, turns out Selena has her own issues too. Apparently she's been stalking his Instagram like crazy, even though they haven't been together for years. Her friends admit it's weird and creepy, but she said it's just cause looking back at their pictures made her happy. What a weirdo.



10. Angelina Jolie
Angelina Jolie is insanely beautiful, but it looks like she's got some issues. If you look at her dating history, you'll see that she has a knack for dating and winning over men who are already taken, but nothing compares to how she's behaving now, in the light of her divorce from Brad. They've been together for 12 years and have 6 kids, but now it seems like she's set on destroying Brad's image and preventing him from having any contact with his kids. Not cool, Angelina. Not cool.