TV shows are the best, aren't they? I mean, I have nothing against movies, but TV shows just stick with you for longer and you have more of a chance to get attached to the characters, see them grow and change and evolve. You see them every week if not every day and you end up relating to them more. And the good shows can be on TV for years, even decades – think Friends, Beverly Hills 90210, etc. What's even cooler is that while we grow up with these TV shows and their character, so do the actors and for some of them we literally see them go from kids on screen. So let's take a stroll down memory lane and remember some of the child stars who grew up on screen and how they changed over the years.
1. Mila Kunis
Mila Kunis got her breakthrough at the age of 14 on That 70s Show. The creators of the show wanted the cast to be over 18, so Mila lied and said she was going to be 18 soon. By the time they found out she was only 14, and that "soon" meant in 4 years, Mila already made the character of Jackie Burkhart her own. That 70s Show was on air for almost a decade, so we really got to see Mila grow up on screen, and she continues to have a great career on the big screen.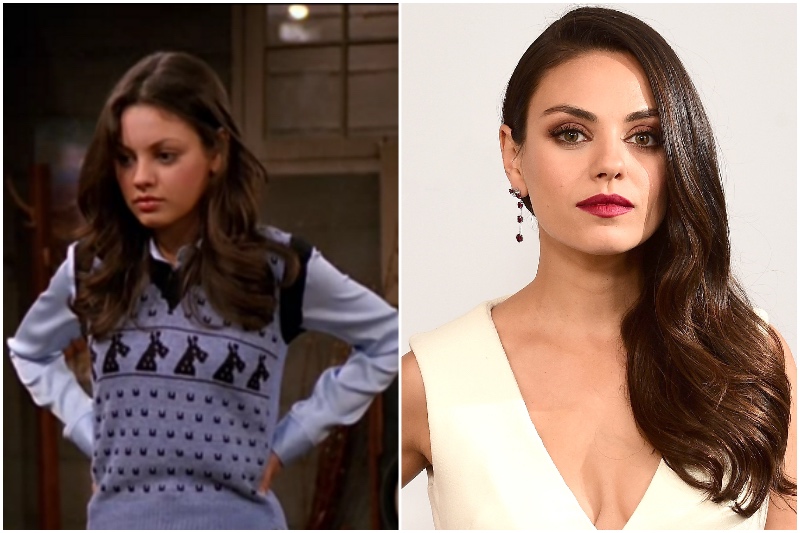 2. Nolan Gould
Nolan was still a toddler when he got his first role in a commercial. He got his big break at the age of 11 when he landed the role of Luke Dunphy on Modern Family. He's now 18 and the show is still going strong. Modern Family isn't the only thing you can see Nolan in, despite his young age. He can also be seen in Space Buddies, Eleventh Hour and Sweet Nothing in My Ear.



3. Ariel Winter
While we're on the subject of Modern Family let's mention the other kids on the show. Ariel Winter got the role of Alex Dunphy at the age of 11, like her co-star Nolan. She also started her acting career quite young by getting a role in a Cool Whip commercial at the age of 4. Now she's 19 and no one could've expected that this nerdy little girl would grow into such a gorgeous lady.

4. Sarah Hyland
Sarah was only 7 when she got a role in a movie called Private Parts. That's quite an accomplishment for someone that young. Since then she's had a lot of small parts, but her biggest break was of course the role of Haley on Modern Family. She was 18 when she got the part, and even though her character was much younger it wasn't a problem because Sarah looked much younger than she actually was. Now this young lady is 26 and apart from her Modern Family role she's also been seen on the big screen in movies like XOXO, Scary Movie 5, Vampire Academy and Struck By Lighting.



5. Aubrey Anderson-Emmons
We all know and love Aubrey as Lily on modern family. Did you know she was only 4 when she first appeared on the show? She's 10 now and her character seems to be getting sassier with every episode. She literally grew up on the set of Modern Family and we're looking forward to seeing more of her in the future, both on Modern Family and her future projects.

6. Rico Rodriguez
You probably know Rico as Manny from Modern Family, Gloria's kid who's smarter than his mother and is the cutest gentleman out there. Rico got this role when he was 11 and it was his first serious role. Now he's 19 and you can't imagine anyone else playing Manny, he's just perfect. He also wrote a book called "Real Life Lessons…So Far", which is a very Manny thing to do, don't you think?



7. Jennie Garth
Jennie Garth was 18 when she got the role of Kelly Taylor on Beverly Hills 90210. That show was a hit and many of us grew up watching it. It was actually on air for 10 years! So Jennie was 28 in the last season. A decade on our TV screens playing a part in our favorite show surely gets her a place on the list of stars who grew up on screen.



8. Shannen Doherty
Shannen got her big break as Brenda on Beverly Hills. She was 19 when she got the role and her character was supposed to be a high school freshman. It's unclear whether she was made to leave the show after four years because of her age or because she had a reputation of being difficult to work with. You might also know her as Prue from Charmed.

9. Alyssa Milano
Since we already mentioned Charmed – let's talk about Alyssa Milano. While a lot of people know her from this show it wasn't exactly her big break. She first appeared on screen when she was about 12 in an episode of Old Enough and then she got a role on Who's The Boss. She acted in a lot of different shows and movie since and continues to have a successful career now as a 44 year old.



10. Kaley Cuoco
Most people know Kaley as Penny from The Big Bang Theory, and while that show is hugely successful and has been on air for a decade now, it's not her first big role. Her breakthrough was on the show 8 Simple Rules as Bridget when she was only 17. What's funny is that her character was the eldest daughter in the family but in real life she was 6 years younger than her on-screen sister.