We are all used to celebrities getting all dolled up for various events starting from red carpets and Oscar Awards, and ending with nights out and fancy restaurant dinners. But despite all the bling and glamour celebrities seem to ooze 24/7, they are still human beings and like to relax from time to time. This means going out to the gym without makeup, sipping on morning coffee in the park wearing a lacklustre T and jeans, and enjoying a simple, relaxed look that doesn't involve high heels and stylish suits. Some celebs can actually pull off a laid back casual style and still look put-together, while others aren't that good with street wear. Here are 10 rich celebs who don't look it at all.
Shia LaBeouf
We really don't know what happened to Shia LaBeouf after his success with Transformers, but it hit him hard. He's been arrested for countless DUIs and has been acting totally weird ever since the movie became a hit. Some believe that his behaviour has something to do with alcoholism, but either way, he's been dressing like someone stuck in a post-Apocalyptic movie. It seems he has no money left from his previous endeavours!

Snooki
Nicole 'Snooki' Polizzi was unknown to the public until she took part in the Jersey Shore show. Yet her newly acquired stardom didn't do much to improve her style! We love her fun personality, outgoing character, and all the crazy things she does, but she never dresses like a celebrity that she is. Maybe it's because she doesn't really fell like one?



Bradley Cooper
Who could have thought that Bradley Cooper, with his cool attitude and stylish garments, could actually look messy? Well, photos made by the paparazzi don't lie (although, who are we to judge, right?). Having starred in movies like American Hustle, Hangover, and Silver Linings Playbook, Bradley Cooper definitely knows a thing or two about posh red carpet looks. Nevertheless, he's been spotted looking totally un-celebrity-like, wearing baggy shorts, oversized T-shirts, and ripped sneakers.

Sarah Jessica Parker
Carrie Bradshaw from Sex and The City might have been a fashion guru, but things are a little bit different with Sarah Jessica Parker. She does look amazing on red carpets, rocking the most breathtaking statement dresses, yet her everyday style often looks messy and dishevelled. She couldn't be more different from Carrie Bradshaw's persona that would buy $500 shoes non-stop!



Jaden Smith
Jaden Smith is a unique young man, nobody can argue that. It seems that his newly acquired fame doesn't really mean that much when it comes to picking up what to wear. His dad, Will Smith, says Jaden doesn't want his life to revolve around money and thinks that 'less is more'. Although, this doesn't really explain some of his unusual fashion choices.

Katie Holmes
Katie Holmes has been on everyone's radar since her successful role as Joey in Dawson's Creek back in the day. We've seen her date Jamie Foxx, Tom Cruise, and Joshua Jackson, as well as take part in amazing movies like The Giver and Batman Begins. She's been a celebrity for quite some time now, but she never really dresses like one! She often looks homely wearing unattractive sandals, awkward dresses, and boring denim shorts.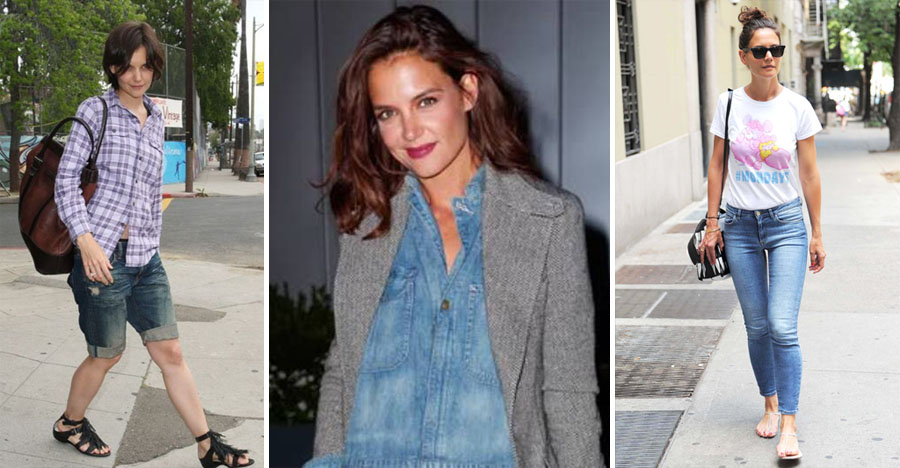 Kanye West
Kanye West is one of those celebs that never dress according to their status. And maybe that's a good thing? He prefers simple-looking things like sweatshirts and combat boots and we rarely see him wearing something other than that. He got really popular after singles like Gold Digger, All of the Lights, Stronger, and got exceptionally famous when he got together with Kim Kardashian in 2012. Nevertheless, his casual style remains the same!



Anne Hathaway
Anne Hathaway is an award-winning actress and has been seen rocking the most elegant gowns on numerous red carpets. But what happens when she steps out of the limelight? Well, she likes to dress down considerably. Of course, you can look whatever you want on your day off, but some of Anne Hathaway's fashion choices are just puzzling. Does she really need to wear all those cheap-looking jeans and baggy sweaters that do nothing good for her figure?

Kristen Stewart
Kristen Stewart dresses like she doesn't care. We've seen her looking gorgeous in numerous movies and in even more fashion ads and makeup campaigns, but in her everyday life she prefers to wear cheap-looking worn-out jeans with sneakers and simple T-Shirts. Well, we can relate to a girl not wanting to doll up every time she goes out shopping, but it really wouldn't hurt to choose more versatile clothes.



Robert Pattinson
Long gone are the days when Robert Pattinson was the centre of everyone's attention with Twilight fans following his every step. We love Rob for a plethora of other movies, including Remember Me and Little Ashes, but his everyday casual look could have been just a little bit more put together. If you see Robert Pattinson on the street, you probably won't recognize him at all as he never dresses like a celebrity. Maybe that's exactly why he's doing it?