Celebrities are constantly armed with a team of makeup and hair artists who transform their natural looks into that of a performer. But when we get to see the raw and vulnerable side of celebrities outside of straighteners, wigs, and hair extensions, we can finally see their natural beauty, which we wish they had never hidden! Be proud of your true selves, ladies – these stars sure are.
1. Beyonce Knowles
Beyonce gave us a rare glimpse of her natural locks on this boat selfie where she is free and her gorgeously curly locks are blowing in the wind. We don't know about you, but we like this way more than the made-up, slicked-back Beyonce hair.

2. Ariana Grande
We're so used to seeing Ariana with her signature ponytail that we were super surprised to see her stunning waves out, with a couple of cornrows in the side. Her Latina roots shine, and we wish she would wear it like that more.



3. FKA Twigs
This babe brings baby hair to the next level. While some try to hide their baby hairs, FKA accentuates hers with intricate designs. But we love her in this simple and innocent look with her curls out and free!



4. Willow Smith
Willow and her brother have never been afraid of making style statements- and we love her bold and wild short haired look that let us focus on her radiant face. On natural hair, she's said " I just want to have reads. I want to embrace my full self, as natural as I can be." Looks natural to us!

5. Zendaya
Zendaya has stood up for her natural hair in an impassioned Instagram post inspired by racial remarks that E! News hosts had made. She looks like a straight-up lion babe with her voluminous self.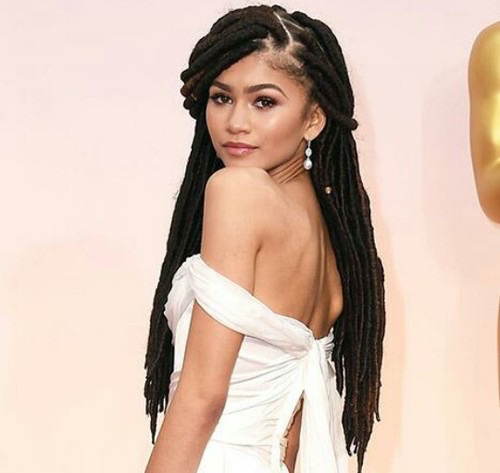 6. Amandla Stenberg
Amandla has been changing the way we talk about the standard of beauty for black girls – and she's a jaw-droppingly beautiful example. We love her curly locks, but our favorite style might have to be her daring choice to dye her locks a daring grey – wise beyond her years.



7. Zoe Kravitz
Lenny and Lisa sure made an angel with perfect hair – from braids to waves to more wild looks, this beauty can pretty much rock anything. We like her box braids the most.

8. Taraji P. Henson
Taraji isn't afraid to show her raw and natural self, as proven by this makeup-free, totally natural selfie. You still make all the guys swoon, Taraji!



9. Lupita N'yongo
Lupita has redefined what it means to have short natural hair. She rocks headbands and makes it perfectly girly if people ever thought short hair couldn't be feminine. We love this short upward brushed 'do.



10. Jourdan Dunn
Supermodel Jourdan Dunn is channeling "Finding Nemo" in this selfie, and we love her cascading curls that look like she just rolled out of her blanket with the sexiest bed-head ever.

11. Solange Knowles
Solange isn't the only Knowles with badass natural hair on this list! Her style is like the alternative version of her sis, and her unique hairstyle makes her even more of an original. We love the countless curly ringlets look that seems to have sort-of-but-not-really bangs, looking ever so elegant.



12. Janelle Monae
This suit-wearing talent queen has taken our breath away with her ability to turn her natural hair into art, without straightening it. So much natural hair up-do inspiration for days. Flawless.