It's not a secret that when it comes to becoming a Hollywood celebrity – looks matter. That doesn't always mean being the most conventionally beautiful, but looking interesting, or striking or unusual. The goal is to keep people interested and look memorable. After all, beauty is subjective, we all have different tastes and preferences and we all find different looks to be appealing. Today we offer you to take a look at 14 most beautiful couples of Hollywood in our opinion and see if you agree.
1. Bella Hadid & The Weeknd
Bella Hadid and The Weeknd are both very beautiful people, it's hard to argue with that. And they make a gorgeous couple. Not sure if there's anything else to add about them. We just want more pictures of them together.
2. Justin Bieber & Hailey Baldwin
If you try your best to get over Justin's weird style these days you'll see that he's actually grown from a cute boy into a very handsome young man. And Hailey Baldwin is a gorgeous young lady. Just imagine how cute their babies would look like.
3. Justin Timberlake & Jessica Biel
Justin has been bringing the sexy back since his 'N Sync years and Jessica Biel has always been the picture of beauty and grace. It's hard to find a better matched couple in Hollywood. Makes you wonder what their secret is both for staying so good looking through the years and keeping their relationship so happy.
4. Priyanka Chopra & Joe Jonas
We couldn't have predicted these two to be dating, but here we are. Despite how different they seem to us these two are clearly in love and they both are a pleasure to look at.
5. Kanye West & Kim Kardashian
Say what you want about Kim and Kanye but these two look great together and they seem to work well together too. They're gorgeous, talented each in their own way and, honestly, when you think about it, they're a match made in heaven.
6. Ryan Reynolds & Blake Lively
Ryan Reynolds and Blake Lively are such a perfect couple it's annoying. Seriously, look at them. We're used to thinking of Ryan as funny, but once you put him in a suit and really look at him you quickly realise he's a very handsome man and Blake is obviously one of the most beautiful women in the world.
7. Ryan Gosling & Eva Mendes
Ryan Gosling and Eva Mendes have taken an unusual approach to their relationship. We know they're together but they rarely appear together in public, which is probably for the best. Those two together are way too gorgeous for us mere mortals to be able to deal with.
8. Jason Momoa & Lisa Bonet
These two are a perfect example of how you can look different and stand out yet be considered absolutely stunning and look great together.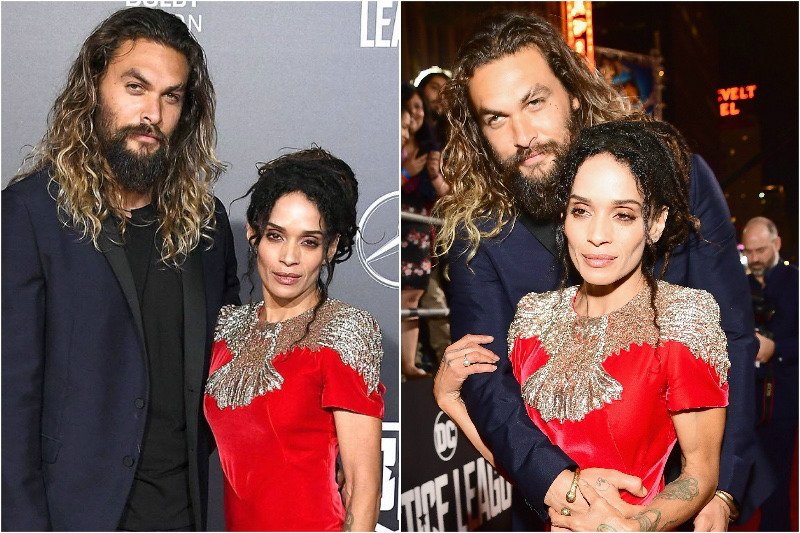 9. Bradley Cooper & Irina Shayk
Who doesn't have a bit of a crush on Bradley cooper? And Irina Shayk always looks absolutely mesmerizing. It's actually hard to tell which one of them is better looking, so we're not even going to try.
10. Miley Cyrus & Liam Hemsworth
Miley Cyrus has gone through so many different transformations when it comes to her appearance. She went from a cute teen to an incredibly beautiful and classy woman. And do we even need to say anything about Liam Hemsworth? That whole Hemsworth family has been blessed with god like looks.
11. Kit Harington & Rose Leslie
Kit and Rose have been our OTP for a while now. Whoever was cast in Game of Thrones got that right. The fact that they got married just makes us squeal in joy from how perfect that is. They're beautiful people and look stunning at red carpet events, but we gotta say we also love how absolutely adorable they are when they're just out and about.
12. John Legend & Chrissy Teigen
John Legend and Chrissy Teigen have been together for a long time now. They have two kids together and they've even talked about considering a third one. And you know what? We fully support them, we need more beautiful little versions of them in this world.
13. Neil Patrick Harris & David Burtka
Neil Patrick Harris and David Burtka are such good looking couple and their relationship is #goals. We all wish we could have such a perfect partner and such a cute family.
14. Mila Kunis & Ashton Kutcher
Mila and Ashton met such a long time ago and it's kind of weird to us that they didn't start dating immediately. They're both so freaking beautiful and funny and boy are we glad they ended up together.