Whether you're looking for engagement ring inspiration, just dreaming about your own big day, or wondering what lavish pieces these celebrities can afford. Or maybe you're just looking for inspiration on the perfect ring to treat yourself, because you don't need a man to deck you out in jewels. #independentwoman #butaprincecharmingwouldbenice. Check out these glamorous jewels and try to pick your jaw off the floor.
1. Rosie Huntington-Whitely
The always gorgeous Rosie Huntington-Whitely was gifted this stunning ring from hubby Jason Statham to commemorate their marriage. The timeless stunner features a round, early 20th century diamond by jeweler Neil Lane.

2. Julianne Hough
Julianne Hough got engaged to NHL pro Brooks Laich and coyly showed it off with this teacup selfie, and man, that rock is shining bright on her finger! The seven-carat ring is an oval shape, mounted in a platinum band, by Mas Bisjoux jewelers, and is worth about $350,000. Jeez.



3. Alison Brie
Alison Brie and Dave Franco might be the funniest duo to hit the red carpet as a couple, but this ring is no laughing matter. The 100k ring is so lovely, featuring a double halo and set in rose gold. The solitaire ring is vintage-inspired, and set in 18-karat yellow gold.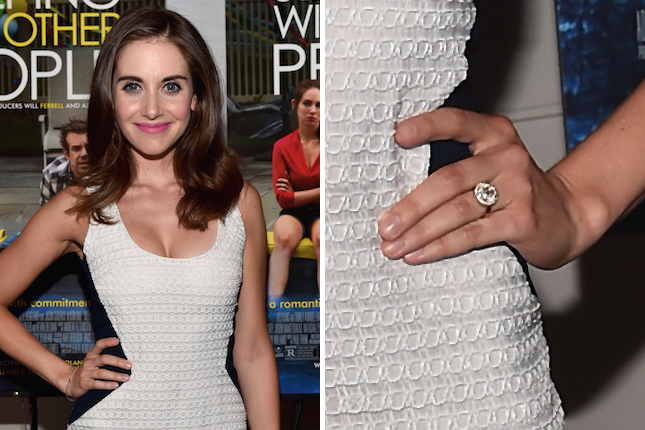 4. Lady Gaga
Lady Gaga got engaged on Valentine's Day to her American Horror Story co-star, and her bae got her a heart-shaped ring to go with the occasion. So cute! Sharing it with us in an adorable handholding selfie, this #relationshipgoals ring is worth about 500k. Impressive.

5. Iggy Azalea
Rapper Iggy Azalea and basketball player Nick Young AKA Swaggy P decided to tie the knot – and Nick sure did his fiancee right when he went ring shopping! You could see this thing from outerspace- this super intense yellow diamond and white diamond halo set into white goals by Jason of Bevery Hills is meticulously created and any girl's dream come true.



6. Nicki Minaj
Nicki and Meek decided to stay faithful to each other, and Nicki got rewarded with a straight-up gorgeous ring. Who else could this wacky manicure belong to but Nick? And an equally eccentric and unusually beautiful ring to match. It's blinding us!



7. Sofia Vergara
A beautiful wedding ring for the most beautiful couple – the ring is 4-5 carats, putting it at around a 500k estimate. The oval ring is a classic but amazing look – although we're not sure the ring will be the first thing people notice when they look at Sofia.

8. Solange Knowles
Solange infamously lost this ring in New Orleans. But not before we got a look at it! It was designed by the singer herself and Lorraine Schwartz, featuring a modern and elegant two adjacent floating diamonds, on a gold band. Very unusual and looks perfect on her.



9. Kim Kardashian
Seeing this massive ring in North's little hand makes our jaws drop. What a rock! I mean, it's kind of expected, considering we're talking about Kanye West and all.



10. Nikki Reed
"Vampire Diaries" stars Nikki Reed and Ian Somehalder tied the knot after only 6 months of dating, and celebrate with this simple, diamond-encrusted flower ring that is low-key yet timeless looks fitting on her hand.

11. Allison Williams
"Girls" star Allison Williams wed her boyfriend of three years, and finally has a ring as sparkling as her smile. Although her character on her TV show might be high-maintenance, Allison went with a classically sleek diamond eternity band.



12. Kate Middleton
Ok, we know this is kind of old news, but it still reminds us of the stunning sapphire from "The Titanic" every time we're mesmerized by this breathtaking 18-karat sapphire ring. After all, it was the same one worn by Princess Diana.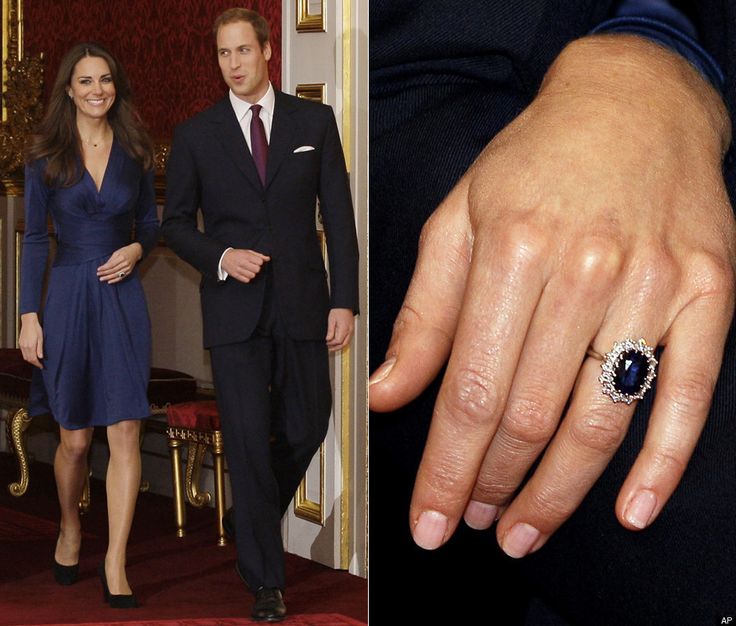 13. Eva Longoria
Eva Longoria's huge ruby ring stands out even in her blurry social media pics. Her hubby, the head of Latin America's largest media company, proposed to her in a desert in Dubai, and it must have felt like a dream, especially with that rock.



14. Ciara
Ciara really deserves this alluring and gigantic ring after her jilted relationship with rapper Future. Luckily, hottie Russell Wilson made it all better after he popped the question on a private beach. She can't even wipe the smile off her own face every time she gets a glimpse of that ring.