A lot of celebs are ready to do pretty crazy things in order to look better. Some go on crazy diets, others torture themselves with gruelling workouts on the daily basis. It's not a secret that quite a few are willing to go under the knife to change how they look. But a lot of the time, just hiring a stylist can do a lot and make one look like a whole new person. In fact, for these 16 celebs, hiring a stylist might've caused the biggest transformation in their life, take a look.
1.Angelina Jolie
Angelina is sort of known to be one of the most beautiful women in the world, but incidentally she wasn't really that fashionable or stylish in the past. I mean, look at her accepting an Oscar looking like Morticia Addams. It's definitely a look, but is it the best look for her? Nope, she looks way better now.

2. Emma Watson
Remember how silly and ridiculous Emma used to dress back in the day? At the beginning of her career, during the first couple of Harry Potter movie premieres Emma just looked like she was trying to look mature, but really, she just looked like she was wearing her mom's dresses. She's come a long way. Look at her now, and what a stylish lady she's become.



3. Scarlett Johansson
Scarlette is a prime example of style and elegance these days, but do you remember what she used to dress like? This gorgeous actress used to show up to events and red carpets wearing way too much makeup or barely any clothes. It's not a crime to show off your body, but we're happy she figured out a classy way to do it.

4. Zac Efron
Remember what Zac looked like during the first High School Musical? Looking back, doesn't it seem weird that he had so many fans looking like that. Then again, can you blame teega girls? After all, he was quite a hottie. He definitely grew up into a handsome man, and a little help from a stylist definitely didn't hurt.



5. Kim Kardashian
Kim was always interested in fashion, yet it's clear from her pictures from back in the day we can see that she didn't really know how to dress. She's gone through quite a transformation since then and weather you like her style or not, you can at least agree that she has one. And while her outfits can be quite revealing, her stylist definitely managed to make her look good in them.

6. Mila Kunis
As you can see from the pictures Mila used to be all over the place back in the day. What is she wearing over there? Thank god she got herself a stylist and now she often can be seen on best dressed and most stylish lists in popular magazines.



7. Chris Pratt
Chris Pratt came out of nowhere and landed in Hollywood. It's no surprise that he didn't look that great at the start of his career. He simply didn't know hot to dress. But look at him now. He sure does clean up nice, doesn't he?

8. Adele
There's no doubt that Adele is insanely talented. Her singing was mind blowing from the start. Her sense of style though…not so much. She wore nice dresses to events but they did absolutely nothing for her shape. Her makeup was also not great. Now, however, she looks impeccably styled and classy whenever she appears in public. Her hair, makeup and dresses suit her perfectly and make her look incredible. Thanks, stylists.



9. Jennifer Lawrence
Jennifer never really looked bad. She dressed ok for all the red carpets and premieres and stuff, but her hairstyle and makeup didn't look amazing. It seemed very casual and not glamorous enough. A good stylist definitely pointed Jennifer the right way, because now she looks stunning everywhere she goes.

10. Tom Hardy
Same with Tom Hardy really, he never looked bad. You can't really look bad when you've got a face and body like that. You're bound to look good no matter what. But his wardrobe definitely needed sprucing up. These days instead of wearing a jacket over a t-shirt he dresses in suits for premieres and let's just say we're not complaining.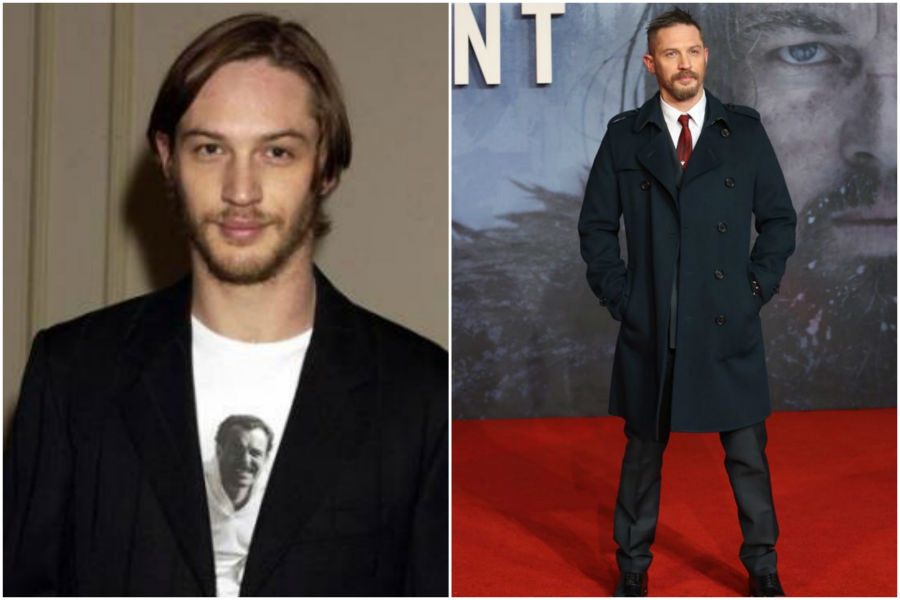 11. Kelly Osbourne
Kelly used to be such a mess. Wanting to look punk and edgy is one thing. You're bound to go through some hardcore fashion choices when your dad is Ozzy Osbourne. But she just looked ridiculous. Her makeup was clown like, as if a toddler did it. Her fashion choices were weird to say the least. We're so happy she finally hired a stylist. She still looks edgy but now her clothes actually fit her properly and she looks stylish as hell.

12. Kristen Stewart
Kristen always said she just feels uncomfortable in a glamorous dress and heels. It's just not her. That's probably why she used to wear converse shoes to red carpets and wear little punk dresses. She did go through a stage where she wore all the glam dresses, but we've got to agree with her, she just looked awkward in them. However, when a good stylist picks a dress and shoes for you, miracles can happen.



13. Bradley Cooper
Oh Bradley, what was even going on with your hair back in the day. Blonde highlights and dark roots, really? Why? Luckily for him and/or us really, those days are far behind and now Bradley looks very well put together.

14. Taylor Swift
It seems like it was just yesterday that Taylor appeared out of nowhere with her country songs and flowing wavy hair and bohemian dresses. But in fact, it's been quite a long time since then, and Taylor has grown from a little naive girl into a full grown badass woman. Her style went through a lot of stages, but this Met Gala dress looks like a new, even better and more mature era of Taylor.



15. Dita Von Teese
Dita Von Teese is known for her love of vintage fashion. She's been seen wearing all sorts of things, some quite risky, some very conservative. She seems to have outfits and dresses from all eras, but back in the day she didn't really know what to wear and when. Her outfits were often way too revealing and provocative. These days, her dressed cover up more of her body, yet she still looks extremely stylish and intriguing.

16. Emma Stone
Emma is a gorgeous lady and a great actress but she definitely lacked style back in the day. It's amazing to see how a good stylist can transform one from a cute girl into a glamorous, beautiful woman just by choosing the right clothes, good makeup and a flattering hairstyle.