In some movies where actors are romantically paired up, the chemistry can end up being a flop. "50 Shades Of Grey", for example – this was a film that revolved around sultriness and seduction, but end up falling flat on its face, due to lack of chemistry. But over the years, there have been stars that had us wondering if they just have impressive acting chops, or if something happened off-screen before or after filming these notorious scenes. Here are our top picks.
1. Emma Stone and Ryan Gosling, Crazy Stupid Love
Remember Emma Stone's jaw dropping at Ryan Goslings photoshopped abs in Crazy Stupid Love? She played a goofy girl with soaring ambitions while he plays a too-smooth guy who finds himself falling for an unlikely lady that converts him to monogamy, thanks to true love.

2. Leonardo DiCaprio and Kate Winslet, Titanic
Remember these two in Titanic, and youthful, adorable Leo? This unlikely pair defied all stereotypes of classism and stole our hearts with that notorious foggy car lovemaking scene, and the tragic finale. They reunited just over 10 years later in Revolutionary Road – chemistry doesn't just go away!



3. Amy Adams and Christian Bale, American Hustle
Amy Adams plays the ultimate ride or die with American hustler Christian Bale in this 2013 flick. She sticks with her man through the ups and the downs (and there a lot of downs) because she loves him. Thanks to their chemistry, the viewer is just as invested in their journey as well.



4. Angelina Jolie and Brad Pitt, Mr. and Mrs Smith
The now-divorced couple once starred in this spy comedy thriller that combined the thrill of action with that of the steamy, believable chemistry between these two unfairly good-looking human beings. And this was the set that they started seeing each other on – you can't fake that chemistry!

5. Dev Patel and Freida Pinto, Slumdog Millionaire
The chemistry these two had on screen was so intense, just like Jolie and Pitt, they were romantically involved for a time after. They found a beautiful bond within the slums of Mumbai, and their on-set chemistry was described as "magical" and "electric". You know a girl's keeper if she's your lifeline on Jeopardy!



6. Adèle Exarchopoulos and Léa Seydoux, Blue Is the Warmest Color
This coming-of-age romance is an emotional rollercoaster that feels more like a couple being observed by a fly on a wall as opposed to trained actor. The emotions are raw and visceral as first love, first lovemaking, and first breakup are all experienced in a whirlwind by teenager Adèle by the intense and edgy blue-haired Emma.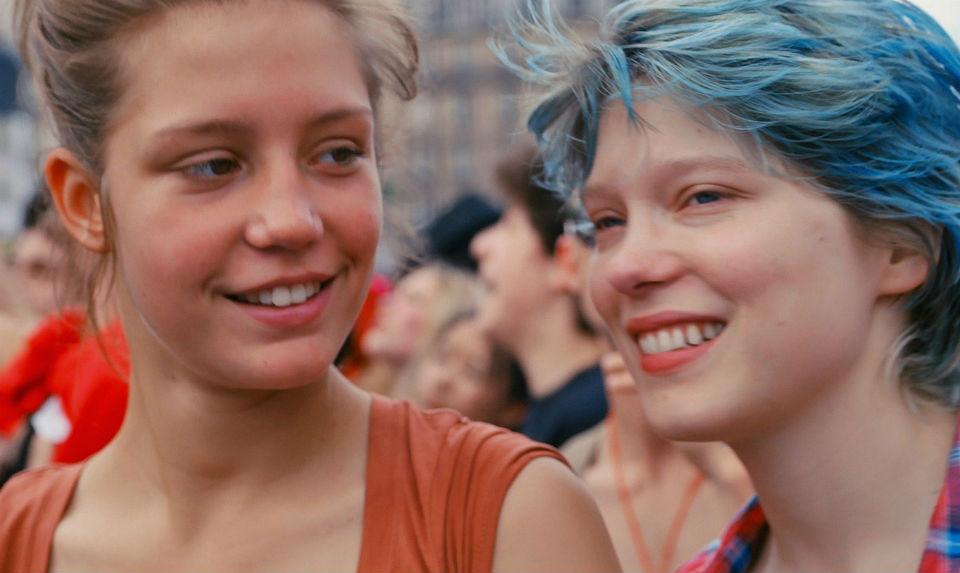 7. Patrick Swayze and Jennifer Grey, Dirty Dancing
Remember that famous lift that Grey couldn't stop giggling about during practice? To be honest, we're not exactly sure that it would be possible to not have chemistry with Patrick Swayze. But apparently, him and Grey weren't fans of each other off set. Well, we would never be able to guess, because this movie still makes us tear up.

8. Jake Gyllenhaal and Heath Ledger, Brokeback Mountain
Seeing as this was the first role that either of these actors (RIP, beautiful Heath) played gay characters, this chemistry was truly believable, and their fervent moments of passion were as well. While it might be difficult for two straight actors to frantically make out with each other like it's the end of the world, Gyllenhaal and Ledger did it with ease, and made the rest of the world fall in love with them as well.



9. Natalie Portman and Jude Law, Closer
This movie was depressing and melodramatic at times, but that iconic breakup scene is what had us forgetting that we were watching a movie, and not a real life couple breaking up. It evoked all of our past breakups, and gives us the feels (both the nostalgic lovey ones, and the sad ones)