Autumn is just around the corner and we all know what that means. It's 'back to school" time. Weather you're actually going back to school or starting college, or even if you're finished with your education, there's no way you'll miss this time of the year. There's 'back to school' sales on everything and I suggest you take full advantage of it.
Let's start with backpacks. Everyone needs a new backpack. In my opinion it's the most comfortable and practical bag ever invented. It's a great way to carry your books from class to class. It's also a great way to carry around any other kind of stuff you're carrying in your bag. Plus, there's so many kinds and styles of backpacks that you're guaranteed to find one to match your style. These 3 seemed like a great example.
Leather – simple, stylish, sturdy. This will go with anything and everything.
Nerdy pattern – quirky, bright, attention grabbing. It's a great way to show off what you're passionate about.
Floral – light, cute, feminine. This can be worn even with a dress, without messing up your look.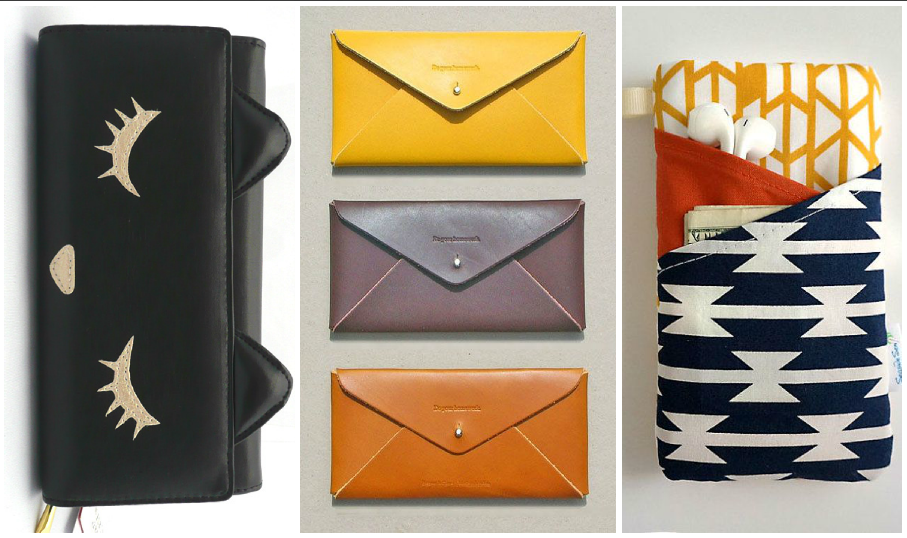 Wallets are a necessity. A lot of us are guilty of carrying the same boring wallet for years. We don't really think about it until it becomes so old and battered that we're embarrassed to take it out in public. To avoid the embarrassment I suggest getting yourself a new wallet at least every year or two. Warm colors work best for the autumn season, but this doesn't mean you can't always go for a classic black one.
Cat wallet – it's still black and conservative, but the little cat face adds a little twist to it and makes it more fun.
Envelope wallet – a classic shape makes it look stylish and grownup. The warm colour palette is great for fall.
Smart wallet – for those of us who like to keep everything minimal. It'll protect your phone and keep your credit cards safe.
Lunchboxes aren't just for kids. Even if you're in highschool or college and think you're above it, think again. It's an insanely convenient way to carry your lunch. Plus, this way you can bring whatever you want from home and now worry about having to buy stuff. If you're one of those people who still believes lunchboxes look stupid and childish, take a look at these.
Cute floral and geometric patterns – these lunch boxes will not only store your food but also brighten your mood.
Vintage lunch box – this is a great way to carry your lunch if you want to make a statement. The shape is very old school, but the pattern is very cute and feminine.
Snack packs – for those of us who prefer a good old sandwich for lunch. These snack packs are reusable and come in a variety of cute prints.
Once again, it's not only kids in primary school who carry around pencil cases. Adults do it too. Especially those of us who write for a living. These will be very useful for artists who need to have their sketching pencils with them at all times, or for those who have art lessons at school.
Leather pencil case – perfect for carrying around a few pens and sketching pencils.
Shark pencil case – great for art class at school or college, plus it's guaranteed to make you and your friends smile.
Journal bandolier – a great way to store your pens and pencils. Just put it on your journal or notebook.
Speaking of notebooks, you can never have enough. These will come in handy when you need to take notes in class, sketch or just make a list. You might say that these days all those things can be done on your laptop or even your phone, but there's something comforting about writing on paper. Call me old school if you want, but I'll take pen and paper over typing any day.
Floral patterns – pretty, bright, summery. Notebooks like these are guaranteed to make your friends ask you where you got them.
Straight to business – for those of us who don't have time for pointless stuff. We gotta get sh*t done.
Paper planes – for those who like to keep their head in the clouds. Plus they're just super cute.
You always need a pen, but why buy a boring pen when you can get a super cool one? If you're one of those people who always loses pens, this might be a good incentive to start keeping track of them. If you get yourself a pen you really love, there's less of a chance you'll lose it. Here's selection of pens that I thought were just too awesome to just be left behind.
Feather pens – for true wizards. Harry Potter wishes he could have a quill this bright.
Steampunk pen – for those of us who are steampunks at heart, but aren't brave enough to dress the part. You can always start small, in this case with a really cool pen.
Lix – the smallest 3D printing pen in the world. It's not exactly a 'back to school essential', but you can't deny the awesomeness of this invention.
Pencils don't have to be boring. You'll inevitably have to use them in class, so why not buy some awesome engraved ones? Once again, you're much less likely to just leave one of these behind when you lend it to a friend. They're not just your boring brown pencils, they carry a message that sets them apart from all other pencils.
Punny pencils – they'll make you chuckle on a boring day in class.
Inspirational pencils – they'll set the mood of your day and give you something to strive for.
'Screw this' – for those days where you just hate everything and everyone.
Everyone should carry a water bottle. The more water you drink – the better you feel. By carrying a reusable water keeps you hydrated and minimizes your carbon footprint. These bottles come in a huge variety of shapes and colors you can pick from, but these three caught my attention.