As the election season is getting crazier and crazier in America, we can't help but cling to happy memories we'd like to cherish of Barack and Michelle Obama. Let's be real, you can have your opinion on Obama's policies and views, but you've got to agree that Barack Obama is the coolest president America's had to date, and Michelle is the coolest first lady. And together they seem to be just the sweetest, yet the most badass couple ever. So let's be a bit nostalgic for a second and reminiscent over Barack and Michelle Obama's sweetest moments. It was their 24th wedding anniversary recently after all.
1. Let's start at the beginning. Their wedding day.

2. Michelle napping next to her husband during his campaign trail in 2008.

3. Fist-bumping at the election rally. How cute is that?



4. Dancing at the Youth Inaugural Ball. They look like they stepped out of a fairy tale.

5. It's like they're in their own little world. No one else exists when they're together.

6. At the Inaugural Parade. Looking like the happiest couple on Earth.



7. They just look so happy to be together. And that flag in the background makes it look like a poster. Hang this on your wall.

8. Obama whispering something funny in Michelle's ear.

9. Remember that time Obama tweeted "4 more years" and this picture? All the feels.



10. Victory speech 2012. Happy smiles all around. But he only has eyes for her.

11. Having a little dance off together.

12. Inaugural Ball 2013. Always the gentleman.



13. Being adorable at the White House campout.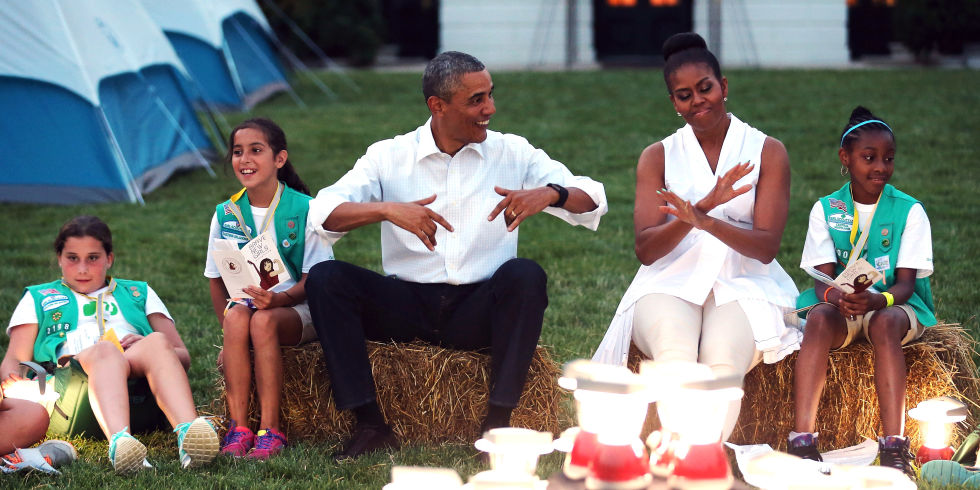 14. The fam surprising Barack on stage. He looks so happy to see his girls.

15. How do they manage being so cute yet have so much swag at the same time?



16. Acting out a children's book together. So cute, so in sync.

17. Raising to the challenge of the Kiss Cam.

18. God knows what's happening here, but aren't they just adorable?



19. So much swag.

20. That time Michelle wished Barack a Happy Birthday by posting this picture online and captioning it with "55 years young and that smile still gets me every single day. Happy birthday, Barack. I love you. -mo"

21. Isn't it sweet how happy she is to be his date and how happy that makes him?



22. She thinks he's cute.

23. And he's damn proud of that.

24. They always have a good laugh together.