The fandom of Harry Potter is so strong it sometimes feels like the books came out last year and not in 1997 (yes, let that settle in). The first movie about a boy wizard came out in 2001 and that is 15 years ago, my friends. A lot can change in 15 years and our favorite characters are not an exception. Harry, Ron, Hermione are now all grown up and looking fly. See for yourself.
Harry Potter – Daniel Radcliffe
Our favorite hero doesn't need a wand any more – he can kill with those piercing eyes.

Hermione Granger – Emma Watson
We don't care if it is LeviOsa or LeviosA – this young woman is stunning and stands up for what she believes in. Just like Hermione. We couldn't be prouder.

Ron Weasley – Rupert Grint
This redhead who stole our hearts away is looking sharp! Between doing music, TV, movies, and theater Grint is keeping busy. We are almost positive he is still afraid of spiders.



Neville Longbottom – Matthew Lewis
Growing up did Lewis good. And we mean real good. This underdog is now a vice-president of the Leeds Rugby Foundation charity! Brains and beauty for sure.

Draco Malfoy – Tom Felton
Bad boy Malfoy. Looking good and not at all Slytherin-ish.



Cedric Diggory – Robert Pattinson
This death haunted us for a long time. If you can't remember Pattinson in HP – you definitely remember him from the crazy successful 'Twilight" series. A well-established actor who continues to steal our hearts.

Luna Lovegood – Evanna Lynch
'You are just as sane as I am, Harry'. Her corky character was an amazing addition to the series. Lynch is outspoken activist and continues to spread her Luna magic all over our lives.

Victor Krum – Stanislav Lanevski
The stoic Bulgarian Krum. This guy grew up to be looking fly. All of those tattoos and a toned body – all points to Durmstrang!



Fleur Delacour – Clemence Poesy
The beautiful Fleur who captured Ron's heart and then end up marrying another Weasley is still looking stunning. So elegant!

Ginny Weasley – Bonnie Wright
Little Weasley is not little any more. The girl who won over Harry Potter's heart is doing some modeling, screenwriting, and directing! You go Ginny!



Fred and George Weasley – James and Oliver Phelps
The jokesters! Always together – always look on point. You can catch them at the Wizarding World of Harry Potter in Florida and now California. Be on the lookout!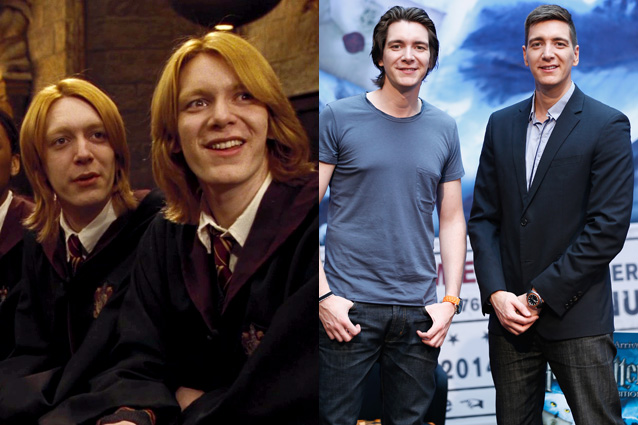 Padma Patil – Afshan Azad
Does anyone else notice that Azad looks a little bit like Kylie Jenner? Is this you Kylie? Gorgeous!

Cho Chang – Katie Leung
Remember Harry's angsty teenage feelings towards Chang? Oh, adolescence. A girl who already had a date for the Yule Ball – we will always remember and probably never forgive.



Dean Thomas – Alfred Enoch
Oh, you didn't know Wes Gibbins from 'How to Get Away with Murder' was in Harry Potter movies? Glad we can brighten up your day.

Lord Voldemort (He-Who-Shall-Not-Be-Named) – Ralph Fiennes
This guy who pulled off portraying the worst character in history deserves our applause. Well done, sir, well done.