Lots of First Ladies have been criticized based on their outfit choices – a thing that really should matter the least. I mean, why is that something we still pay attention to these days? You never hear Presidents being criticized for the suits they wear. But still, while I might be against this sort of gossip on most days, Melania Trump has baffled me into actually going along with this nonsense. I mean, the price tag on some of the things this woman wears is simply shocking. Yeah, we get it, she finances her wardrobe herself, so it's not the taxpayers money, but the choices she makes on occasion have astounded the public. Let's take a look at some of Melania's most expensive looks that people still talk about.
1. Balmain Gardening Shirt – $1,380
Remember that red tartan garden shirt Melania wore to her first public visit to the White House Garden where she hosted schoolchildren? Yeah, that shirt was over a thousand dollars. She topped that off with some Dolce&Gabbana sunglasses, jeans and converse shoes. It's hard to tell if she was going for casual, but we can all agree it looked over the top for some garden hangout session with kids.

2. Christian Louboutin Multi Python Pumps – $1,395
Melania paired these hella expensive shoes with a green shirt dress to get on a plane on her way to Lily's Place. Yes, the dress cost only about a third of the shoes, so I guess that's good. But do you really need rainbow snake shoes to go to a an infant recovery center in West Virginia?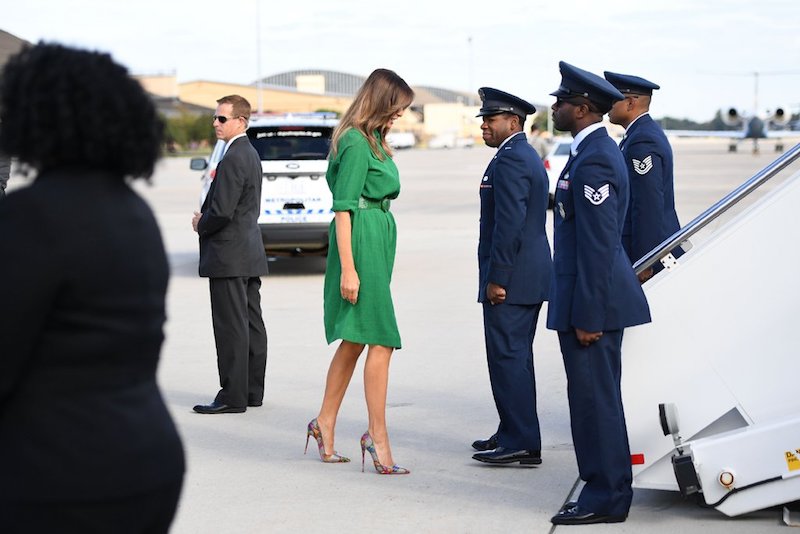 3. Neon Pink Delpozo Dress – $2,950
If you were to give your first speech about bullying to world leaders at the United Nations what would you wear? Probably something classy, something that would make you look serious and professional and wouldn't distract from your message, right? Nope. A huge neon pink dress worth almost $3000 and pink heels. Great idea.

4. Michael Kors Collection Congress Suit – $9,990
At first you might think that this is actually one of the more restrained outfits for Melania, despite all the beads. Sure, it's black and business like, but it's also priced at almost 10K. Not to mention that she chose the worst time to wear it – President Trump's address at a joint session of Congress in February 2017, to which all Democrat women wore white to support women's rights.



5. Cognac Hermès Birkin Bag – $13,461
What did FLOTUS wear for the day of moving into the White House? Some $1000 Bally trousers, a Dolce & Gabbana top, Manolo Blahnik shoes. What about accessories? Oh right, wait for this! A $13,461 Hermes Birkin Bag. We get it, you're rich as all get out. Do you have to flaunt it though?

6. Manolo Blahnik Heels – $595
Speaking of Manolo Blahnik shoes, they're not that expensive in comparison to some of the other items Melania has worn, right? Well wait until you hear the awesome occasion she chose to wear them for. Remember the devastating Hurricane Harvey and how many people lost their homes and belongings because of it? Well Melania decided it was totally appropriate to leave the Whitehouse wearing those designer shoes. She did however change into sport shoes before visiting the victims of the hurricane in Texas, but maybe didn't have to be so upscale to board Marine One and Air Force One from Washington.



7. Roksanda Dress – $2,275
At this point you're probably used to the hefty prices of Melania's outfits. But what's even more interesting about this dress is that it's by Roksanda, a designer Michelle Obama wore on a couple of occasions too. And here's the kicker. Melania wore this dress to the 2016 RNC in Ohio where her speech featured words previously spoken by Michelle Obama. Woops! Speech writers check this stuff more carefully.



8. Monique Lhuillier Gown – $7,995
Where should we even start with this dress? Let's begin by stating that this shiny glamorous dress, that's clearly more suited for a red carpet, was worn to a White House Historical Association reception. And it's basically eight thousand dollars. Do we need to say more?

9. Crocodile Hermès Birkin Bag – $75,000
This handbag, that Melania Trump took with her on her trip to Poland and Germany, might look very sleek, simple and stylish, but it's actually made of crocodile skin, which already raises a lot of controversy as some species of this beast are endangered. And also, it's $75,000. Just take a moment and let that sink in. Seventy five thousand dollars for a handbag. No a K-Mart bobble to be sure!



10. Dolce & Gabbana 3D Coat – $51,500
We left the best for last. This coat is probably the most outrageous thing Melania has worn to date. Not only because it costs more than an average American makes in a year, but also because such a colorful, 3D, over the top coat belongs on a fashion show runway, not a G7 Summit which she wore it to.