Have you ever watched a movie and thought "all this drama could've been avoided by a simple text message"? So many films seem to heavily rely their plot on just having a character not be aware of a certain piece of information that proves quite important or even valuable in the end. Now that you think about it, it's starting to make sense, isn't it? Are you already making a mental list of movies that fit this description? How would those movies end and how would the plot change with just one text? Well take a look at our list of 15 movies that could've been easily changed by a simple text.
1.Cinderella
Disney is seriously missing out by not having cellphones in their world.

2. Fight Club
If only he tried texting Tyler Durden.

3. Batman Begins
All problems can be solved by a well times text.



4. Fallen
Do we even need to say anything else?

5. Harry Potter and The Order of Phoenix
Why don't wizards use cell phones? Letters by owl are so last century.



6. Romeo+Juliet
If only Shakespeare could predict the creating of cell phones.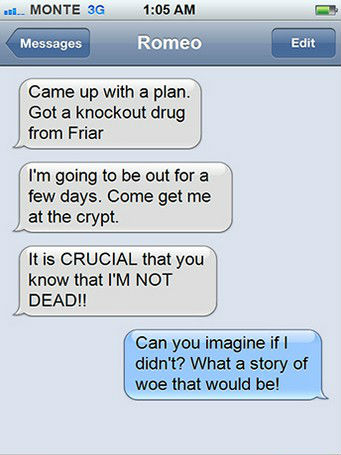 7. The Sixth Sense
Lol Bruce Willis is ghosting you.

8. Star Wars
Why did you even need to make so many movies if you could solve everything with 1 text.



9. Seven
Sometimes a text can save a life.

10. Scream
Why didn't she think of this in the movie? It's so obvious.



11. The Wizard of Oz
Now you tell me this.

12. The Village
Mind – blown.

13. The Prestige
When there are twins involved, better text first.



14. Memento
Having memory problems? Just ask your friends to text you important stuff.

15. Shutter Island
What a lovely reminder, don't you think?