Excellent graphics, a cast full of A-list stars, great directors and well-known stories – that's the key to success when it comes to film distribution. And that's exactly what you can expect from the Disney remakes that are planned to be released in the near future. Turning Disney classic into movies is a brilliant idea, and whoever came up with it is going to make a lot of money thanks to it. Just look at the success of "Beauty and the Beast" if you need persuading. Fans of Disney, rejoice, for soon you'll be able to see your favourite Disney cartoons in a new and improved fashion.
1. The Lion King
The dramatic story of Lion King conquered the hearts of both children and adults back in 1994 when it was first released on the big screen. Well, you'll be glad to hear that on July 19, 2019 you will be able to see a remake, directed by Jon Favreau. He promised that he'll use a lot of VR when making this movie, so we don't really know what to expect. The cast of the new Lion King is just phenomenal. Simba will be played by Donald Glover, Beyonce will be Nala, and John Oliver got to play Zaza.

2. The Little Mermaid
A new version of the beloved story is already being filmed. There's no exact release date yet, but it has been stated that the movie will come out in 2018. The Little Mermaid will be firmly based on the fairy tale by Hans Kristian Andersen, so it might differ slightly from the classic Disney version. It's gonna be directed by Blake Harris and co-directed by Chris Bouchard, and Alan Menken, who is the author of many of the soundtracks of the famous Disney cartoons, will write music for the film.



3. Mulan
Little is known about this remake right now, but it has been announced that Niki Caro will direct it and the main role was given to Liu Yifei. So far it doesn't look like this will be a musical, but that can still change. The release was initially planned for November of 2018, but now it's been pushed back to the end of 2019.

4. Christopher Robin
Who doesn't love Winnie the Pooh? Well keep your eyes peeled for a new remake this summer, centered around Christopher Robin, the little boy from the cartoon. Except in this movie, he's not a little boy at all, he's a working class adult who needs to be reminded about the little things in life and learn again how to appreciate the joy of life. Adult Christopher will be played by Ewan McGregor, Winnie the Pooh will be voiced by Jim Cummings, Peter Capaldi got the role of Rabbit, the Owl will be voiced by Toby Jones and Chris O'Dowd got the role of Tigger. All in all the cast of this Disney remake sounds phenomenal.



5. Peter Pan
Another gift that's been announced for Disney fans is the new Peter Pan movie. Its release date is also 2018. So far there isn't much info on who will play the main roles, but the movie is being directed by David Lowery, who directed Pete's Dragon, so that gives us hope that he knows what he's doing.

6. Aladdin
We're not even sure you're ready for how amazing this remake will be. The Aladdin live action movie is being directed by Guy Ritchie, and the release date is set for May 24, 2019. Mena Massoud got the role of Aladdin, and Naomi Scott will play the role of Jasmine. The hilarious Genie will be played by Will Smith. Doesn't this sound amazing to you?



7. Cruella
Remember 101 Dalmatians and the baddy in the role of Cruella De Vil? Well get ready for a movie all about Cruella. The film is scheduled for 2018. It's directed by Alex Timbers, and guess who's gonna play Cruella? The Hollywood sweetheart – Emma Stone. You might think she's too sweet for the role, but we foresee that she will be incredible!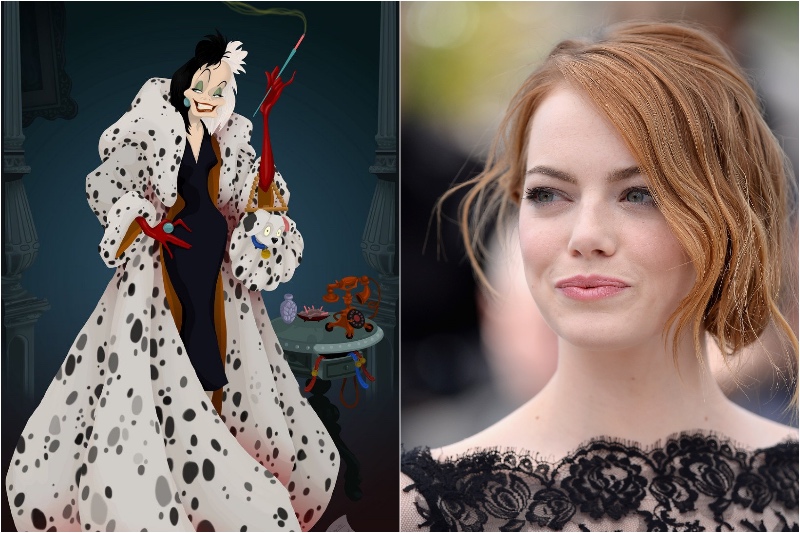 8. Pinocchio
You'll have to wait another year to see a new version of the story about a wooden boy, but it sounds promising. It's going to be a live action movie, and while it took awhile to find a suitable director, it looks like now it's going to be directed by Paul King, known for his work on Paddington. The latest version of the script was written by Chris Weitz, known for his work on the eighth part of the "Star Wars". The movie is said to have a darker take on the classic fairy tale and we can't wait to see it. The production is set to start this fall.

9. Prince Charming
There's been rumors about a Prince Charming movie for a while now, but the plot of this one is shrouded in mystery. All we know is that it will be a live action feature film about Prince Charming. The question is which one? Prince Charming has appeared both in Cinderella, Snow White and Sleeping Beauty. Interestingly, Stephen Chbosky has been chosen to direct this film, and in case you didn't know, he was one of the screenwriters involved in "Beauty and the Beast" in 2017.



10. Dumbo
This remake promises to be very cool, because Tim Burton is directing the live action movie. The premiere is scheduled for March 29, 2019. The role of Dumbo went to actor Colin Farrell, which makes us wonder if the little elephant will have an Irish accent. The cast also includes Eva Green, Michael Keaton, Danny DeVito and many other stars.