The hot girl next door: this is how we can describe the style of our favorite character Penny from The Big Bang Theory played by gorgeous Kaley Cuoco. It is no surprise that thousands of girls want to look like this sexy starlet and see the show and try copying her great look! She inspires many fashionistas around the world. So, let's check some of her looks that are really worth your attention.
The first thing every girl notices about Penny's style is color. She isn't afraid to wear bright clothes with different prints. The number of her cool casual shirts and tops definitely makes girls envious!
Shorts are an essential item of her style. She combines them with snug fitting t-shirts and tank tops.
Hairstyle. Penny tends to experiment with different looks in her clothing but also with her hair. This time she successfully underlined her stylish white blouse with bright print hoody and playful ponytail. Pay attention to the sac bag she chose this time. Really a good match with this outfit!
Look how elegant and gorgeous she looks in this coral blouse and black jacket. She looks like a real business woman, not a waitress. Bright lipstick makes her even more irresistible. This look is definitely worth a try.
As we already mentioned Penny adores experimenting with her hair. This time she decided to rock a basic pigtail look, combining them with her geek clothes, yellow top and graphic print hoody.
This moment is just impossible to forget. Her Wonder Woman look blew TBBT fans' minds. This costume turned Penny into the ultimate sexy Halloween chick. Awesome!
One of Penny's favorite fashion items is a pair of ugg boots. She loves to combine them with everything – jeans, shorts, leggings, and she can wear them everywhere.
Another beautiful and bright casual look. Penny is awesome in this red ballon-sleeve blouse wearing straight hair and nude makeup.
As always Penny's hairstyle draws our attention. Now you can make sure that beachy waves can look fabulous even with such casual clothes.
Sports girl. It was a great idea to combine men jeans with this T-shirt. Thanks to this playful wavy hairstyle Penny looks really cool and sexy in sports clothes. You may also think about adding some sports items to your wardrobe.
It's no surprise Penny adores accessories. Every girl knows that choosing the right pair of earrings (necklace, ring etc.) is a very important thing.
Ombre hair is one of the most popular hair trends and another fashion 'to do' this year. Look how charming Penny looks. Pay attention to her colorful baggy blouse. It is proof that you can look drop-dead gorgeous despite having gained some weight.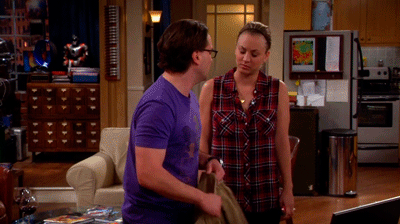 Look inside your boyfriend's closet and pick up some stylish items for yourself. Penny's boyfriend's look can inspire you.
Simply WOW! It's said: 'Every woman knows she should have a little black dress in her closet!' And it's true, cause this is one of Penny's sexiest looks ever. Girls, if your want to charm your partner you surely need to buy a little black dress. It's classy and sassy!
And here comes a big surprise for all TBBT fans! Penny is going to have a gorgeous pixie cut in the upcoming season of the show. As you can see Kaley Cuoco looks even more stunning now. She's smok'en hot!