Can you believe that this adorable little puppy was once a stray, wandering the streets of LA all sad, hungry and lonely? Neither can we. But that's the truth. The owner of this puppy, Ivy Diep, just stumbled upon it one day on the street and couldn't help but feel sorry for it, so she took it home, in hopes of cleaning the puppy up, making sure it's healthy and then hopefully finding a new home for him. She wasn't really looking for a dog at the time, since she already had a couple, but none of her friends could take Popeye in at the time, so she decided to keep it. It wasn't long until Ivy and her husband fell in love with the little puppy and now she can't imagine her life without it.
She likes to take Popeye on Instagram dates with her friends, since she discovered that he's really good at behaving himself in the restaurants. Popeye doesn't make a mess and doesn't lunge at the plates in front of him. Instead, his owner Ivy makes sure to always order him something suitable, and always carries plenty of doggie treats with her in case the restaurant doesn't have anything Popeye would eat.
Popeye started out as a poor stray but now he's dining like a king and has quite a huge following on Instagram. It's classic rags to riches story, don't you think?
1. Here's Popeye enjoying a morning cup of coffee. Doesn't he look chic in his cream colored little sweater?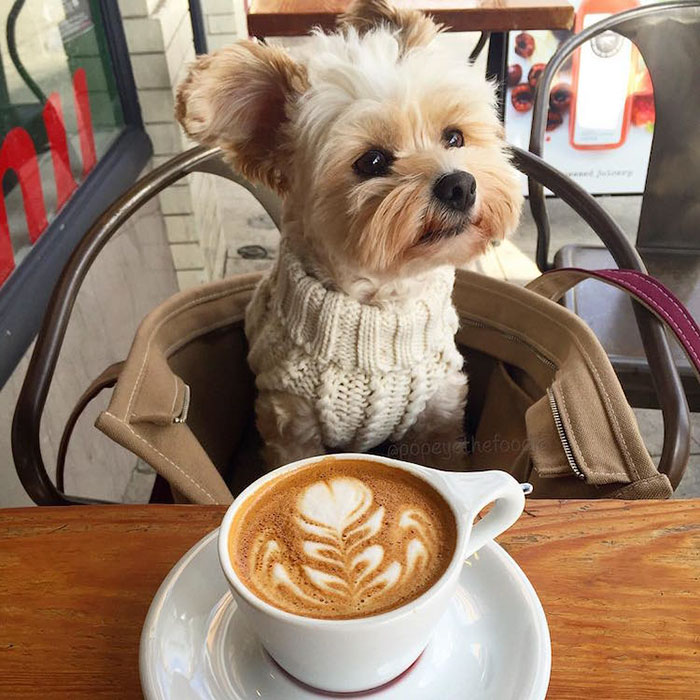 2. Look at how happy he is about this piggy ice-cream.

3. Who's ready to devour some donuts?



4. All dressed up in a button down, ready for a fancy dinner.

5. Look at that flanel and the little hat. Cutest puppy, ever ready to dine.



6. Doesn't Popeye look smug with his tongue out?

7. He also seems pretty excited about healthy fruity desserts.

8. Even Popeye can't help himself and have a cheat day, burgers and fries anyone?



9. Popeye seems confused looking at the image of himself in his cup, but props to whoever created that cute latte art.

10. Look who's excited for burgers and onion rings.



11. Hmm….which cake to choose?

12. Looks like the idea of biscuits and gravy seems very appealing to Popeye.

13. Those are some yummy looking donuts! Even Popeye wants to lick that frosting right off.



14. Oh, look at his in his little Mexican outfit. He dressed for the occasion.

15. And here's Popeye celebrating his 100k followers on Instagram with a coffee and a sweet treat.