If you were wondering if anyone can top the Royal Wedding we are happy to tell you that Priyanka Chopra and Nick Jonas definitely tried. We're pretty sure this was the biggest wedding Hollywood has seen in a long while. The festivities lasted a week and included many ceremonies and outfit changes. But let's start from the beginning.

Nick proposed to Priyanka earlier this year. It happened while both of them were in Crete, Greece for Priyanka's birthday. Later on Nick did the biggest grand gesture of all and instead of just buying a ring he managed to close down a whole Tiffany and Co. store in London so Priyanka could pick the ring she likes most. The ring she chose is said to be valued at around $200 000. From that point on wedding planning started.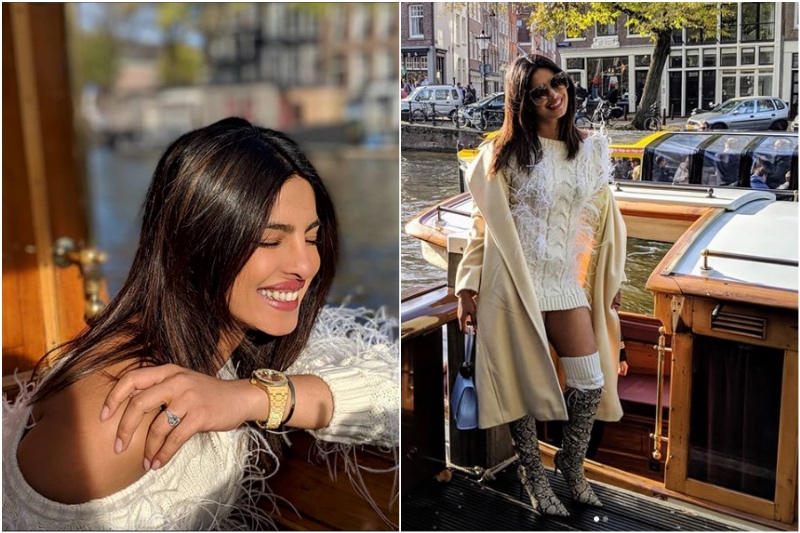 While the newly engaged couple tried to stay relatively hush-hush about their plans, we all found out that the wedding was to take place between the 29th of November and 3d of December. What we didn't know was that it would actually be a week of celebrations.

For the Venue Priyanka chose the Umaid Bhawan Palace. A huge castle is situated in Jodhpur, India and is one of the biggest private residence in the world. Part of it is a hotel, part is a museum, and it remains the principal residence of the former Jodhpur royal family. Considering the palace has 34 rooms it's a perfect choice for a lavish wedding.



Now for the question most women will be wondering about – what did Priyanka's wedding dress look like? Well ladies, when you're having a wedding as big as this one you don't limit yourself to just one dress. Priyanka really went all out with her outfits and pre wedding celebrations. To her bridal shower, which had Breakfast at Tiffany's theme, she wore a gorgeous strapless feather dress by Marchesa. The long elegant dress made her look like royalty.

For the bachelorette party in Amsterdam she chose a risqué Georges Chakra
Mini dress with lots of sequins, beading and a feather cape. Priyanka looked like a naughty angel in this dress. She also chose to pair the short skin tight dress with a big faux fur white coat. She flaunted this look on Instagram and made sure to caption with "Featherweight Champion of the World #Bachelorette #FauxNotFur". Good to know she's on the right side of the whole fur debate.



Now for the actual wedding dresses. There were multiple ceremonies. For the Western wedding ceremony the couple both wore custom made Ralph Lauren. While Nick donned a gorgeous black suit, Priyanka wore a beautiful white hand beaded and embroidered wedding gown with a 75-foot veil. But the most important thing about that dress and what made it truly special is that Ralph Lauren has never before made a custom wedding gown for anyone outside of his family. What an honor it must be for the couple. Ralph Lauren clearly has a soft spot for them.



For their Hindu wedding ceremony Priyanka wore a custom made traditional red lehenga designed by Sabyasachi. The embroidered long skirt with a matching top and veil took 110 embroiders and 3720 hours of work. Her traditional Indian dress featured hand made flowers from organza, silk floss French knots and multiple layers of threadwork. To make this outfit even more special Priyanka requested to sew her and Nick's and her parents' names into the waistband of the skirt.

Nick Jonas also wore a custom made traditional outfit with a turban and the couple both wore Christian Louboutin shoes. After they exchanged vows the couple also had a Bidaai, which is a bridal ritual where the bride's family blesses her new life with her new husband.



In the end the couple is very happy with how their wedding festivities went and how they managed to intertwine and mix both religions and the traditions of their families in a meaningful way. They managed to include everything that was important to them and their families into their wedding weekend and had a very special celebration that they'll definitely remember for the rest of their lives.