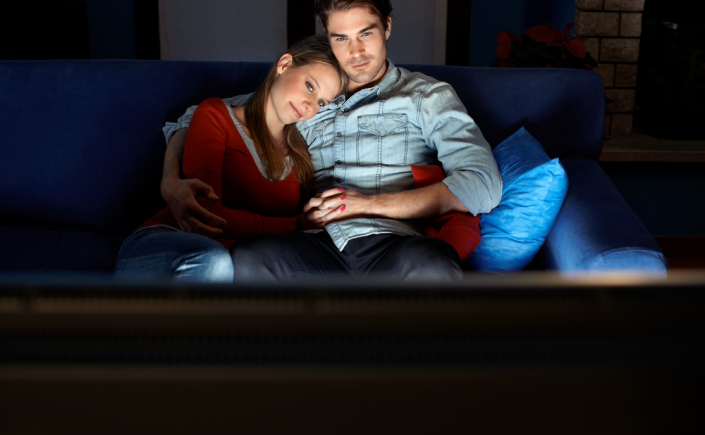 We all know that girls adore watching romantic "Cinderella' movies. And boys frequently hate these movies. So what romantic movie to choose for a date night at home? Our advice: make it whimsical and tasteful – choose classics! Here is our top10 list to choose from:
10. When Harry Met Sally…
Let's start from here, main roles are played by Billy Crystal and Meg Ryan. They've made a perfect movie couple, cause they are genious actors and able to suggest viewers genuine sensitivity and warmth. The movie plot is rather tangled but interesting, it took the main heroes 12 years to become a couple. But never the less the end of the movie fulfills all the viewers' expectations. This movie will be interesting for both of you cause it rises eternal questions: "Can men and women be just friends?", "Does sex always get in the way?", "Can man and woman stay best friends after having sex?"
9. Dirty dancing
Watching this movie is a real pleasure. The main heroine Baby (Jennifer Grey) looks so tender and innocent, and she falls in love with Johnny Castle (Patrick Swayze) who quite the contrary is amazingly hot and seductive. He is just impossible to resist. Johnny is not only a handsome young man, but also such a good dancer. It should be said that all the actors in the movie are perfect dancers and their dancing moves are so flashy and seducing. Be sure you won't be boring while watching this movie, you will see a romantic love story about teenage lust and delicate seduction.
8. Pretty woman
Pretty woman is worth watching because it stars two of most famous Hollywood sex symbols – Julia Roberts and Richard Gere, and because this is not ordinary love story of a millionaire and a prostitute. The same time Pretty woman isn't vulgar at all, quite the contrary it's so naïve, innocent and charming movie and the main heroes fall in an exceptionally romantic kind of love. This movie proves that you never know when and where you will meet your soulmate.
7. Coyote Ugly
Well, there is nothing special about the movie script or plot, they are very simple and unpretentious. But there is a reason to watch the movie, and this reason is Piper Perabo&Co. She plays the main role here and she looks so confident and natural, incredibly attractive and funny. The other Coyote girls (Tyra Banks, Bridget Moynahan, Izabella Miko) are also gorgeous and flaunt. It's a pleasure to watch them dancing, singing and having fun all the time. And girls will like Kevin (Adam Garcia) for sure, cause he is so awfully cute and nice and he has wonderful smiling eyes. As for the main idea of a, state it briefly: "What will you do when all your dreams come true?"
6. A Knight's Tale
Believe me you will split your sides laughing! This movie has many unexpected and hilarious moments: when the tournament audience starts to sing "We will rock you" and follow it with the wave, when fancy-ball dancing turns into party-hard disco, or when we can see Reebok logo on the knight's armour. This movie breaks the rules! The whole story is told by one of the main heroes Geoffrey Chaucer (Paul Bettany) and the initial movie is actually a free adaptation of one of his Canterbury Tales. It's a real pleasure to watch this medieval love story and its main heroes knight William (Heath Ledger) and lady Jocelyn (Shannyn Sossamon) who are so young and so beautiful.
5. As Good as It Gets
This is an epic tale of an obsessive-compilsive novelist Melvin (Jack Nicholson), waitress Carol (Helen Hunt) and a gay artist Simon (Greg Kinnear). They are bright and unforgettable personalities. Melvin is a hilariously funny and weird but also a sexist and homophobic. Carol is a single mother with an asthmatic son. And Simon is an open-hearted and trustful man, who was heavily beaten by the friends of one of his models. It's very interesting to watch all of them, to watch their changes and the development of Melvin and Carol's relationship. What else should be said – the movie dialogues are written just brilliant!
4. Love Actually
The whole story starts five weeks before Christmas and develops in a weekly countdown till the actual holiday. By a closer look the movie tells us a few different love stories between the Prime Minister and his secretary, the writer and his foreign housekeeper, Mark and his best friend's wife, employee Sarah and the company's creative director whom she has been in love with for around 5 years, cute redhead brit guy Tony and hot American girls, a kid and his classmate, even between two professional body doubles for films. And of course I should mention Rufus who is played by a legendary Rowan Atkinson and originally supposed to be a Christmas angel. His lovely tricks and jokes will make you laugh hard.
3. Bridget Jones's Diary
This movie is based on Helen Fielding's enormously popular novel. Just imagine thirty-something, clumsy, post-feminist who unsuccessfully fights with her bad habits like smoking, drinking and gaining excess weight is in search of true love. Sounds epic! Maybe it's hard to imagine how such a clumsy woman can find her soulmate. But Bridget (Renee Zellweger) is also a very charming woman who can make you sincerely laugh. So we have a happy end here, cause she found her elegant and perfect Mark Darcy (Colin Firth) who likes her very much just as she is.
2. Amélie
Amelie is a very delicious gourmet movie. It's French and extremely charming, it's weird and witty, it's lovely and beautiful. Amelie (Audrey Tautou) grows up lonely and alone, but one day she receives one of those signs of destiny and decides that her main purpose in life is to make people happy! She starts with her very pessimistic father. Then she meets Nino (Mathieu Kassovitz) and falls in love with him immediately. He works in a porn shop and obsessed with his unusual hobby of making collages from self-portraits fragments collected from the street automated photo booths. Amelie decides to draw his attention in a very unusual way…
1. Rocky
Now you're probably thinking: 'What the hell does it mean?!' Rocky isn't a comedy and it's no way a lovey-dovey movie. It's the sports drama about difficult boxer's destiny. But tastes differ and I think that Rocky is one of the most romantic and witty movies ever been filmed. Its script is awesome. It's witty, smart, simple, funny and romantic. Remember when Adrian (Talia Shire) asks him why he boxes and he tells her back 'Because I can't sing and dance'. This movie isn't about sports, fighting spirit or even isn't about a story. This movie is about Rocky hero (Sylvester Stallone), who is not only a strong and persistent fighter but also a tender, funny and romantic man who is in love.