Stefani is a little girl who is very lucky to have a very creative mother. Why? Because she and her mum have a series of creative photo projects that they post on Instagram and it probably takes a lot of time and effort to keep up with.
It all started with just some creative and beautiful photos of Stefani taken by her mother. Then they began taking pictures where fruit and vegetables were used as dresses for little Stefani, afterwards they were trying to recreate pictures of Stef's mum as a child and now they're trying to fashion red carpet dresses of various celebs with items available at home.
And you know what? It seems like all of those projects are ongoing and they don't plan on stopping. We're loving their creative flair and positive energy, so we suggest you follow them on their Instagram and take a look at some of their celeb red carpet looks recreations below.
1. Cardi B
Here's Stefani looking downright royal, mimicking Cardi B's red dress. The shoes might be a bit big, but she's pulling it off very well.
2. Zendaya
We love this colorful dress Zendaya wore, and Stefani seems to be very into it too.
3. Jennifer Lopez
No clue what J Lo's dress is made off but Stef's dress is made of paper and it looks just as good, don't you think?
4. Rita Ora
Is it me or do they look like they could be twins. Props to Stef's mum for making that yellow dress look so similar to Rita Ora's.
5. Rihanna
Apparently Stefani is a huge fan of Rihanna so this outfit was her favorite. And we can see why. So you know, next time you find some tinfoil in the kitchen – try recreating Rihanna's red carpet look.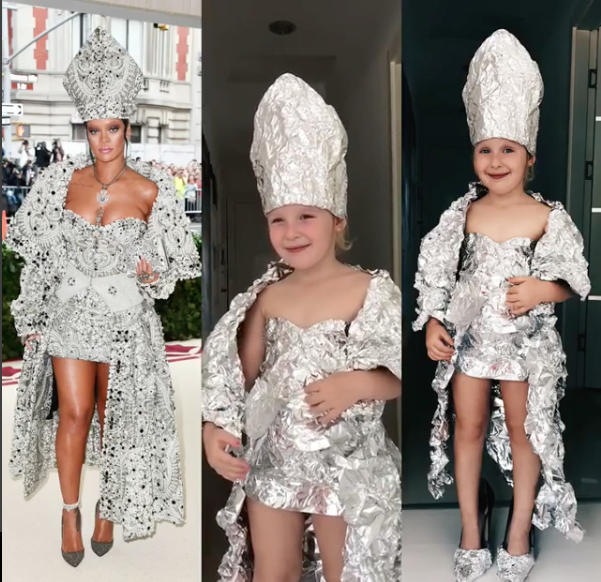 6. Taylor Swift
How do they do this? How do they recreate these dresses? I bet it takes them less time to do this than it took Taylor to get into that dress.
7. Nicole Kidman
Not quite the same color, but you've got to give them props for how spot on the shape of the dress and the hairstyle is.
8. Jennifer Lawrence
Feeling golden? Yeah, they definitely captured the essence of that look and even Jennifer's mood.
9. Kendall Jenner
Not sure what Stefani's dress is made of, but if that's trash bags – this is a masterpiece.
10. Taylor Swift
Another Taylor Swift look, this time the edgy version and we're loving the details down to "shoes".
11. Nicki Minaj
New Year's outfit ideas – just wrap yourself in tinsel and say you're channeling Nicki Minaj.
12. Lady Gaga
Now it's time to show off some legs with a glittery (or tinfoil) Lady Gaga look. Even the heels look similar to the original outfit. Makes you think how many pairs of shoes does Stefani's mum have.
13. Angelina Jolie
This is a classic at this point. Angelina's black dress that showed off her leg is a crowd favorite, and as you can see it can be easily recreated at home.
14. Rihanna
It's pretty much the exact same outfit, don't you think? And Stefani definitely has RIhanna's attitude down to a t.