Even though we often associate being fashionable with being wealthy, it doesn't have to be that way. If anything, these stylish homeless people are proof that you can look fly even when you don't have a penny to your name. Style is just something you either possess or not, and money has really nothing to do with it. Don't believe us? Well then take a look at these 4 hobo fashionistas. They can certainly teach you a thing or two about looking great on a budget.
1. Rosy, Lithuania
This woman's name is Rosy and she's around 80 years old. She's been homeless for a while and has been roaming the streets of Vilnius, Lithuania for about 30 years now. As you can see, the fact that she's homeless and penniless doesn't stop Rosy from developing her own style, and dressing up in colorful clothes. She's become sort of famous for her outfits in Vilnius, so whenever people see her on the street they recognize her and take pictures.



2. Slavik, Ukraine
Slavik, a 55 year old homeless men from Ukraine, has been discovered by a Ukrainian photographer Yurko Dyachyshyn. One day Yurko just randomly saw Slavik on the street and decided to take a picture of him, because he was dressed rather interestingly. They struck up a conversation and that led to them becoming friends. That lead to a 100-photo collection called "Slavik's Fashion". What's interesting is that Slavik always showed up for his picture shoot wearing something different. I guess he also has that mentality of never wearing the same thing twice. How fashionable of him.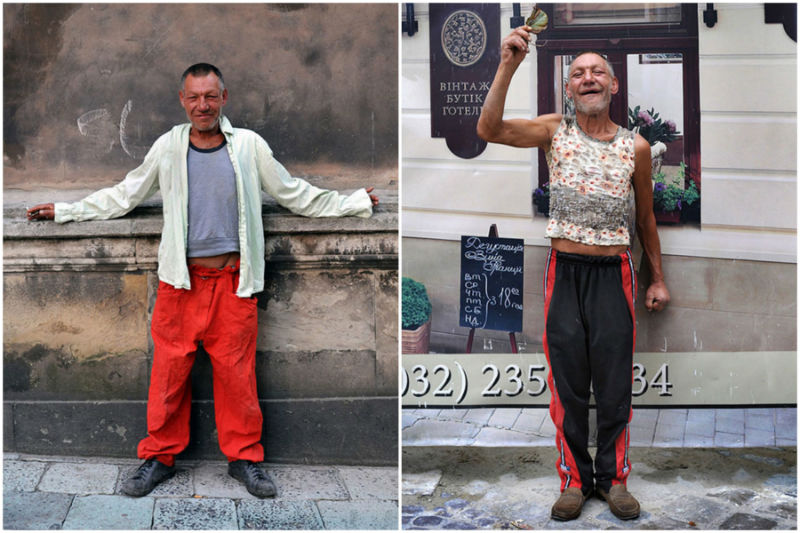 3. Cheng Guorong, China
This man's story is quite incredible. It starts out very sad. Cheng moved to Ningbo, East China back in the 90's in order to find a job and earn money to support his family. But in a series of unfortunate events he lost his job and was robbed of his savings. He was so embarrassed that he never contacted his family back. His relatives were sure he was dead, until these pictures of Cheng surfaced on the Internet. As you can see, even though Cheng is homeless, he does have a very distinct style, his high cheekbones, disheveled hair and mustache only add charm to his look. He has since been nicknamed China's sexiest tramp and Brother Sharp. After his Internet fame took off, Cheng has been asked to appear in commercials and even walked the catwalk as a model. His fans also donated money to help him get his life back on track and there was talk of a movie being made about him. It's a real rags to riches story, folks.



4. China's most fashionable homeless man
This man's identity is unknown but he rose to fame on the Internet as "China's most fashionable homeless man". Someone just randomly took a picture of this strange man on the street and uploaded it online. Since then, the photograph of this Chinese man wearing a pink skirt, his makeshift glasses, a cape and a cane has been seen by millions. Quite an outfit don't you think? His fashionable man bun adds even more character to his style.