The fourth of July is a couple of weeks away and  we're plotting our outfits. It's tricky, though. Do you go head-to-toe Americana, hunt for a pair of American flag shorts, or is it cooler to ignore the "red, white and blue" concept entirely? How do you look festive and summery, but not cliché, not cheesy? What do you wear to a pool party, versus a barbecue, versus an NYC rooftop gathering?
We've hopefully answered all of those questions with a handy little outfit inspiration guide.
Outfit 1: Casual, Yet Patriotic
This is an example of a cute, laid-back outfit that's perfect for daytime – it would be perfect for a backyard barbecue with the family. To start, find a striped shirt or an american flag blouse (you can tie it in a knot if it gets hot), and pair it with some jean shorts (patriotic pockets optional). Next, find some canvas sneakers (preferably in red, white, or blue) or sandals and layer on some star bracelets. Or throw on a leather jacket on top and wear combat boots to for an extra badass look. Voila! You are ready to celebrate in style!
Outfit 2: Hip And Polished
For a night out to see the fireworks or a rooftop party you can always go for casual chic by wearing a blouse paired with jeans/skirt and heels. That combination will never go out of style. And to make it extra patriotic for the occasion try and find a star spangled blouse. Don't forget your purse, some red lipstick and you're ready to be the star of the evening.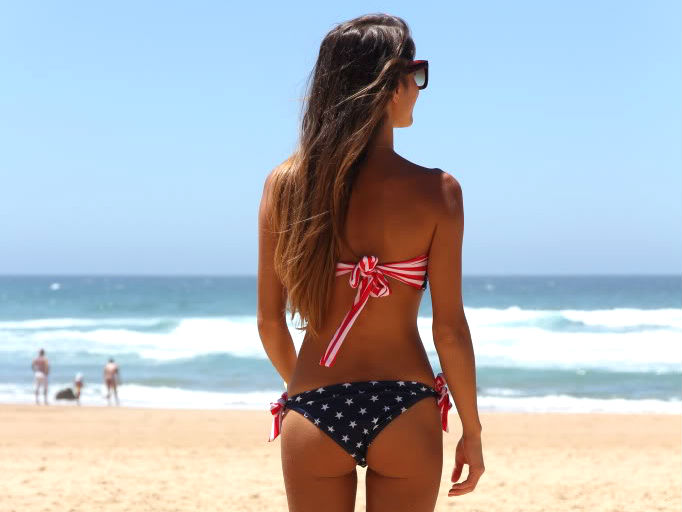 Outfit 3: The All-American Beach Party
The third look will become a favorite among students and young people in general. First of all you can draw a small flag on your cheeks or shoulders. The same paintings can be done on your nails to match – it all looks so cool and you look well, super-patriotic and really coordinated in your style.
Any girl can wear a patriotic swimming suit. There are so many types of swimming suits with the U.S. flag design available – one piece and bikini. You want to choose a suit for two reasons: First it fits your body type and second it features the flag motif in a way that will enhance the All-American look you have in mind. To finish your look you just need to wear a pair of red, white or blue sandals. Now you look perfect! A true daughter of your Uncle Sam, born on the 4th of July!
Outfit 4: Classy and sassy
For an evening date out or a formal event you'd probably think that wearing a star spangled banner might be a bit too much. And you'd be right. But ladies, keep in mind that you don't have to wear the flag as a dress, you can always just incorporate the red, blue and white into your outfit. Wear a blue top and a stripy skirt, or go for a dress that has a design in those colours. Choose a navy dress, combine with red heels and a white handbag – and you've got all the colours of the flag. Sneaky and classy! Plus you can always throw on some star earings.
Bonus for pros
You've already got a banging outfit picked out but it doesn't look partiotic. Don't despair. It's easily fixable. You can always throw on a scarf with a needed pattern or do your nails to celebrate the occasion. Accessories can play up any outfit. Star earrings, stripy bangles or a bandana might save the day.