You saw that perfect dress on a girl as she was passing you the other day and you desperately want one for yourself. Then you decide to buy it no matter what. Usually you go shopping, find your dream dress and go to try it on.
When putting it on you understand that it doesn't look as good as you saw it on the girl you rant into earlier. Yes, the same pieces of clothing may look completely different on different women. So before spending a lot of time on trying on a bunch of styles and suffering at the same time, it's better to define your body type and remember what clothes flatter your morphology the best.
1. The hourglass. It's a very feminine type of body, and it already looks proportioned, but choosing the wrong style may destroy its natural beauty. To emphasize the curves choose high-waisted jeans, pants or pencil skirt. Choose dresses that hug your waist and widen at the bottom, so it makes an accent on the thin middle. A wrap dress works perfect on a hourglass figure, also try on the one with a v-neck. Wear a belt more often – it will always make your waistline well-defined.
What NOT to wear: avoid baggy shapeless dresses, square tunics and cardigans that conceal your waistline.
2. The circle. Finding perfect clothes for this type of body is more difficult, but with these tips you will learn how to conceal your wider middle and look thinner without a lot of effort. Choose clothing that fits loosely exactly in the middle of your body and tighter in the top and the bottom. Choose slim pants, you may try on pants with vertical lines and add a loose blouse or tunic. When picking a dress, wear the one that is tight on the top but relaxed on the stomach. Following these tips and wearing heels will make you look much slimmer.
What NOT to wear: any dresses that are tight in the midsection and emphasize your waist, belts along with dresses, high-waist pants.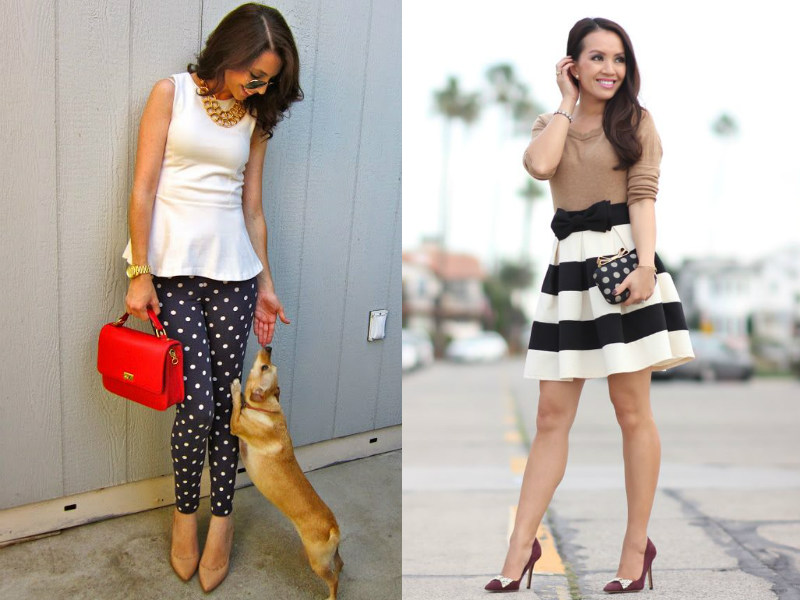 3. The triangle. If your shoulders and torso are wider than your hips, follow these tips. First of all, to create a visual balance between the top and the bottom, it is better to wear anything that is loose and creates volume in the bottom. Wear a wider belt to create an illusion of a thin waist. Wear scarves around your neck and tailored jackets. Try layering on your hips, loose skirts (a-line), boyfriend jeans (they work just great here!), and other baggy elements. Wear shoes that grab more attention, especially heels or platform boots.
What NOT to wear: skinny jeans and pants, tight-fitting skirts, over-sized sweaters, cardigans and tunics.

4. The rectangle. With this body type, it is pretty complicated to create an illusion of having a thin waist and curvy figure. But you can achieve it if you choose clothing that is tight in the middle and more loose in the bottom and the top. Create gentle curves wearing extra details on hips and bottom and arms/shoulders. Wear pants that are slim fit on the hips but are wider in the bottom, nipped waist jackets and blazers, that make an illusion of wider hips. Add some volume to your bust wearing girly tops with different elements like flowers or bow-knots. Create an illusion of the hourglass choosing a contrast with ahem skirt and a tight top.
What to AVOID: skinny high-waist jeans and pants, pencil skirts, clothing with straight vertical lines, loose and boxy jackets and coats, too loose, baggy jeans.