With spring and summer just around the corner after this dreary winter, we're already thinking about what chic trends will be taking over. Dolce & Gabbana's previous Spring/Summer 2018 runway looks gave us a sneak peek on what to expect. As always, it was on point. Here are our top looks from the collection.
1. When you think spring/summer, you don't automatically think "all black" but this NYC and 50 Shades inspired sheer maxi look is giving us life and we want it in our closets now. It's a pretty accessible look so we're sure we'll see cheaper copycat versions in our favorite stores. Layering options galore!

2. This look reminds us of Jeremy Scott's decadent ballroom gowns adorned with hilarious prints of various Nabisco snacks. D&G took a note out of his book, but decided to use peas instead, with produce as an accessory. It's somehow still fabulous, and the regal, Mother Earth flow of everything is so dreamy.



3. This outfit merges the world of pop culture and Italy – it's busy but the prints, color, and overall aesthetic work so well together. We adore those shoes and clutch with that skirt! A very sixties look that's both edgy and classy.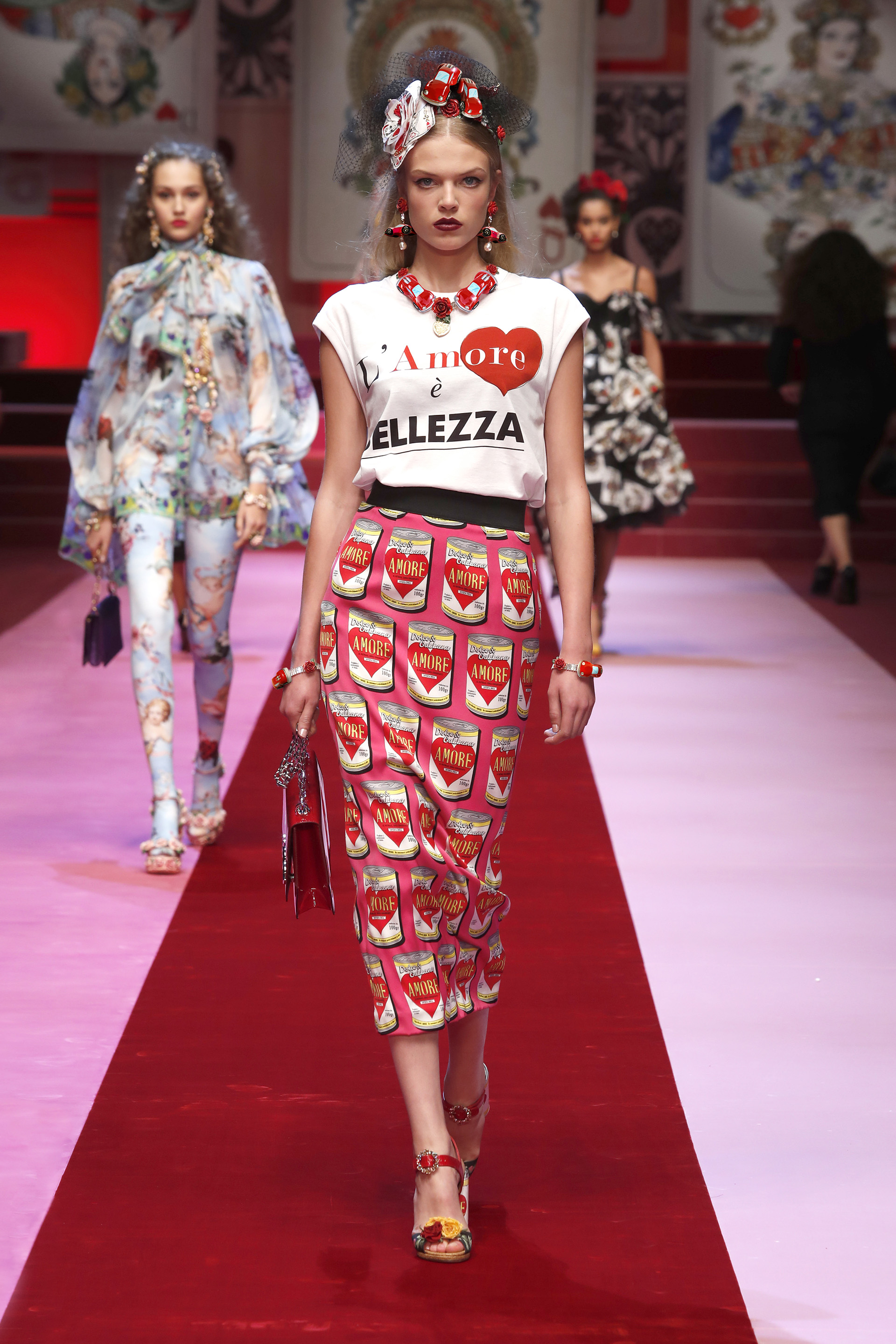 4. If you thought power-suits for women were over or unattractive, you just need to look at this sleek suit to properly redefine "boss lady". From the lapel detail to those jewel encrusted loafers, this perfect fit is what you're missing from your office wardrobe.



5. This cream silk look borrows from Indian and African influences, and we love the easy billow of the trousers and tunic. The ultimate look for a wedding, vacation, or upscale brunch, with beautiful perforation detail. Just stay away from tomato sauce.

6. This simple shift dress gets an update with black mesh ruching on the sleeves and decadent embellishment and embroidery on the front. We love the idea of pairing the perfect LBD with sheer ankle socks and pointy stilettos. Dolce with an added twist of contemporary!



7. The suit jacket look comes back here, but in a much sexier way that we're absolutely blessed with. It looks like sheer culotte pant legs with a chic crease, along with sheer sleeves and backing with a stylish flair at the hips and our new fave take on a suit jacket.



8. Here's a break from all the moody black looks, with this metallic body suit. Now that's one way to rock floral! The blue-silver background almost mimics fish scales while the flowers sit between red, purple, and pink. A truly effervescent look to really make the flowers bloom.

9. Back 2 black. Sorry, this shoulder-less Bardot silhouette with the ideal amount of ruching is impossible to ignore. D&G are so good at ding sheer black! This is giving us femme fatale, young-widow-of-old-rich-dude-at-a-funeral drama and we're obsessed.



10. This look is classic Dolce, with it's use of baroque, geometry, bright colors, and flowing silhouettes (complete with identical print leggings.) would you swap our your tights for these or is the look too loud for you?