When people get excited about breakfast, they normally think of fluffy piles of pancakes, doused in flowing amber syrup, or an impressively decadent egg benedict. No one really thinks of oatmeal. But it's an underrated star – it's an awesome canvas, and there are unlimited ways to jazz it up and make the flavors explosive. See the most creative recipes we could find here.
1. Banana Nut Baked Oatmeal
This basically tastes like banana bread pudding, and why would anyone turn down bread pudding for breakfast? Garnish with some peanuts and cinnamons, and this is the easiest brunch or solo meal you've ever completed. And maybe the tastiest. Imagine the syrup slowly soaking into that baby!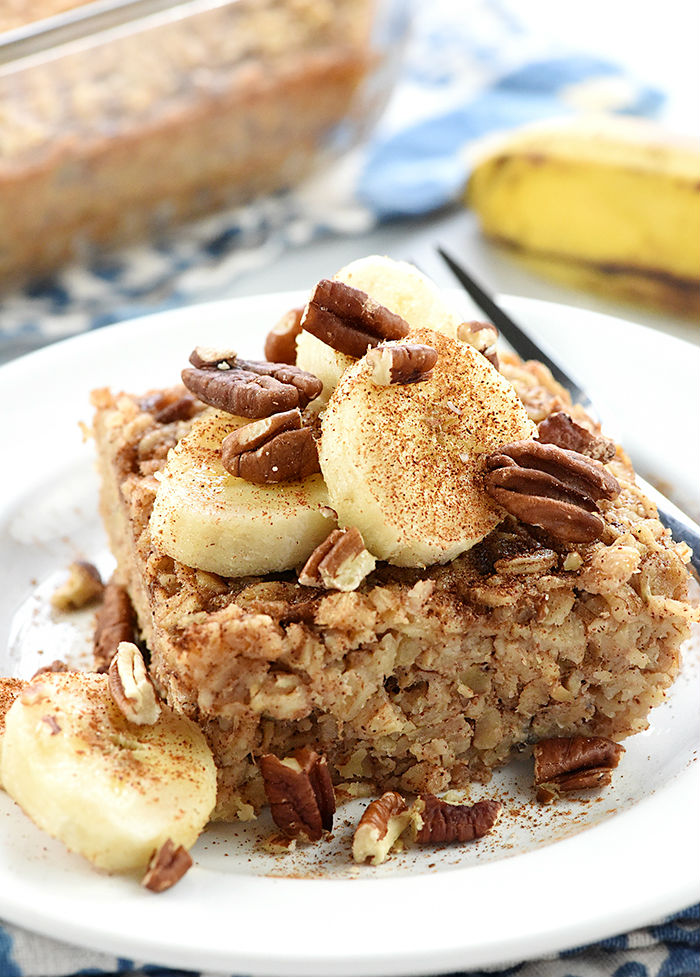 2. Strawberry Vanilla Overnight Oatmeal
This mason jar concoction is a dream – a strawberry dream, to be precise. These overnight oats are made with chia seeds and nonfat milk, but you wouldn't be able to guess that they were healthy.



3. Maple and Brown Sugar Oatmeal with Sweet Potato
Sweet potatoes are packed with nutrients, and add a comforting Thanksgiving twist to your morning oats! Maple and sweet potato have always paired well together, and chopped almonds add some depth. Sweet potato pie for breakfast? Please and thank you.

4. Savory Miso Oatmeal
Perhaps the most innovative recipe on this list. With a sumptuous poached egg and some serious flavors brought by salt, miso paste, salted seeds and furikake, everyone with a savory tooth will be seduced by this amazing concoction in no time!



5. Healthy Matcha Green Tea Overnight Oats
Matcha is all the rage, recently – but it's more than just a trend, as proven by these delicious green tea overnight oats. The author decided to experiment with matcha instead of cocoa on time, and thank goodness for that! The vibrant final result has such a subtle but unforgettable flavor (though it does have a weird coloring, we'll give you that.)

6. Samoa Oatmeal
Girl Scout Cookies aren't the most impressive dessert, but those Samoa cookies are pretty damn addictive. Instead of buying them by the box, eat up a samoa flavored bowl of oatmeal – all you need is some caramel candies, some semi-sweet chocolate chips, and shredded coconut that you toast for some extra flair.



7. Oatmeal Recipe with Blueberry Cheesecake Swirl
Not only are the swirls of velvety blueberry and cheesecake enough to tantalize everyone, but said swirls are also low-fat, gluten free, and pretty good for you! Just a little cream cheese and cinnamon turns a normal bowl of oatmeal into a cheesecake inspired masterpiece.



8. Toasted Oatmeal with Strawberry Chia Jam and Coconut Whipped Cream
We want to eat handfuls of that Pinterest-perfect strawberry jam – and even better, it's homemade! It takes a bit of time to prepare, but the result is way worth it. Melding with coconut whipped cream, this toasted oatmeal recipe will have you gobbling up seconds at the end of your day too!

9. Healthy Vanilla Cake Batter Oatmeal
Remember when you were a kid and your mom smacked your hand away when you tried to eat that raw but tempting cake batter? Well, mom's not watching anymore, and you have the chance to make cake batter oatmeal (to inject a dose of fun into your fiber-filled adult responsibilities). Weirdly, vanilla protein powder is what makes it taste so good.



10. Savory Oatmeal with Cheddar and Fried Egg
Ok, oatmeal and eggs really are a savory match made in heaven, so we had to throw in one more egg-cellent creation. This time, the egg is fried rather than poached, and the oatmeal is garnished with white cheddar, red peppers, and onions. Better than any omelette we've ever heard of, TBH.