Often couples on their wedding day want to be creative and original to surprise their guests getting them to admit they visited the best wedding ever. The general impression of the wedding party depends to a great deal on the banquet menu, particularly the wedding cake. To make a unique impression on the guests, it is necessary to take care of sweet treats in advance. Here you are going to find the most delicious "out-of-the-box" dessert ideas to use instead of the traditional wedding cake.
1. Cake Pops
Insanely delicious and beautiful cake pops will make a worthy alternative to a wedding cake. Surprise your guests and friends with chocolate, strawberry, cherry cake-pops.
Cake pops can be either an excellent complement to the big cake or a main feature of a candy bar along with ginger. They are both suitable for a grand banquet and for a small party. The variation of tastes and looks is enormous so it's easy to integrate cake pops into your wedding theme
In addition, the cake pops can stand for presents for the guests instead of usual bonbons or even cards for their seating assignment.
2. Rice Krispy Cake
Another creative alternative to a boring simple wedding cake would be cake made of rice krispies. That's definitely a fun way to impress your guests! Rice Krispy cake looks amazingly adorable. By the way, it is not necessary to make exactly a cake. Cook rice krispie treats in a form of hearts or small pies. This will be a little heaven at your wedding! Besides, it is easily to cook by yourself, so you will also save some money on catering costs.

3. Ice Cream
Who doesn't love ice-cream? You may think that ice-cream will look too simple for the wedding, but if you skillfully arrange the whole pyramid of ice-cream balls, then, believe me, this dessert will look regal and rich. It is only necessary to mind the weather for this one to get melted.
4. Macaron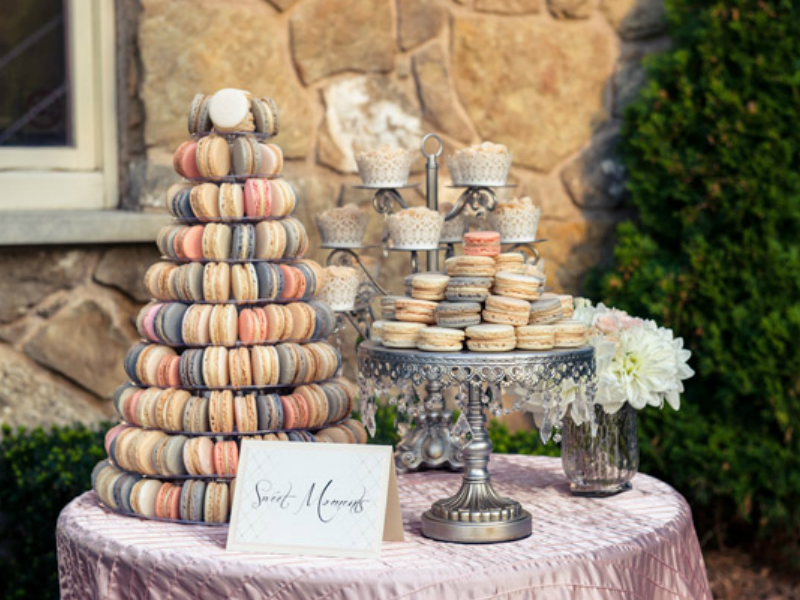 Perhaps these French mini-sweets will never go out of style! Tower made of macarons will perfectly fit into your wedding and will win every guest's heart. In addition to the unrivaled taste and aristocratic origin, which, of course, adds your ceremony the atmosphere of sophistication, there are a few significant advantages. For all its originality, macarons do not destroy the overall concept of the celebration. Of these, you can build a beautiful pyramid, decorate cakes (or even make macaron cakes), they can act as a self-treat (beautifully arranged in vases or trays), and may be an element of serving (macaron on a stick or a glass of champagne)
5. Cupcakes
This option is now of little surprise to anyone. Even the most ordinary housewife can bake these cupcakes at home with cream-colored caps. But if you cook them in the desired colors, in sufficient quantity and build a small tower, then you will stun everybody at your party! Such a tower can look as terrific as a traditional wedding dessert. Delicate décor, refined taste, elegant patterns – such goodies are perfect for a wedding celebration.
6. Ferrero Rocher or Raffaello Cake
Guests will ask you to repeat the wedding again when they try this cake! Fluffy white Raffaellos or a rich golden Ferrero Rocher chocolates will look best at your elegant chic wedding. Such cake will be perfect for a cosy winter wedding.

7. Marshmallow
The latest trend gaining popularity – a vase filled with marshmallows of the most bizarre shapes and colors. It looks very tender, and this is probably why a new round of popularity has been driven by weddings. For the private small ceremony, where guests know each other marshmallows are a great option. Marshmallows are sometimes even used in the decoration of the wedding space, their shape and image creates amazing aerial garlands that can perfectly decorate the dining area.
8. Mini-cakes
One big wedding dessert – it's not an inexpensive pleasure. Plus, it is difficult to transport. In addition, there is no guarantee that it will be completely eaten. A more convenient option would be little mini-cakes. Each guest will be sure to get his and will remain satisfied with this small masterpiece!
9. Chocolate or Brownie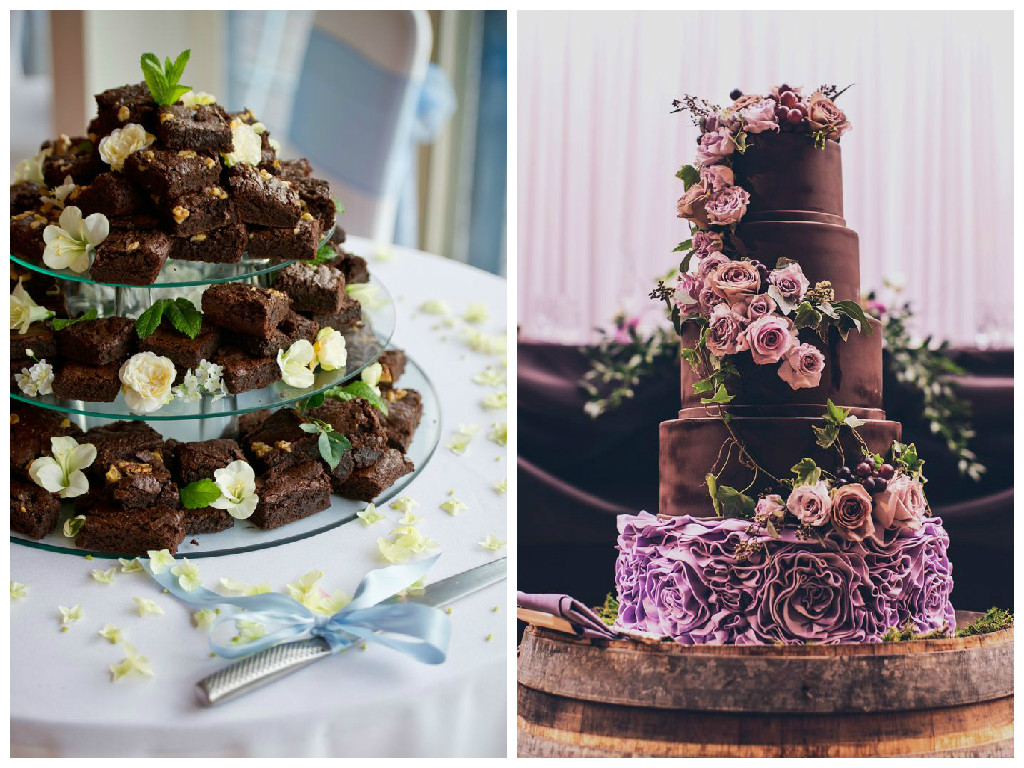 Chocolate is a universal delicacy, from which you can make different figures, inscriptions. You can set the chocolate fountains or fondue and enjoy the taste of chocolate with pieces of fresh fruits. Or just order a chocolate wedding cake with fruits. The most important thing is to find a good chocolatier. A lot depends on the quality of this sweet.

10. Donuts
Why count calories at a wedding? It only spoils the impression. The guests will be grateful if you offer a proven good food, not dietary meals. A Tower of donuts with different fillings and icing will be the hallmark of your festive reception!
11. Naked Cake
This is quite an ordinary cake. Its only feature – the lack of coverage (glaze, mastic). As a result, it looks "naked". But in this "imperfection" is the whole appeal of the modern dessert! It looks very cozy and homey.
12. Creme Brulee
For a wedding it fits just perfectly – convenient, delicious and romantic. I believe glamorous brides will be the first to add this dessert to their wedding banquet. It's not only a delicious dessert, but also a spectacular show. Wedding guests will be stunned to see how the chief cooks it and then burns the crust to caramelize it.

13. Pancake Wedding Cake
Are you a breakfast diehard? Good news for you! You can daze everyone at your wedding party with a fabulous and trendy (plus delicious) wedding cake, comprised of your favorite pancakes! Pancake cake would be very appropriate at a wedding in a rustic or eco-style, in a small informal wedding with the closest relatives or for wedding in shebbi chic style.
This "cake" can be made of thin to thick pancakes (both ways look brilliant) in one or more tiers. Pancakes can be served with condensed milk or cream and garnished with powdered sugar, fruit and berries. If you make a cream color, the pancake cake will look even more creative.
14. Waffle Cake
Another incredible alternative for breakfast and brunch enthusiasts: This stunning dessert will leave everyone delighted and satisfied! But mind that it will only be appropriate for small private parties with your closest relatives and friends. It doesn't only taste delicious, but creates a homy and lovely atmosphere. Waffle cake can be decorated with berries, whipped cream, chocolate and a variety of syrups.
15. Cannoli Tower
This is a Sicilian dessert made of  waffle rolls stuffed with mascarpone cheese or ricotta. Cannolis have an unusual taste, but you will hardly find a person who won't enjoy it! Therefore, the tower of cannolis will be highly appreciated at your wedding.