Classic pumpkin dishes can be heavy for our stomach. It's time to try something new and special this fall! How about replacing them with more creative looking and lighter snacks and drinks? Both adults and kids will be able to enjoy them.
Try these simple yet super delicious fall flavor recipes.
1. Pumpkin Cupcakes
These cute fall treats will fit any party. And it takes only ~40 minutes to make them. Let's start with basic pumpkin cupcake recipe adding a few extra features. This batter for cupcakes is the easiest one. You don't even need to deal with mixer here. The ingredients are:
1 and 3/4 cups of flour
1 tsp baking soda
1 tsp baking powder
1/2 tsp salt
1 and 1/2 tsp ground cinnamon
1 tsp vanilla extract
1/2 tsp pumpkin pie spice
1 tsp vanilla extract
1/2 cup brown sugar
2 eggs
1 cup pumpkin puree
1/2 cup vegetable oil
1/3 cup milk
Preheat oven to 350F degrees. Mix flour with baking powder, baking soda, cinnamon, salt and pumpkin pie spice in a large bowl.
In another bowl, mix eggs and brown sugar. Then add the pumpkin puree, oil and vanilla extract. Add one mass to another and stir until combined. Pour batter into cupcake holders. Try using an ice-cream scoop for a better measuring. Bake for 17-18 minutes then cool them completely.
You can use some imagination and add chocolate chips or anything you want into the batter.
The icing. Cream cheese will be an awesome idea! Mix 4 ounces cream cheese with 60 grams softened butter on medium speed. Then add 120 grams powdered sugar and mix it again. Add some salt if the mass if too sweet. Apply the icing on your cupcakes and finish with cute sprinkles or chocolate chips. Done!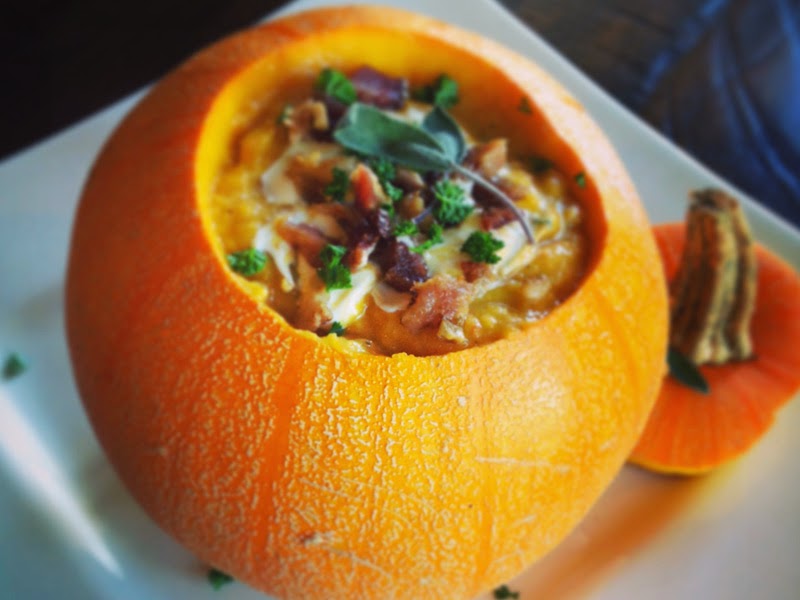 2. Roasted Pumpkin Sage Soup
Tasty low calorie soup with the original presentation. First of all, you need to get small pumpkins (about 2-1/4 to 2-1/2 lbs). Other ingredients are:
4 lbs fresh pumpkin peeled, cut into bit sized chunks, seeds removed
4 large apples
1 cup onion, chopped
2 tbsp extra-virgin olive oil
6 cups chicken broth (for vegetarian soup you can use vegetable broth)
1 cup fat free plain Greek yogurt
2 tbsp chopped fresh sage
1 tsp nutmeg
1/2 tsp ground ginger
salt and pepper – to your taste
cayenne pepper – to your taste
1 tbsp pure maple syrup
Peel apples and cut them into quarters. Stir pumpkin, onions, olive oil, pepper and salt in a bowl. Place the mass on a large baking sheet, roast it about 30 minutes. Then add sage and roast 15 minutes more. Transfer a half of the mass to a food processor and add chicken broth. Puree it until smooth. Put it into a Dutch oven. Add maple syrup, yogurt, ginger, nutmeg and salt and heat on medium-low, stir constantly for about 7 minutes. You can also garnish the soup with lowfat sour cream. Ready!
3. Pumpkin Lasagna
Admit it, everybody loves lasagna. Why not to try a new flavor? The cheese sauce makes it taste just awesome. Learn the recipe. The ingredients:
1 pie pumpkin
1 tbsp olive oil
1 small red onion
1 cup Swiss chard
1 egg white
1/4 tsp salt
1/4 tsp fresh-ground black pepper
2 tbsp butter
2 tbsp flour
1 cup milk
1/2 cup grated Parmesan
6 lasagna noodles
1/2 cup mozzarella cheese
First of all, cut the pumpkin into cubes. Take a nonstick frying pan, heat the oil and add the onion and 3 cups of pumpkin. Mix it and roast it for 20 minutes. Then you need to mix Swiss chard, egg white, pepper and salt. Cook lasagna noodles until soft. To make the cheese sauce, heat the butter in the sauce pan. Add flour and cook for a few minutes. Then add milk and cook until it gets thick. Mix the sauce with parmesan, stirring frequently.
Pour a 4 half of the cheese sauce to the pan and place the noodle. Then make the lasagna in a classic way, applying 2 different layers and repeating. Finish with mozzarella cheese on the top.
Cover it with aluminum foil and bake for 25 minutes until it gets golden. Done!
4. DIY Pumpkin Spice Latte
Are you a coffee lover? Make a latte that is even tastier than a Starbuck's one. Also, it's budget friendly. You will need:
2 shots espresso
1 cup 2% milk
2 cups sugar
2 cinnamon sticks
1/4 tsp nutmeg
2 tsp pumpkin pie spice
1/4 cup canned pumpkin
Make the syrup: boil 2 cups water and sugar until it melts. Then add the cinnamon sticks, nutmeg, pumpkin pie spice and canned pumpkin. Boil it all for 5 minutes, mixing occasionally. After that cool it.
Heat up the milk. Put 2 tbsp pumpkin spice syrup in the mug. Top it with whipped cream and cute marshmallows. Enjoy the gorgeous taste.
5. Pumpkin Butter
This delicious butter is ridiculously easy to make! You can enjoy this fall treat with biscuits, toasts, crackers, waffles or anything else you like!
Let's prepare all the ingredients.
3-3.5 cups canned pumpkin puree
1 cup apple juice
1 cup maple syrup
1 cup brown sugar
2 tsp ground ginger
1 tbsp ground cinnamon
1/2 tsp ground nutmeg
2 tbsp lemon juice
You can also add 1 tbsp whiskey to make it taste more original.
Combine all ingredients except lemon juice in a Dutch oven. Bring it to a boil, then lower the heat and keep cooking about half an hour. Stir occasionally. Remove the butter from heat, add the lemon juice and cool it. Ready!
You can store this butter in the refrigerator up to three weeks.
6. Pumpkin Bars
This can become your favorite recipe. You will need:
The batter
1 can (or 1 cup if homemade) pumpkin puree
1 cup brown sugar
1 egg
1/3 veg. oil
1/2 tsp nutmeg
1 cup all-purpose flour
1 tsp baking powder
1/2 tsp baking soda
1/2 tsp salt
The filling:
1 package (or 1 cup) soft cream cheese
4 cups powdered sugar
1 tbsp milk
2 teaspoon vanilla extract
Or as an option, you can use a whipped cream instead of this recipe.
Cook the batter. Add all the dry ingredients to the bowl and set aside. In another bowl mix egg, sugar, pumpkin puree and oil. Then add dry mixture and stir everything.
Bake it at 350 degrees for 30 minutes, or until cooked. Cool it completely.
Now prepare the filling. With a hand mixer blend together butter and cream cheese.  Then stir it with powdered milk, sugar and vanilla extract. Mix it until smooth. Now you can combine it with the biscuit.
7. Pumpkin Mac and Cheese
This is a very nice idea for your lunch and the cooking process won't take you much time. First of all you need to choose your favorite pasta and cook it (you need about 250 grams). Then prepare these ingredients for the sauce:
2 tbsp butter
2 tbsp all-purpose flour
1/2 tsp salt
1/2 tsp pepper
2 garlic cloves
1 cup milk
1 cup whipping cream
1/2 tsp nutmeg
1/2 cup canned pumpkin
3/4 cup cheddar cheese
1/2 cup grated Parmesan cheese
2 tbsp sage, sliced thinly
1/4 cup bread crumbs
Grate the cheese. Melt butter in a large pan. Add pressed garlic and fry for 1 min. Then add flour, nutmeg, pepper and salt, mix it. Set medium heat and add milk and whipped cream, stir it. Then add all the other ingredients except bread crumbs. Make sure the cheese is melted. Now mix this sauce with pasta and transfer it all to the baking dish. Top the mixture with bread crumbs and bake about 25-30 minutes on 350 degrees F.
8. Pumpkin Pancakes
Here is the recipe:
1¼ cups flour
2 tbsp brown sugar
2 tsp baking powder
1 teaspoon cinnamon
1 teaspoon pumpkin spice
½ tsp salt
2 tbps oil
1 cup milk
1/3 cup pumpkin puree
1 teaspoon vanilla extract
1 egg
Take a bowl, combine flour, brown sugar, cinnamon, baking powder, salt, pumpkin spice and vanilla. In another bowl put milk, pumpkin puree, an egg and mix it all. Now combine these two parts and stir until blended. Cook for 2-3 minutes each side.
You can top these unbelievably tasty pancakes with anything you like: maple syrup, ice-cream, whipped cream, chocolate or caramel sauce.
9. Simply Pumpkin Bread
Another inspiration for this fall! Super simple pumpkin bread recipe to enjoy.
1 ½ cups all-purpose flour
½ cup butter, softened
1 tsp baking powder
1 cup dark brown sugar
1 tsp baking soda
1 cup canned pumpkin puree
2 eggs
1 ½ tsp ground cinnamon
½ tsp ground ginger
¼ tsp ground nutmeg
1 tsp salt
1/2 cup raisins (optional)
Use a bowl to combine all the ingredients in the list and mix the mixture at medium speed. Place the mixture in a baking dish and bake at 350 degrees F about 45 min, or until ready (insert a toothpick into the center of the bread and check if it comes out mostly clean).
10. Pumpkin chili
Pumpkin chili may sound weird to you. But this version tastes just fantastic. If you have a big family, this yummy dish will disappear really fast!
1 tbsp canola oil
1 small onion
2 cloves garlic
1 pound ground turkey (extra lean)
2 cans pumpkin puree
2 cans condensed tomato soup
1 can beans
1 can tomato sauce
3 tbsp chili powder
1/2 tsp cayenne pepper
1 tsp dried oregano
1 tsp ground pepper
Salt to taste
Choose a large pot or a Dutch oven. Heat canola oil, add minced garlic and chopped onion. Cook for about 4 min on medium heat. Then add turkey and cook until it changes color. Add canned tomato soup, tomato sauce, pumpkin, beans, salt and all the spices from the list. Stir well and bring it to boil, then lower the heat and cook about 15-20 minutes.