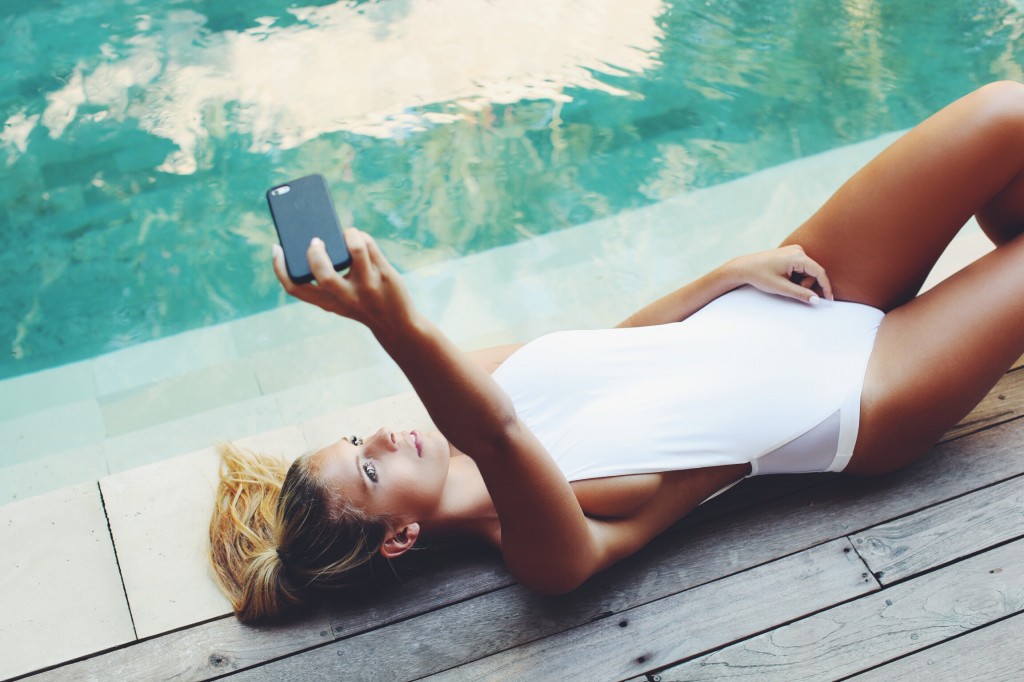 Do you know how many photos you can find searching for a tag #selfie on the Instagram? Millions? Even more! Hundreds of millions pics from all over the world are waiting for your judgement! A good selfie is not just a random shot of your frontal camera. It is now a totally new piece of art that requires specific skills, poses and the perfect timing.
Find the perfect light. If you have options, it is better to choose natural light, because it will flatten your skin the best. Take selfies near windows or outside. Avoid harsh fluorescent light because it greatly deforms the picture. Try to keep the light in front of you when taking a selfie. It will brighten your features, and, unlike other directions, won't distort your face or make unwanted shadows.

Bright lipstick. If you want to make a seductive kissable look on your photo, choose the brightest lipstick (but the one that suits you, of course). Your juicy lips will be in focus and freshen your whole image at the same time. Who doesn't want to look fabulous in photos?
Or try a natural look. Only take and post an all-natural selfie if you're sure the world is ready to see it. Such pics are actually a good idea if you want to show the «real you», not your usual «outside" look. Well, if your "just out of the bed" look is not good enough, you can add minimum makeup. It won't be noticeable at first, but will improve the whole image.
Define the features you want to focus on. For instance, if you have big beautiful eyes, you can take selfies focusing on them and downplaying everything else. This trick works just perfect when you really love your flicks. Before taking a closeup photo don't forget to apply some makeup.
Keep your selfies positive. Brighten a friend's timeline with your adorable smile! No sad faces! Make sure you're experiencing good emotions if your aim is to make a smiley selfie. Remember something funny and positive and take a picture! Or take random photos in the brightest moments of your life when you feel happy and cheerful. Keep in mind: smiling is sexy, making a duck face is not.
Show off new things. Don't make your social network profile look boring. Try not to post images that look almost the same because none of your friends wants to look at them trying to find the difference. You can pose with your new accessories: brand new sunglasses, earrings, haircut or coat! Adopted a kitty today? Take a selfie with your new friend right now!
Selfie sticks. Yes, this gadget is genius. When I first got mine, my friend literally yucked: "what is this weird stuff?». But when it became more and more popular, we started to notice a huge amount of people using those magic sticks around selfie-friendly places. And why not to use one? You don't need to ask some random guy to take a photo with you and your friends or sacrifice one of your buddies and take pics without him (because he's a photographer here). Taking selfies with friends without a stick is not the best idea: the result is your faces with double chins (nobody wants those). And don't expect to observe a beautiful background on the picture – you won't see one because your faces will eclipse all of it.

So be sure: this gadget will improve your selfie pictures. It doesn't cost much and some of the models have bluetooth remote controllers so it is not even necessary to set a timer in your camera app to take a pic.
Filters. We all like to use Instagram photo filters and the bigger part of images taken are processed with filters, but some of our favorite and popular ones can destroy our selfies. So be careful when applying them. If you're sick and tired of the standard Instagram pack, use alternative processing apps instead.
Alternative selfies. Selfies are an instrument of demonstrating your face. But if you're tired of simple self shots, ditch them and take pics of your arms, feet or any part of your body! For shoe addicts it will be real fun to show off your new pair of sneakers or heels, or take a snap of your gorgeous manicure or peticure, engagement ring or fitness tracker on your hand. Selfie possibilities are endless.
Posing. It's better to experiment with different poses to find the right angle that shows your features best. Don't just make head-on snaps and try to turn your head a few degrees. Also, set your camera a bit higher and take a shot from the top, so your eyes will appear bigger, and you will be able to show off your cleavage (but don't focus on it too much). If you want to look a bit more slender taking a mirror selfie, pull one hip out. But remember – we are all beautiful, be proud of your features!
Consider timing. As long as the percentage of taking self shots is getting higher and higher, people are trying hard to make their selfies stand out. That's when the pics are becoming weirder and weirder. Some of them are being taken at funerals, memorials or other selfie-inappropriate places. Also, people keep taking «dangerous» selfies while driving a car or near different accidents. First of all, make sure the process of taking a selfie isn't dangerous (you've probably heard of those deadly selfies around the web). Second of all, it is not necessary to take snaps in funerals. This is not appropriate at all! Consider what is going on around you and think twice before taking selfie and uploading it anywhere.
Stay in trend! If you're an Instagram lover, you've probably heard of the latest trends that are usually defined with hashtags. This makes taking and uploading selfies even more exciting and fun! Just make sure you put a relevant hashtag under your selfie out of the trendiest ones. Try #fromwhereistand when capturing your feet at the most unusual places, for example in a country you've never visited before, near a bunch of kitties or at the beach. #Throwbackthursdays or simply #tbt is for images of you taken much earlier, which are posted on Thursdays. Google for more Instagram ideas and please don't forget to put a #selfie tag!
Good luck!!