If you're anything like me you probably feel like you don't read enough. Not that you don't read at all, because of course you do. We all read all the time. We're constantly on social media and we're constantly reading. Twitter, Tumblr, Instagram, emails, news – it all counts as reading. And it's not bad that we do this. It's great, it keeps us in the loop of what's happening in the world and all the latest news and trends. But is it the quality reading we should be doing? The short answer is "No". The long answer is "HELL NO!". We should read more books, especially if they're great books by some very cool women. So I took the liberty of coming up with a list of some awesome books written by some spectacular women, that every woman should read.
1. The Diary Of Frida Kahlo: An Intimate Self-Portrait by Frida Kahlo
Frida Kahlo was an amazing painter in the 1900's who's famous for her self portraits. She's also become a female icon that empowers women all over the world to this day. This book is essentially her journal full of illustrations, sketches, poems and thoughts on identity, race, gender and class in Mexico. It's a chance to peek into her thoughts and dreams, her reflections on life and the tumultuous relationship with her husband, Diego Rivera.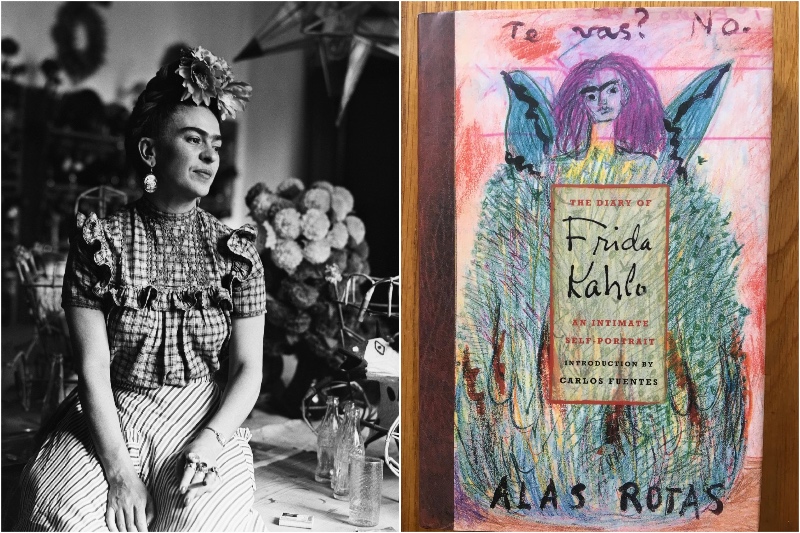 2. I Know Why The Caged Bird Sings by Maya Angelou
Maya Angelou was such a talented woman. She was a poet, writer and a social rights activist. In her life she wrote 3 books of essays, several books of poetry, 7 autobiographies and she's also credited for a whole list of movies, tv shows and plays. "I Know Why The Caged Bird Sings" is her first autobiography. It's a coming of age story of her early life and how she learned to overcome racism and trauma.



3. I Am Malala: The Girl Who Stood Up For Education & Was Shot By The Taliban by Malala Yousafzai
Malala is young and talented girl who paid a high price for what she believes in. She comes from Pakistan and she strongly believes in women's rights for education. She was shot in the head one day when she was coming back from school, and not only did she miraculously survive, but she lived to tell the story and became the youngest laureate for a Nobel Peace Prize at just 16.



4. Is Everyone Hanging Out Without Me? (And Other Concerns) by Mindy Kaling
Chances are you know Mindy Kaling best from her show The Mindy Project. Some of you might also recognize her from her role as Kelly Kapoor in The Office. Well not only is she an amazing actress, but she's also a hilarious comedian and a very talented writer. Her books are full of humor, funny observations and very real thoughts that we all have as women in modern society. So far she's written 3 books, and I highly recommend you start with this one.

5. Lean In: Women, Work, and the Will to Lead by Sheryl Sandberg & Nell Scovell
If you want to know what Facebook's COO personal experience was like working in world's most successful businesses – you have to read this book. In it, Sheryl shares lots of stories about her professional life and career and shows how women can achieve great things when they learn to believe in themselves and change their life for the better. This book is a cultural phenomenon for a reason.



6. Bossypants by Tina Fey
Tina Fey is a woman of many talents. She can write, act and even produce and her sense of humor needs no introduction 'cause it's legendary. I mean who here hasn't seen her as Liz Lemon in 30 Rock? Enough said. So if you want to find out more about her life, while laughing hysterically at her self-deprecating jokes – Bossypants is a perfect book for you. It's a perfect blend of autobiography and comedy.



7. How to Be a Woman by Caitlin Moran
As Caitlin Moran eloquently put it in her Twitter bio, she's been "Writing the f*ck out of sh*t since 1992", and she's been a woman since the day she was born, so if there's anyone qualified to write a book like "How To Be a Woman" – it's Caitlin. Don't be fooled by the name, it's not a self help book. It's a witty and hilarious part memoir, part rant about what it's like to be a woman. You'll laugh, you'll cry, you'll shit yourself – this book really has it all. You'll be a fan of hers from the first page.



8. Not That Kind of Girl: a Young Woman Tells You What She's Learned by Lena Dunham
Lena Dunham is well known by many, thanks to Girls – the show she created, wrote and acted in. She was nominated for quite a few Emmys for it and even won two Golden Globes for it. Her book "Not That Kind of Girl" is a memoir in which she shared what she's learned about life and work by now. It's smart, brave, occasionally funny and very honest.