Yesterday Rihanna's Diamond Ball took place at The Barker Hanger, Santa Monica, California. The Diamond Ball is an event created by Rihanna, to benefit the Clara Lionel Foundation, which works on improving the quality of life for communities worldwide in areas of health, education, arts and culture. This year was the second year in a row that this event took place. It attracted quite a large crowd of celebrities and raised $3 million for the Clara Lionel Foundation.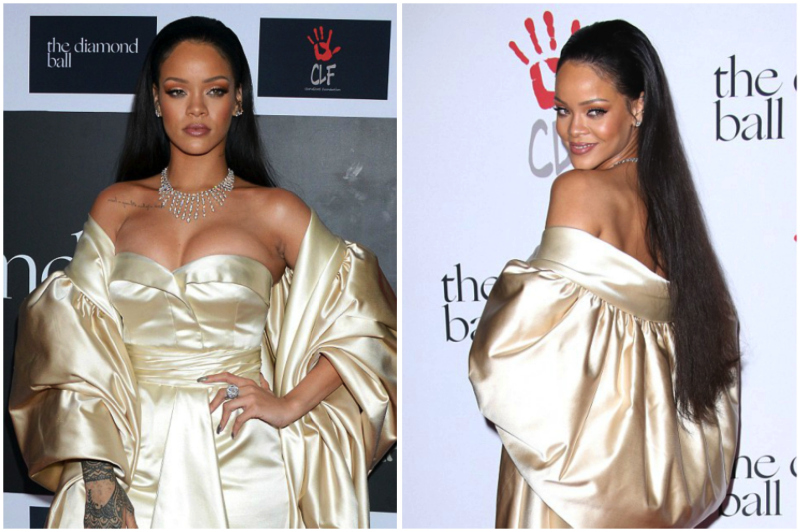 Rihanna walked the red carpet wearing a stunning, strapless, gold Dior dress. Her hair seemed to magically grow quite a few inches just before the event, and she rocked a very natural looking hairstyle. The front of her hair was slicked back, so it wouldn't get in her face, and the length of it looking natural wave. Her makeup was also quite natural and classic. A cat eye and some nude lipstick made her look effortlessly glamorous.


Will Smith and Jada were among the guests, attending the event. Jada looked amazing in her white sleeveless dress with a cheeky slit on one side. Will also looked quite dashing in a black tuxedo. The couple looked very happy and Will even attempted to pinch his wife's bum in front of the cameras.


Kylie Jenner also showed up to the Diamond Ball. She was seen rocking the red carpet in a long white mermaid dress that accentuated all of her curves. The train of the dress made it look like it might've been inspired by a bridal catalogue. After all, Kylie did mention recently that she wouldn't mind getting married to her boyfriend.
Rihanna said she loved everything about this year's Diamond Ball. She was overwhelmed by the amount of people who came to support a cause that's very close to her heart.