It's no secret that the children of famous actors, writers and politicians often follow in the footsteps of their parents. Can you say the same about grandchildren? It turns out, you can. The descendants of cult figures of the twentieth century are as beautiful, talented and ambitious as their grandfathers and grandmothers.
1. Chris Pine
Chris Pine, who you might know best from Star Trek is a successful Hollywood actor and grandson of the pin-up icon of the 40s Ann Gwynn. His grandmother Ann was famous for her roles in horror films and was recognized as the scream queen back in the day. Chris himself studied at the prestigious University of Berkeley in California and has a bachelor's degree in English. He has more than 30 movies under his belt, but true fame for him came after he got the role of Captain Kirk in Star Trek.
2. James Thiérrée
Charlie Chaplin was officially married 4 times, he had 12 children from different marriages. James Tierre is Charlie's grandson. He's a dancer, a mime, an actor and a circus artist. He has his own company called La Compagnie du Hanneton, where the artists perform in the genre of "new circus", which unites theater, dance, drama and traditional circus numbers.
3. Quinn Tivey
Elizabeth Taylor conquered millions of viewers around the world with her expressive eyes and a shock of black thick hair, and look just how much her grandson resembles her. However, it's not just the looks that they have in common: Quinn Tavey also inherited Elizabeth's kindness. He's the co-founder of the Elizabeth Taylor AIDS Foundation. Quinn is also a photographer, he travels all over America, photographing people suffering from AIDS, and is also actively collecting funds for AIDS research.
4. Cameron Douglas
Cameron is an actor and a member of the influential Douglas filmmaking. His grandfather Kirk Douglas became famous for his roles in classic Hollywood movies like "Spartacus", "Doctor Jekyll and Mr. Hyde", and his dad, Michael Douglas, is a famous actor and film producer.
At the beginning of his career, Cameron starred in 4 Jackie Chan films but these days he works in filmmaking company in Manhattan.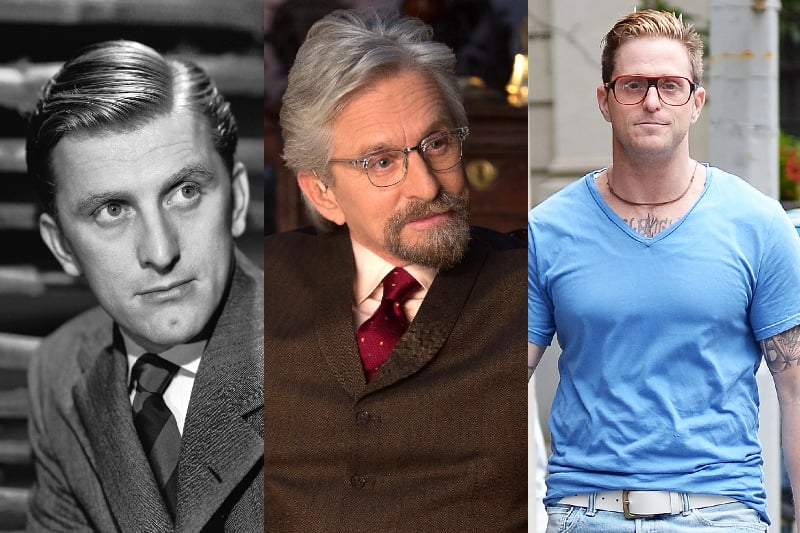 5. Clark Gable III
Clark Gable is the unrivaled Rhett Butler of Gone with the Wind and one of the most beautiful men of the twentieth century. And his grandson Clark Gable III is in no way inferior to his grandfather, he inherited the same magnetic appearance and charisma. Clarke began to work as a model from the age of five, and now he's the host of the reality TV show "Cheaters", in which a film crew exposes unfaithful wives and husbands on the air.
6. Tuki Brando
Marlon Brando had 11 children, three of whom were adopted, and all 11 got his last name. Tuki Brando is the grandson of the Tahitian actress Tarita Teriipia, who was married to Brando for 10 years, which is actually the longest relationship he's had. Tuki Brando is now successfully starting his career model, he is the face of Versace, he often participates in fashion shows and photo sessions. Tuki is not only pretty but also very smart, he graduated university with a medical degree.
7. Ethan Peck
Millions of girls swooned over Gregory Peck and his character in "Roman Holiday". The story of Princess Anne and journalist Joe Bradley still makes our hearts skipping a beat. But look, Gregory Peck's grandson Ethan is all grown up and following in the footsteps of his grandfather. Ethan has starred in films and TV shows and critics are predicting a very successful career for him. I mean with his looks and talent he's destined to become a star.
8. Drew Barrymore
Drew Barrymore, a Hollywood diva who's known all over the world got her first movie role when she was just 7 years old. Her grandfather was Lionel Barrymore, who was mega popular in the 30s thanks to roles in the classic dramas like Grand Hotel and Sherlock Holmes.
9. Sarah Sutherland
Sarah Sutherland is also an actress who continues her family's acting dynasty. Her father Kiefer and grandfather Donald are very well known amongst all fans of good films. Sarah does not lag behind, she acts in TV shows, full-length films and is also trying her hand in film production.
10. Zoleka Mandela
Nelson Rolihlahla Mandela was a South African anti-apartheid revolutionary, a political leader, a philanthropist, President of South Africa from 1994 to 1999 and a Nobel Peace Prize winner. His granddaughter Zoleka Mandela is also an activist, speaker and writer. Her story of overcoming cancer is inspirational for anyone who ever came across this disease. In addition, Zoleka is one of the ambassadors of the United Nations Road Safety Collaboration.