Today we have "it" girls like Kylie Jenner and Gigi Hadid, the spawn of famous folk and a lucky genetic pool. But back in the day, we had true glamour girls who brought, along with their physical beauty, a gorgeous aura and energy that was present thanks to their talent and ability to command the attention in the room without baring any skin, or saying a word. Welcome to the most hypnotizing beauties of old Hollywood who will make you want to hop in a time machine.
Carrie Fisher
This Star Wars cutie was an "it" girl back in the day, and we think that she still is! Such an innocent and beautiful face – we can see why all the nerds went crazy over her back in the day.

Jane Fonda
This fitness guru turned actress is in her 70s and still looks like a hottie. But see what she looked like back in the day! That come hither look and that famous feathered blond hair…such a bombshell.



Helen Mirren
It's almost startling to see the ever-elegant and graceful Helen Mirren with messy bangs and a black and pink bra. She looks like the sexiest '60s vixen ever, and a little less of a good girl than the current Helen!



Meryl Streep
She is famous for her impressive acting chops, but also for her angelic looks. Her soft golden hair and feminine gaze are enough to draw anyone in. And she looks damn good for her age now!

Sophia Loren
Sophia Loren was one of the most iconic beauties ever. From those big red lips to her flawless bone structure, this Italian heartbreaker was on many a teenage boy's wall. From young to old, still draped in diamonds. #blinggoals for real.



Susan Sarandon
OMG. Susan is a splitting image of her daughter Eva Amurri! Those big doe eyes and red waves will make anyone who's not into redheads change their mind.



Goldie Hawn
Kate Hudson's mom might be known for her overly dramatic lip injections, but her looks were actually quite delicate back in the day. She sort of reminds us of a young Marion Cotillard in this serious shot.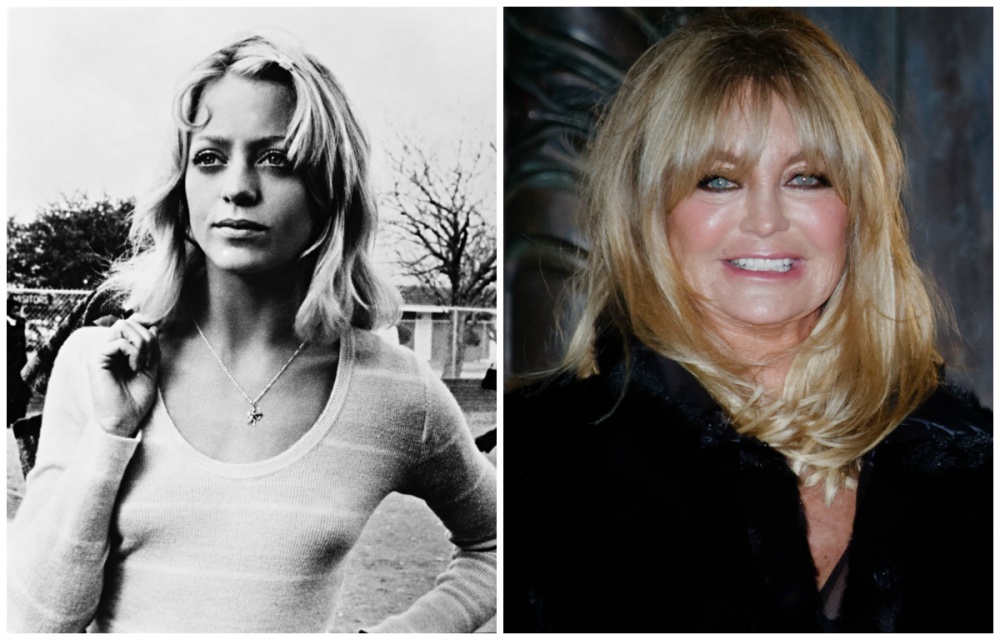 Brigitte Bardot
The gap-toothed beauty on the left has certainly undergone some transformations over the decades, but she was maybe one of the most dazzling blonds ever in her youth. That famous gap-tooth gets us every time.



Diana Rigg
Man, hard to believe that such a rockin' freckled babe could actually turn into a normal looking old lady.



Maggie Smith
This stunner wasn't always a four-eyed professor in Harry Potter…nope, she had her cleavage-ridden maiden days as well! Look at those bouncy curls and doe eyes. She almost looks like a different person! We wouldn't mind having a professor that looked like that!

Cathrine Deneuve
This French actress proves that what they say about French women aging gracefully is true – even decades older, we can still recognize that come-hither gaze (but this time, it's a little more clothed). Simply jaw-dropping.



Judi Dench
The original pioneer of the sexy pixie cut. In old age it looks as though she's confident as ever!



Elizabeth Taylor
This raven-haired beauty was known for her striking dark looks, and for her impressive eyebrows. Ever beauty tutorial queen bows down to E. Taylor's brows, and for good reason! Time has not done much good, but who can keep eyebrows and hair that good for so long?

Ursula Andress
Cheekbones for days! With hair wet, Ursula is makeup-free and fresh out of the pool in this gorgeous shot. We can see why the Swiss actress was chosen to represent one of the coveted Bond girls!



Lucille Ball
The OG female of comedy! This slapstick actress was famous for her goofy antics and bright red curls, but that impeccable, classic face and perfectly painted lip are anything but goofy. A sense of humor and looks that kill? Lucille is the perfect woman, and hasn't lost her pizazz in old age!