We've all grown up watching sweet Disney princesses take part in various adventures with their funny animal friends and handsome princes. Re-watching all those movies years later we often wonder – what happened to them afterwards? Did they turn into beautiful queens wearing spectacular gowns? Would they be just as gorgeous all grown up? Costume designer Nephi Garcia decided to answer all these questions by creating costumes for the future queens. All her models share a special bond – they are all mothers and their daughters!
Ariel
Ariel's killer dress would become a gem at any pool party. Is it over the top? Oh, yes. Would we wear it without thinking twice? Definitely!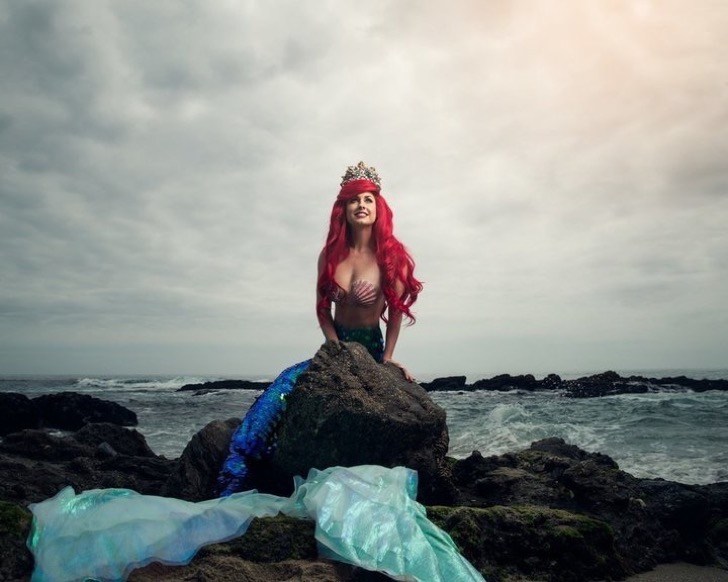 We all remember Ariel's pink dress she wore on land. Here's a modern take on a dreamy gown of a young girl worn by Ariel the Queen. She looks superb!



Mulan
Young Mulan was strong and fierce, capable of cutting her own hair with a sword. This very scene has always amazed us back in the day. Why spend all the money on salons when you can just cut your hair with a sword?

Queen Mulan looks even more dangerous and beautiful. You really don't want to mess with this lady.



Snow White
If we had this dress in our closet – we'd be wearing it every day! Office day, bridal shower, cocktail party? We'd wear it no matter what. But we have to admit that Snow White looks exceptional in it.

The older version of Snow White looks powerful and infinitely beautiful. This is what we call a statement piece! This golden dress is worthy of a queen.



Elena
Princess Elena aka Elena of Avalor is a strong willed young lady bound to become a spectacular queen. She's confident, yet careless and can easily rush into things. Elena's sweet off-the-shoulder dress looks trendy and would do great at Coachella (especially with that flower in her hair!).

This is one of those dresses you wear when you want to make an impact. And we mean impact with a capital ''I''. Elena the Queen looks even more gorgeous wearing regal colors.



Cinderella
Young Cinderella is looking lovingly at her glass shoe while rocking a gentle white-pink dress. She's the prettiest thing on Earth! She has had her fair share of injustice, but still managed to come out of it looking truly beautiful.

We've always wondered what Cinderella would be like as a queen. Wearing a posh blue gown, Cinderella looks like she can command a whole country! But under all that regality we can still see the same cheerful young girl that used to sing with her animal friends back in the day.



Belle
This dress is the true definition of 'stunning'. If only Emma Watson could wear it in the movie! Young Belle here looks like a real superstar, so no wonder she has hard time looking away from the mirror.

That golden shawl is to die for! It's hard to imagine Queen Belle wearing something other than gold, and she doesn't! Her dress is both lovely and elegant, worthy of a Queen Mother.