Many artists have tried to show relationship between the natural world and humans, but Flora Borsi showed us a unique and fresh perspective that we haven't seen before. It's called "Animeyed", and it blew us away!
In a series of Animorph-esque self-portraits where she marries the right side of her face with an animal's face as the other half, the beauty and success of Flora's project comes from meticulous attention to detail and observation. "I observed the angle, lighting, colour and texture. The most typical things on each animal. I made a moodboard, I was inspired by makeup artists, and hairdressers' earlier works found on web."



Part of Flora's inspiration for the project was to show the connection between nature and humans. Animals and humans have stark differences, but they have just as bewildering similarities. She remarked, "I realized how perfect the Nature is, and the similarity between humans and animals. I love animals, and somehow I wanted to show that we are very similar to them."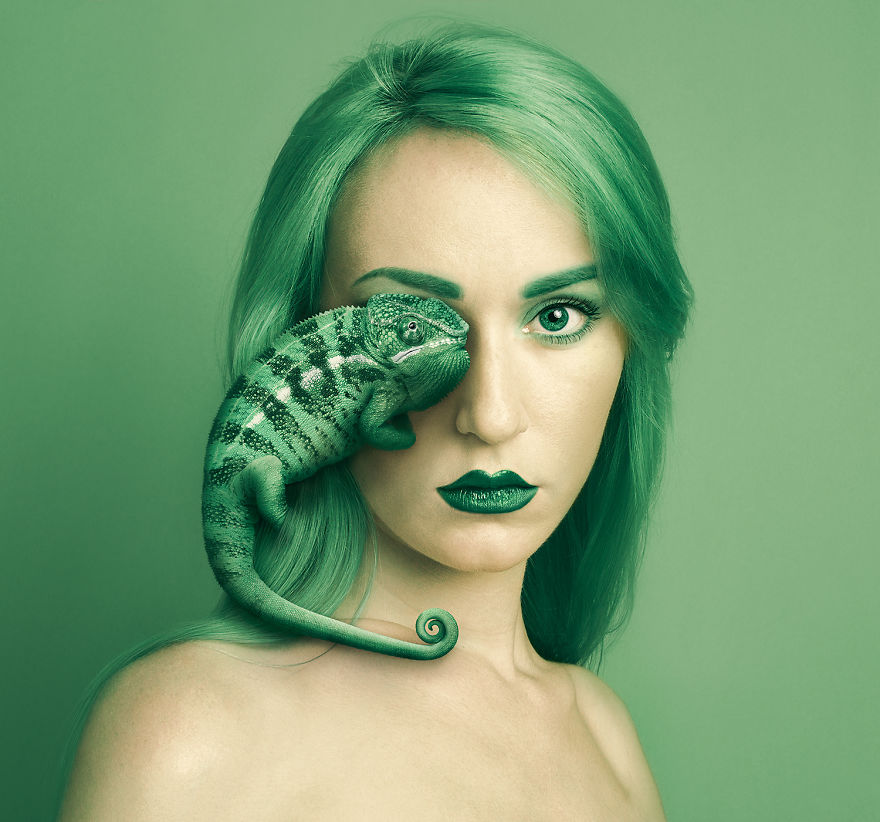 She says that while the photoshoot only took an hour, the manipulation of each image took up to 20 hours! With how perfect and on point each image looks, that's pretty believable to us. 60 minutes for shooting all of that is pretty impressive, though.

The shots are all of Flora herself – why hire a model when the artist can act as one herself? She used herself as a model because it was practical, and "the easiest way for me to produce pictures". Now we see how it took just an hour, with her fierce focus. And equally fierce modelling skills – the girl is gorgeous in every image!



But by properly observing the "angle, lighting, colour and texture." The images are mesmerizing – Flora's right eye with the animals left meld together in a way that you can't tell where one starts and the other ends. Her first attempt was a rabbit, and matching its intense gaze.



We love how she probes the deeper questions, along with the project's aesthetic beauty, about human identity, and the links between the human and animal worlds. She declared that we live in a world too obsessed with superficial looks, but that the looks of these species are underrated and under-appreciated – she wanted to pay some homage to the animal kingdom.

She looks like some otherworldly Disney-esque creature in all of these images, and the colors are so vibrant, we'd hang any of these on our walls! She captures the expression and essence of each animal in a startlingly accurate but creative way, and we're straight up obsessed.



We know she said she was inspired by a bunch of hairdressers and makeup artists, but we feel like the same folks who inspired her are definitely going to be inspired by this babe and her animal-integrated looks. Forget Pocahontas – this cutie is one with nature and her final product is so inspiring.