Are you ready for some magic? Here is a former dentist Sara Shakeel's Instagram account that will leave you speechless. Today Sara is a collage artist, she creates intriguing images by replacing some of a photo's elements with crystals. Let's take a look at some of her best works.
Some might describe her looks as high fashion. Others might call it a glitzy new art forms. But if one thing is for sure, there's no one out there quite like Sara Shakeel.

Before her art career, she was a dentist. But now, she adds crystals and diamonds to everyday, ordinary objects, transforming them into otherworldly items.

Some might even call her the Andy Warhol of this day and age. Apparently, she loves adding glitter and dazzle to ordinary objects such as fast food because burgers and fries are her cheat day guilty pleasure, so she see them as a holy entity which are "shining and ready to be savored."



Lots of collaborations are on the horizon for this rising star, and celebrities have already commissioned her art.



Wouldn't it be amazing to opt out of the boring ol' 757 and swap it out for a glamorous, diamond encrusted plane? We can totally see Cardi B stepping out of this thing.

This imaginative piece brings a new meaning to #foodporn by turning butter and eggs into crystallized goodness fit for a queen. If you're dieting, this glitter toast breakfast combo is something you might be into.



Sara did say that she loved turning fast food into the holy pieces of beauty. We should all appreciate Burger King that much, TBH. Although, a pile of glitter in place of condiments and patties is slightly disconcerting, although pretty.

Seeing this reworked picture of Miss Monroe, we really wish that diamond art had been around during her time. I mean, diamonds are a girl's best friend and look at that bodice!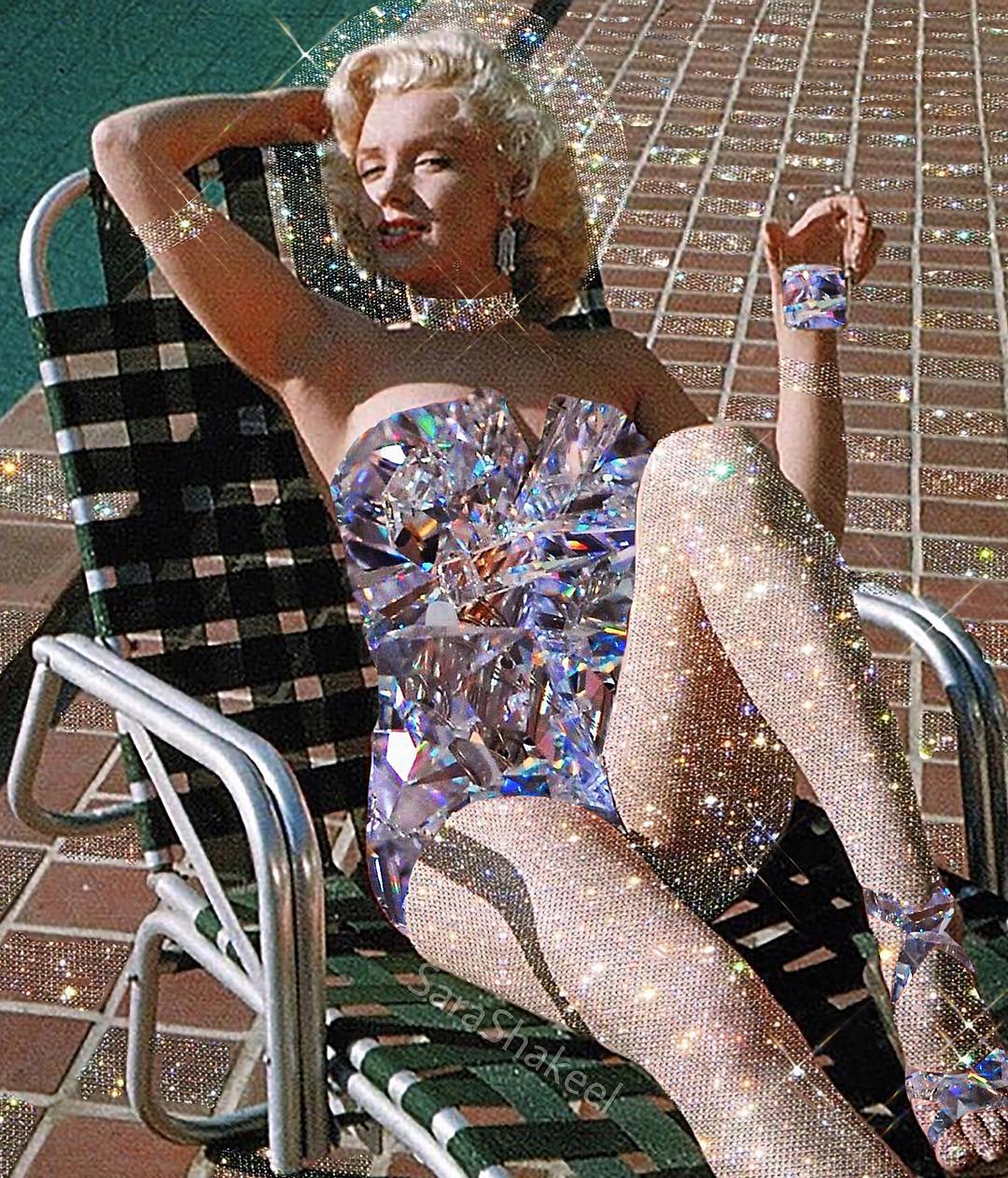 This luminescent cup of tea turns the steam wafting off the top into the milky way in this creative reimagining. We love how the texture comes off in this piece and would love for a shimmery tendril to waft our way.

Ok, we'd never condone abusively dressing animals up, but this photo gives us a craving to dip a cat's paw in pink glitter and watch those little beans shine. This rose gold cat is oh so chic, and inspired by makeup brand Glossier.



Fish are maybe the most mundane of all the pets, but Sara transformed this goldfish's bowl into The Little Mermaid by inserting a sweet little Ariel and turning the fishbowl's water into glitter. Everything can be magic if you see it in the right light…

Our daily commute on the dingy, grey train is anything but an explosion of glitter and pizzazz, so we love this reimagining that makes us feel like we're on the fabulous, Paris Hilton version of the Polar Express.