While Romeo and Juliet type of romance is absolutely timeless, modern TV shows and movies have started tapping into the versatile pool of LGBT relationships that are just as tragic, beautiful, romantic, and funny as the rest of them. As viewers become more open-minded about all things gay, we can see more peculiar LGBT couples popping up in movies and TV shows. And we believe that these are the most romantic LGBT couples of them all.
Lito and Hernando (Sense8)
Lito and Hernando might very well be the cutest gay couple that has ever graced TV! Lito is a gay actor who stays in the closet to protect his career. Nevertheless, he's living with his charming boyfriend and things seem to work out for a while, until everything suddenly starts falling apart. He's overwhelmed by the whole experience of being a sensate and sharing the experience of other people's lives, but he's also outed as a gay man to the whole world and his career just keeps falling apart. This is when he needs to decide what is more important – staying with the man he truly loves or lying to save his career.
Aaron and Eric (The Walking Dead)
Okay, 'romance' might not be the first word that comes to mind when you talk about The Walking Dead, but this sweet couple is definitely one of those things that brightens the mood of the show. Eric and Aaron were openly gay and suffered quite a lot from homophobia during the pre-Apocalypse days. Nothing changed much after the zombies came – people still treated them like outsiders and the two still loved each other more than life. A welcome breath of fresh air in the midst of all the gore and flesh-eating zombies!
Carol and Therese (Carol)
When emotional youth clashes with elegant maturity, it seems that tragedy is inevitable. But gorgeous Therese doesn't want to think about the finale of her new unexpected affair with Carol, a sophisticated woman and someone else's wife. It's an intricate and gentle story about love set at the picturesque backdrop of 50s America that was both stylish and incredibly narrow-minded in some aspects.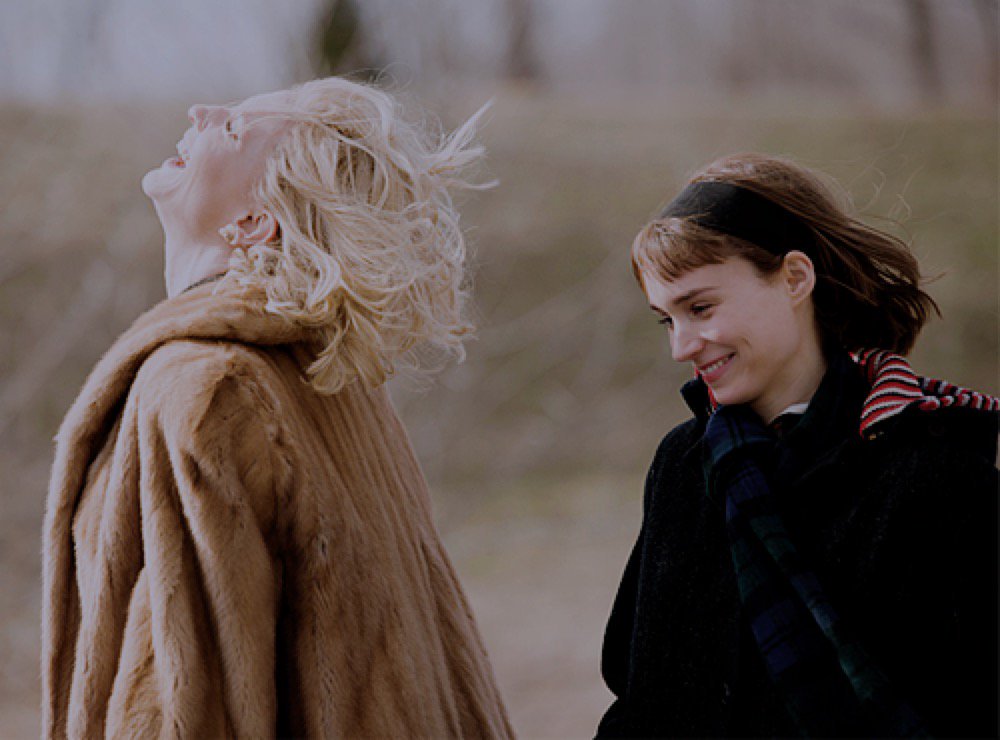 Piper and Alex (Orange Is The New Black)
They've had everything together – a fiery, criminal past, a tragic breakup, passion, lies, and tenderness. They're giving it another try when the two end up in jail. Piper may not be the most likeable character (and Alex is quite wicked herself), but the two of them just seem so good for each other.
Elio and Oliver (Call Me By Your Name)
Elio and Oliver's relationship might be the most sensual and romantic first love story ever made. Gay or not, this slow burner is a stunning mix of emotional teenage love, tenderness, shame, desire, awkwardness, and all those things that come with the whole 'first love' package. This is romance at its finest!
Nomi and Amanita (Sense8)
Nomi Marks is a proud transgender woman, talented hacker, and political blogger. Not only does she attract the attention of authorities on a daily basis, but she also becomes part of the sensate net – people who are connected together and experience each other's lives like their own. Nomi is dating Amanita and together they explore this new world of sensates, trying to get to the bottom of things. They spend most of the time on the run, but their love for each other only grows stronger!
Lafayette and Jesus (True Blood)
We were glad to see that flamboyant and ever-so-lonely Lafayette has finally found a caring and loving man. And to think that this character wasn't even supposed to stay on the show longer than a few episodes!
Sook-hee and Hideko (The Handmaiden)
From the creator of gut-wrenching Oldboy and surreal Thirst comes an equally thrilling periodical drama The Handmaiden. Set in the Japanese-occupied Korea of the 30s, this movie is as opulent as it is mind-bending in its twists and turns. We expected nothing less from director Park Chan-wook! Young handmaiden Sook-hee is hired by a rich heiress Lady Hideko. Little does she know that the maiden is an imposter hired by a con artist posing as a Japanese Count who has laid his eyes on Lady Hideko's fortune. Yet, something unexpected happens and young Sook-hee falls in love with Lady Hideko. You'll have to watch what happens next!
Kurt Hummel and Blaine Anderson (Glee)
These two are simply adorable! What else can we say…