Following the careers of your favorite pop singers can be fun. What I, personally, find to be even more fun is following how their image transforms throughout the years. And what better way is there to do that than to see how they've changed between the first music video they released and their latest ones?
1. Taylor Swift
"Tim McGraw", 2006 / "Look What You Made Me Do", 2017
Taylor Swift has come a long way from being an innocent-looking country girl with a pop twist to being the princess of the entire music industry, coercing streaming services to "pay smaller artists", and making headlines with every single new music or video release. Her latest video for Look What You Made Me Do does a perfect job at emphasizing the various "stages" of T. Swift.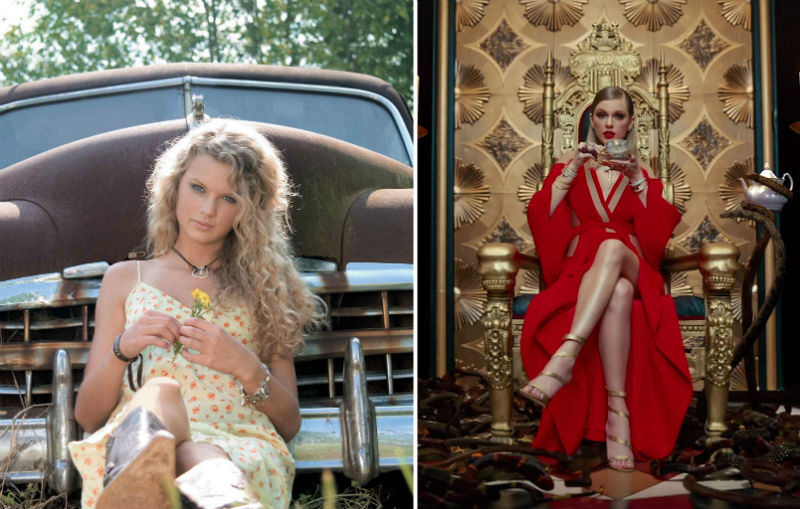 2. Miley Cyrus
"Start All Over", 2007 / "Malibu", 2017
Miley, too, has gone through quite the transformation(s) through the years. She started with her pop songs and Avril-inspired highlights in 2007's Start All Over. Then she went through a phase of being the pop world's provocative bad girl – provocative dancing, cultural appropriation, questionable song lyrics. Now it seems that she's gone through her "rebellious teen" stage and is back to a calm, white girl, Tumblr-inspiration aesthetic in her latest clip, Malibu.

3. Nicki Minaj
"Warning",2007 / "No Frauds", 2017
Nicki Minaj has come a long way too. Few hip-hop artists can boast such dedication to the craft and to setting a positive example to the youth. Nicki's "stay in school" message is strong, and so is her lyrical prowess. From her debut video for Warning to her latest No Frauds – Nicki has consistently been the epitome of confidence and bravado.



4. Rihanna
"Pon de Replay", 2005 / "Wild Thoughts", 2017
Rihanna! The pop-RNB bad girl! Bad Girl Riri! She's come a very long way from her humble beginnings as a new face on the scene in the ever-so-catchy Pon de Replay. Then there was the provocative S&M, the confident BBHMM, and now the song that's stuck on everyone's mind – Wild Thoughts.

5. Katy Perry
"The Box",2005 / "Swish Swish", 2017
Like Miley Cyrus, Katy Perry has also gone through quite a lot of image changes. Her somewhat silly clip for Swish Swish is great! I'm very curious where her rivalry with T. Swift is going to go next.



6. Adele
"Hometown Glory", 2008 / "Hello", 2015
With every new album, Adele's position as the pop charts' most talented singer has been solidifying. Her 2008 music video for Hometown Glory was full of melancholy and sadness, and her latest – 2015's Hello – seems to continue to emphasize and highlight those features.

7. Jennifer Lopez
"If You Had My Love", 1999 / "Ni Tú Ni Yo", 2017
Don't be fooled by the rock's that she's got, she's still Jenny from the block! Jennifer Lopez made her video debut in 1999 with If You Had My Love and has continued to bless us with hit after hit for nearly two decades! Her latest video, Ni Tu Ni Yo, can boast much higher production values, but the main event is still Jennifer's singing and catchy pop tunes!

8. Lady Gaga
"Just Dance", 2008 / "John Wayne", 2017
Of all the pop stars on this list, I feel like Lady Gaga's transformation is the most jarring and noticeable. She switched from dance pop songs to country, from an aggressive image full of sex appeal to a calmer one. However, you wouldn't be able to guess so after seeing her 2017 video, John Wayne.



9. Mariah Carey
"Vision of Love", 1990 / " I Don't ", 2017
People make fun of Mariah Carey for only being "relevant around Christmas time", but she's actually been setting trends in pop music since her 1990 video debut for Vision of Love. And, I mean, sure – right now she's not really keeping up with her image, and her performances are getting weaker, but her 2017 video for I Don't still shows she can stand her ground in the pop arena!

10. Beyonce
"I Got That ", 2000 / " Sandcastles", 2017
The Queen of absolutely everything. Beyonce's career is a marvel. From her first video for I Got That to her latest – Sandcastles, she's been a force to be reckoned with!



11. Selena Gomez
"Tell Me Something I Don't Know", 2008 / "Fetish", 2017
Like Miley's career, Selena Gomez's is a story of growing up and overcompensating for a young start with a "bad girl" stage. This can be seen in the difference between Selena's appearance in her first video for Tell Me Something I Don't Know and her latest – Fetish. Although, to be perfectly honest, I think Selena is handling everything much, much better than Miley did.

12. Kelly Clarkson
"Before Your Love", 2002 / "Piece by Piece ", 2015
All I can say is that Kelly Clarkson hasn't changed much, but has clearly become more confident and assertive – both in her songs and in her image.

13. Christina Aguilera
"Reflection", 1998 / "Telepathy", 2016
I always feel that Christina Aguilera is an under-appreciated gem in the world of pop-music. Her first video (Reflection) came out the same year as Britney's. Coincidentally, her latest video (Telepathy) also came out the same year as Britney's latest video. I feel like it's unfair. Where Britney has sex appeal and bravado, Christina Aguilera has a beautiful singing voice and better lyrics.



14. Britney Spears
"…Baby One More Time", 1998 / "Slumber Party", 2016
But hey, I'm Team Britney 100%. I was just a small child when Baby One More Time came out, but I've been following her career closely ever since. Britney and the Backstreet Boys were regulars on the "dance party" mix tapes I made for… well… Mostly myself. Britney's latest video, Slumber Party, can't boast the same revolutionary "newness" as Baby One More Time, but I feel like if you liked Britney then, you'll always like her.

15. Madonna
"Everybody",1982 / "Bitch I'm Madonna", 2015
Madonna's name is basically a synonym for "pop scene longevity". If MJ was the King of Pop, Madonna is the Queen, but like, in an old-timey way. Michael Jackson is irreplaceable, whereas Madonna seems to become less and less relevant with every new song.