Behind every great man is a great woman, they used to say. And apparently, behind every great man is a stylish woman as well! These first ladies don't take their titles lightly – their chic sensibilities give them a sense of fashion that is elegantly diplomatic. But some of these gals definitely have a louder sense of style than others – who's your Princess Di?
1. Asma al-Assad
This beauty is the First Lady of Syria. She carries herself with such poise and grace – Michele Obama and her could be style twinsies! With her timeless curled hair and a feature in Vogue, Asma's style secret to being flawless is how chic and understated her looks are.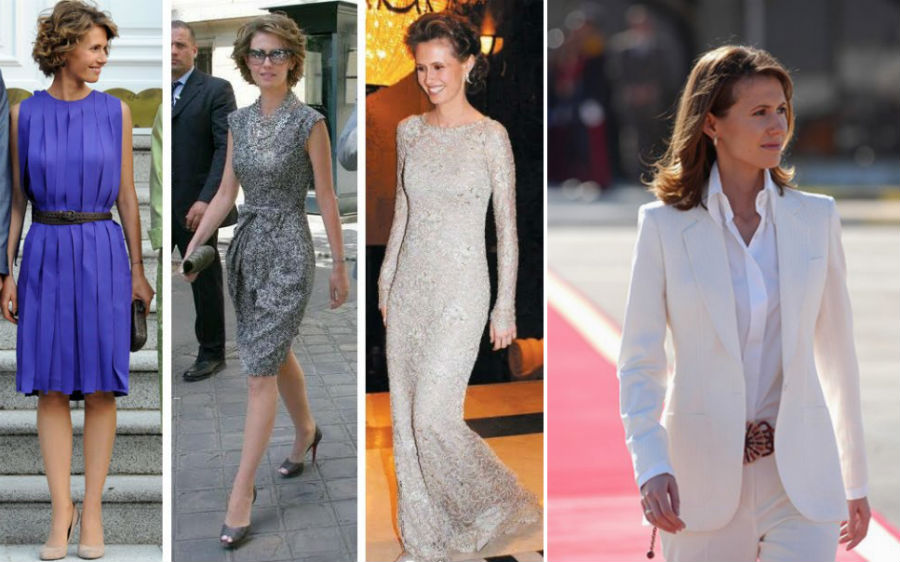 2. Brigitte Trogneux
This infamous, older first lady proves that age never has to compromise style. The French stunner has been known to wear monochrome looks, effortless shift dresses and statement-making double-breasted coats that make her look more smart than frivolous. She can command a room in sneakers, or black pumps, and that's hard to do.



3. Melania Trump
Melania has gotten a lot of flack – but honestly, if you had to sleep with a life-size, Flaming Hot Cheeto in bed every night, wouldn't you distract yourself with impeccable outfits? Her slinky dresses are a little more va-va-voom than Michelle Obama's were, and we're into her bomber-and-stilettos natural disaster get-up.



4. Mehriban Aliyeva
The glamorous first lady of Azerbaijan looks like she's in her twenties, but she's actually 53! Maybe impeccable style is the key to not aging, who knows? She makes those monochromatic body con dresses look sophisticated instead of overly sexy, and with a body like that, who wouldn't wear what she does?

5. Chantal Biya
The outrageous Chantal Biya is pretty easily recognizable through her eyebrows and hair, but her style is pretty out there as well (in a good way). She's rocked strong colors with glamorous head wraps, and her looks aren't easy to pull off, but somehow she does it!



6. Queen Rania
Arguably the most alluring woman on this list, Queen Rania married the king of Jordan and never looked back. Apart from being extremely genetically blessed with perfect hair, Rania wears the most impeccably tailored looks that are so regal, they even give Diana a run for her money (RIP). She takes conservative and elevates it in an unreal way.



7. Queen Letizia
The Queen of Spain loves neutral, and the nude palette looks so lovely on her. Strappy, high silhouettes contrast with super trendy pieces like fitted blazers, and dresses that accentuate her figure but fall on it effortlessly, not desperately. She was crowned as the "world's most stylish royal", according to the Telegraph, and we can see why.

8. Angelica Rivera
Did you know that the First Lady of Mexico is also a telenovela actress, singer, and model? She's always on her designer game, and has no shortage of dazzling jewels, with sweeping gowns to match. To hell with muted – Angelica is all about her bling, and we love her for it!



9. Juliana Awad
This Lebanese and Syrian businesswoman also happens to be the first lady! Her husband is Mauricio Macri. We are obsessed with how she wears pantsuits. But you need to be that statuesque to look that amazing in a pantsuit, we're pretty sure. Her pastels are also so fierce, from baby blue to blush, this woman seriously doesn't look bad in any color.