1. The Nemo 33, Brussels, Belgium
This deepest indoor swimming pool in the world was made for scuba diving – it's cozy at a comfortable 86 degrees Fahrenheit, and there's no chlorine flowing through the 2.7 million liters of highly filtered spring water. There are even caves to explore in this manmade tank, at 33 feet.
2. Jade Mountain Resort, St. Lucia
An infinity pool with an incredible kaleidoscope of colors wraps around the resort, allowing every room in it to have a private infinity pool here, overlooking this breathtaking view.
3. Amangiri Resort in Canyon Point, Utah
This pool in Utah will bring you back to ancient times – it's located in the middle of a surreal desert, and was built around geological formations that are over 160 million years old. Welcome to prehistoric paradise.

4.  The Library, Koh Samui, Thailand
This pool might be more scary to some than it is appealing, but no one can deny it's visual beauty. It is colored a startling blend of blood red, yellow, and orange due to underwater lights that transform this into an unforgettable view by the Chaweng sea.
5. Golden Triangle Resort, Chiang Rai, Thailand
You can swim in a stunning pool, and hang out up close with elephant. The infinity pool is perched on the ridge of a hilltop and gives you incomparable views over the Mekong Valley.
6. Ubud Hanging Gardens, Bali, Indonesia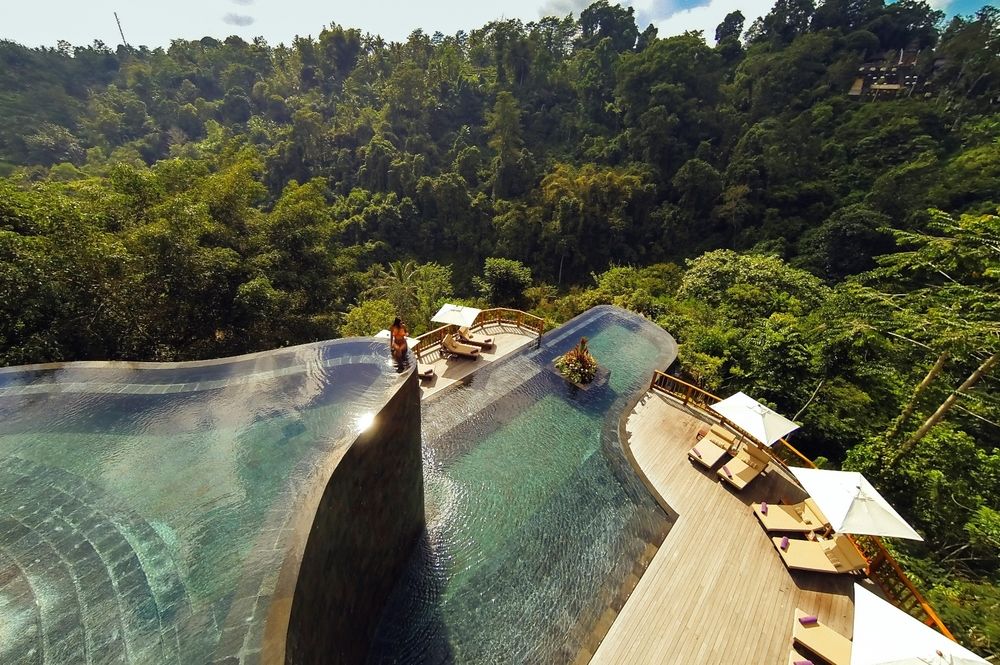 This split-level infinity pool floats above the world of the lush Ayung River Valley, located in the rice fields of central Bali. It extends in an elongated rectangle until it looks like it's disappearing down the terraced jungle hills. The organic but modern architecture is dreamlike, letting you flow above the treetops.

7. Gold Energy Pool at St. Regis in Lhasa, Tibet
The red pool is put to shame by this amazing gold-plated pool that will make you feel like you're bathing in an opulent jewel. It is located in a spiritual well-being room at 3,657 meters on the roof.
8. Golden Nugget Aquarium Pool, Las Vegas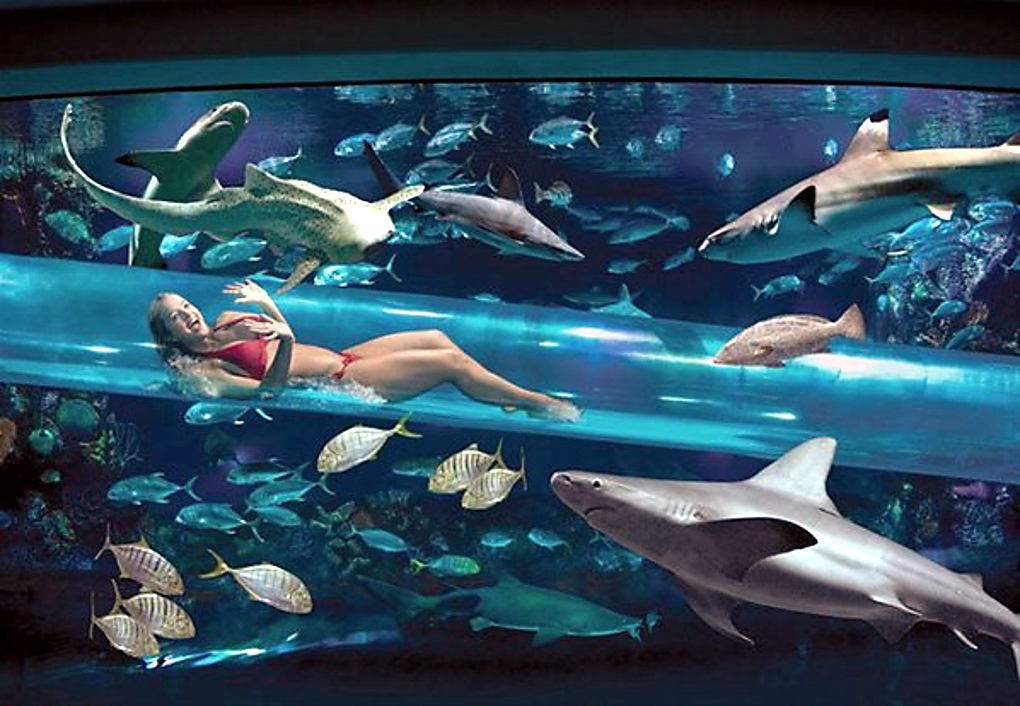 The $55 million installation is jaw-dropping. It features a 3-story water slide that takes you through the middle of a shark tank. An aquarium where you're centimeters away from a shark at the same sea level as them. Horrifying, but amazing.
9. The Cambrian, Switzerland
Looking for an unforgettable backdrop of snow-capped mountains in the Swiss alps as you bask in a warm Jacuzzi? This place looks like it's out of a fantasy movie, with a bubbling massage bed and jets to soothe your muscles, as the view soothes your mind.

10. Jumeirah Dhevanafushi resort, Maldives
This starry-lit pool will make you feel like you're swimming in the sky at night. This constellation in the sea is the most romantic place to spend some alone time with a special someone.
11. Kiekies hotel pool, Santorini, Greece
This cave pool offers some truly awe-inspiring panoramic views. Set atop the sea, covered by white rock and crystal blue water, feel like you're bathing back in ancient Greece thousands of years ago.

12. Blue Lagoon Geothermal Resort, Grindavík, Iceland

This geothermal spa in Iceland might be the most compelling and unique pool on this list, an icy blue manmade lagoon engulfed with fog and steam. It is located in a lava field, with warm waters that are rich in minerals like silica and sulfur.

13. Infinity pool Marina Bay Sands Hotel, Singapore