There's only a couple of days left until Christmas and I bet some of you are still looking for a perfect gift for some of your friends and family members. It's ok, I won't tell anyone. In fact, I'm here to help. All of us a celebrity obsessed to some extent. I'm not saying we all want to tattoo our favourite celebrity's face on our chest, but you know, we wouldn't mind having something that showcases our love for them, at least as a joke. Well guess what, that is a great idea for a gift. I'm sure you know what's your friend's favorite celebrity, all you have to do is decide exactly how obsessed they are and get them the appropriate gift. Here are a few suggestions I found on the internet:
1.Ryan Gosling Key Holder
This is the perfect gift for pretty much anyone. First of all – everyone likes Ryan Gosling, secondly – we all keep losing our keys in our apartment. I bet you'd keep better track of those if they were the keys to Ryan's heart.



2. Chris Hemsworth T-shirt
A fan of Chris Hemsworth will appreciate a t-shirt like this. I mean, we all like those funny photobooth pictures. The more Chris Hemsworth – the better!



3. Robert Downey Jr Sweatshirt
Sassy and gorgeous, Robert Downey Jr, will make any sweatshirt better. I believe it can be worn just casually, or you know, if you're going for a run and need some motivation.



4. Tom Hiddleston Flowercrown Mug
You can never have too many mugs. Especially if they have Tom Hiddleston in a flower crown on them.



5. One Direction Hoodie
For those fans who are still heartbroken over Zyan leaving One Direction.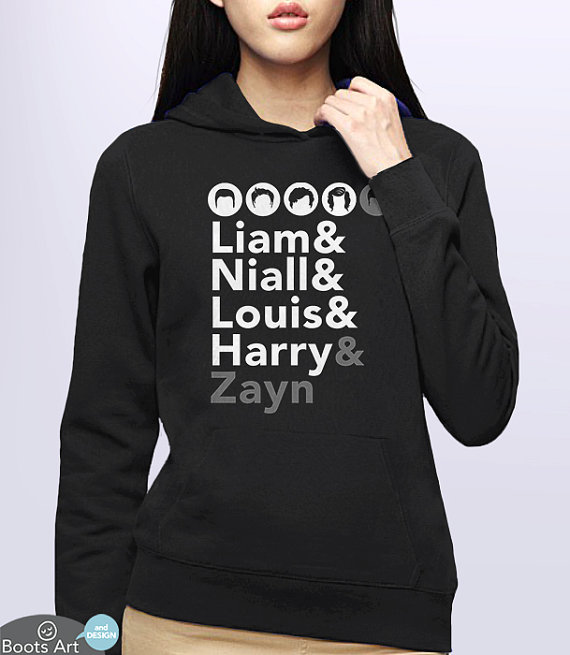 6. Keeping Up With Kardashians iPhone Case
Whether you're a true fan or just watch that show for the giggles, either way this would be a hilarious gift.



7. Benedict Cumberbatch Photobomb Shirt
Remember that time Benedict Cumberbatch went through a phase of photobombing everyone? Well, now you can get a shirt that looks like Benedict is holding your boobies.



8. Sherlock Shower Curtain
See, this is Sherlock, not Benedict, so it's ok to include 2 products with essentially the same face. Get this shower curtain for your Sherlock obsessed friend. Or anyone really, cause who wouldn't want to get hot and steamy with Sherlock?



9. Funny Beyonce Jumper
This is the funniest thing that ever happened ok? Everyone needs this in their life. Especially a true Beyonce fan.



10. Macaulay Culkin/ Ryan Gosling Combo
I mean seriously, Home Alone is THE BEST Christmas movie and this is a great gift. Get one shirt, or all three, it's up to you.
Macaulay Culkin Life shirt is available here.
The shirt with the image of Ryan Gosling wearing the previous shirt – here.
And the shirt with the image of Macaulay Culkin wearing the shirt with Ryan Gosling wearing the shirt with Macaulay Culkin is available here.