Winter is the best time to be creative with your nails. We tend to wear dark and quite muted colors, we spend more time at home because it's cold, you might have more time in the evening, so why not use it to make your nails look all pretty and creative. It's hard to think of winter nails and not immediately jump to Christmas, but we tried our best to find some ideas that will work for non-festive occasions as well. We hope you get inspired by these winter manicure ideas and choose to add some color and sparkle into your life this winter through the medium of cool nail art.
1. Black nail polish used to be associated with rock'n'roll and punk, but these days black is just a good choice to look chic with no hassle. But for an extra oomph adding some tiny sequins on a nail or two never hurt anyone.
2. Shades of red inevitably will make it onto your nails every winter. Somehow we just keep coming back to it as a winter color, even though it's a year-round classic. Adding a few stars can help set you apart.
3. Light colored nude nails with a little sliver of gold are the most winter-appropriate manicure idea we've seen. The star/snowflake on one nail is a nice accent too.
4. Plain old nude nails look completely transformed once you add a couple of branches on top. Those are probably drawn on, but you know you can get nail stickers, right?
5. This nail design idea is a perfect example of how just using a couple of brushstrokes of all the Christmas and winter colors can transform your manicure. You don't even have to know how to draw, just put a couple of blobs of winter colors on your nude nails, some gold or silver foil and suddenly you're artsy and fancy.
6. Blues, whites and greys always look good together and the geometric design that looks like misty snowy mountains is a great idea for winter nails.
7. Colorful stars just make every manicure look 300% better. You can't deny it, it's a truth universally acknowledged.
8. Hexagon glitter on nude nails is my jam. All-day every day, but this looks especially wintery in this color combination don't you think?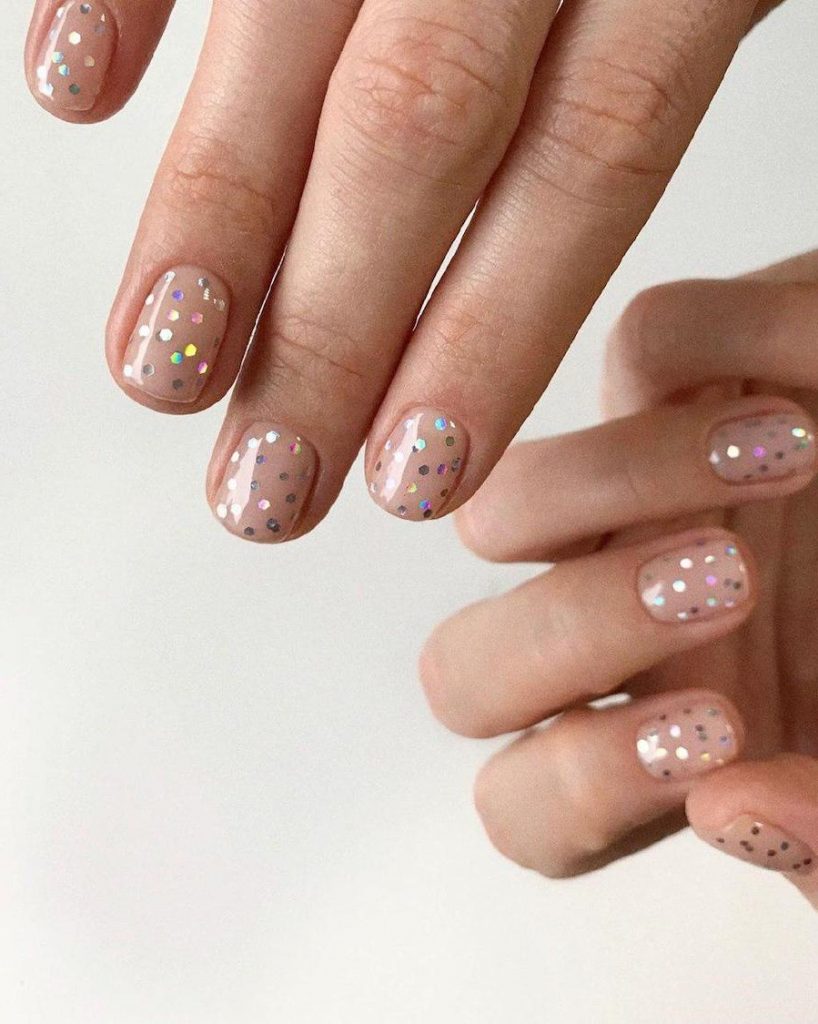 9. Whitish nude, glitter and crystals? Yes queen! Be that ice queen this winter. Great for special occasions but who says you can't rock it on the daily?
10. Glitter and snowflakes on a clear or nude base. It is magical and you know it. Who wouldn't want to rock nails like that?
11. For an extra wintery and extra icy look go for a light blue base. It's giving me Frozen vibes, Elsa would definitely go for it.